Marshall Blonstein has been in the audiophile business a long time. Previously he worked with DCC Classics, a pre-2001 audiophile label that put out about 200 remastered titles. Since then he founded Audio Fidelity, a company dedicated to the collectibility and sound of classic albums. Audio Fidelity has already remastered and released a ton of audiophile grade CDs and vinyl to the consumer — albums from artists such as Eric Clapton to Bad Company.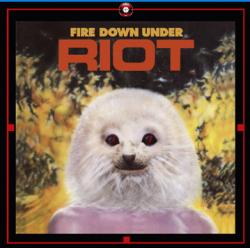 But Blonstein doesn't center on just classic rock. He has also given classic hard rock/heavy metal albums the audiophile treatment with great success. Deep Purple, Alice Cooper, Cheap Trick, Rush, and Judas Priest's iconic LP, Hell Bent for Leather. Now Audio Fidelity is releasing Riot's remarkable (but often overlooked) 1981 album, Fire Down Under.
Audio Fidelity's different series and formats have been popular with collectors because of the ear (and eye) for detail: 24-Karat Gold CDs (compact discs that "reproduce the ultimate sound of a classic recorded performance without the irregular plated surfaces of standard aluminum disc"), 180+ Virgin Vinyl (180 gram vinyl 0f classic albums, remastered), Live On Vinyl (180 gram vinyl of classic live performances) and the recently launched Target Series (high-quality vinyl and CDs designed to broaden the company's audience beyond its longstanding and loyal audiophile base).
Riot's Fire Down Under is the first of the Target Series releases. Recently Powerline chatted with Audio Fidelity founder Marshall Blonstein about this release (and more):
What made you consider Riot's Fire Down Under as an Audio Fidelity release? It's often overlooked but it is a fantastic hard rock album.
Marshall Blonstein: I was having a conversation with Eddie Trunk from "That Metal Show" and I asked him for a metal title that he'd like to see get the full remastering audiophile treatment. It was Eddie who suggested Riot's Fire Down Under. As you said, it's an overlooked album but one deserving of remastering.
Were you a fan of the album? If so, what is your favorite song? Is there a song on Fire Down Under that you feel comes out better with the Audio Fidelity release?
Blonstein: I was aware of Riot and when Eddie suggested this title I went back and listened again and knew we could really improve the sound with our remastering. I think our mastering engineer, Kevin Gray, really brought out the guitars of Mark (Reale) and Rick Ventura, especially on "Swords and Tequila" and "Run for Your Life". Guy's (Speranza) vocal on "Don't Hold Back" is really spectacular.
I've compared the Audio Fidelity Fire Down Under release to the original 1981 vinyl … the drums, especially, are so sharp on the new release. Is there something that you noticed on the new release that jumps out at you?
Blonstein: The thing that jumps out at me immediately is not only the drums, but the guitars and vocals. So much clearer.
Did you approach Mark Reale of Riot, or their management, or Elektra? How does this process work when you are choosing an album or approaching a band to release their older album(s)?
Blonstein: We did. We sent an email to Mark via his website and to his management. Unfortunately, we did not get a reply. We would have loved to have worked with Mark. We always like to work with the artist when possible.
How many albums were issued for this Riot release? Was a 24-Karat gold CD made? Do you think it will be a good seller?
Blonstein: This is our first Riot album and we chose it to kick off our new "Target Series." Our 24K titles and our 180+ vinyl title retail for $24.99 – $29.99 to $39.99. We wanted to create a new audio line that would be nicely priced at around the $15 – $19 dollar range and would also give us an opportunity to work with titles and artists that we would not normally release on 24K or 180+ vinyl. Riot is the perfect example. They are considered an east coast group with not a lot of national or international exposure, yet they made great music. Their appeal wouldn't be as wide as Judas Priest. So our "Target Series" is the perfect home for Riot.
You usually number your product. I did not see a number on the Riot vinyl record? Is it true that people collect Audio Fidelity albums by the issue number? Explain how the numbering system works.
Blonstein: Our new "Target Series," whether on vinyl or 24K won't be numbered. It's true that a lot of the people who buy Audio Fidelity titles buy them knowing they will get the same limited edition number every time. We have a "Platinum" club as well as a "24K" club where you can join and members are insured the same limited edition number on every release. We also have some cool giveaways and drawings for our club members. We just gave away signed copies of Heart's Greatest Hits. Ann and Nancy (Wilson) were kind enough to personally sign five copies which we gave away to our club members. Every month we give away signed test pressings whether it's on vinyl or 24K to our club members.
These releases don't have to be just for audiophiles. You can market these to your average music fan, too. Maybe they will want to purchase their favorite album(s) at the highest quality. Thoughts?
Blonstein: We've never marketed our Audio Fidelity titles just to the audiophile community. The quality is exceptional, but you can find our titles in Shelly's Stereo or if you go to Amoeba or Best Buy you will find our vinyl and 24K. In our DCC days, we released a Metallica album and all of our distributors warned us about releasing the album saying that it would never sell to the audiophile community. We knew that our music was being purchased by more than just the audiophile community. When we released the Metallica album, our distributors and some retailers were very timid in their support. But, within the first 30 days, the reviews and the word of mouth were out and we had a phenomenon for the audiophile community on our hands. What we learned was the fan base of a group like Metallica are always looking for new listening adventures, and our mastering techniques certainly provided that. The audiophile and music lover is also looking for new musical treats which Metallica certainly was. Metallica would end up being one of our biggest sellers on DCC.
Onto other artists, I've heard you mention that albums from the Alice Cooper Band sounded remarkable with the audiophile treatment?
Blonstein: The Alice Cooper titles we've now put out — School is Out, Love it to Death, and Killer — have all been absolute joys. Alice and his people are terrific to work with, real pros. Looking to help in any way with us putting together the best collections we can. I was blown over by the sound quality that was actually in the recordings. I've always thought of Alice Cooper as a visual act and was pleasantly surprised when we found the recordings so well done.
Is it true that Audio Fidelity's Bad Company and Deep Purple releases were the hottest sellers for you?
Blonstein: Deep Purple and Bad Company sold extremely well for us. As did Rush and Asia.
How did your Judas Priest releases do? Their '70s albums were, perhaps, their best work. Is that going to be available for audiophiles or fans?
Blonstein: Judas Priest did well for us. We're trying to license some more Judas Priest titles for 24K and our 180 vinyl series.
Do hard rock/heavy metal titles sell well?
Blonstein: It always depends on the artist and the particular title. As in the traditional market, the title and artist drive the sales.
Does vinyl or 24-karat CDs sell better?
Blonstein: Our 24K series sells better than our vinyl series, but vinyl is making some nice headway. We hope with the new "Target" titles, vinyl will find some new ears to please.
Do you think the average music listener/lover nowadays realizes how much quality they are losing when they download music?
Blonstein: I think the vast majority of listeners are much more interested in downloading music and being on the move rather than sitting and experiencing music and getting the full audio experience. Unfortunately, mobility trumps sound quality. Our audience would rather get there in a Bentley than get there on a bicycle. To each his own.
What other hard rock/ heavy metal releases are on the horizon?
Blonstein: We never like to talk about upcoming titles until we've had the opportunity to have the titles fully cleared, and we've listened to the source tapes fully and are 100% sure we have what we need to give the music lover the sound experience that we always guarantee.
Order your Audio Fidelity copy of Riot's Fire Down Under by clicking here.
Also, Riot just came out with a brand new album called Immortal Soul. To find out more about that album, click here.