For years, Fishbone has been one of the most energetic live bands out there. With their eclectic brand of rock music, Fishbone leaves it all on stage, giving every bit of energy to the fans. Their 1988 tour with the Red Hot Chili Peppers, for instance, was legendary.
This year, Fishbone will be one of the main bands to perform at the Gathering of the Vibes Music festival in Bridgeport, Connecticut on Sunday, July 28. Festival-goers should make sure they get a chance to see this unique L.A. powerhouse perform.
Find out more about 2013′s Gathering of the Vibes Music festival, July 25-28
Powerline recently interviewed Fishbone bassist (John) Norwood Fisher about performing live, the departure of long-term keyboardist Dre Gipson, and the band's future studio material.
How has the band's performance changed since the '80s?
Norwood Fisher: The spirit of the boogie that we danced to has about the same intention as it was back then, which is to bring it, bring it strong, and give you an honest musical experience. Hopefully that will inspire people to become free as possible in the moment. We like to engage with the audience, and when you engage with an audience on that level it leads to a great vibe.
Fishbone always gives you your money's worth. Fans don't forget that.
Fisher: And that has everything to do with why the band has been able to survive this long. Through the economic turndown, you know, we felt it, but we also felt the love from the people in a way where they'd continue to come and see us.
During the downtown many bands found money with touring instead of putting out albums.
Fisher: Yes, and we were no stranger to that. We just kept touring with, for the most part, the loyalty of our fan base and its expansion. People knew if they bought a ticket they'd get more than their money's worth from a Fishbone show.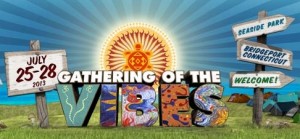 The '80s tour with the Chili Peppers, you don't see a tour like that very often. Two bands just right for each other.
Fisher: That was a classic high impact double bill. And as friends and members of the mutual admiration club, it made it a lot of fun for both of the bands. Those were beautiful times. The best of times for us.
And you grew up with Red Hot Chili Peppers.
Fisher: We were in the Los Angeles music scene together at the same time, and coming together and bonding. There is no scene to come from like that anymore. It is strange how things are different and I can't knock how it is. I see the internet as the place where the people galvanize a scene now. As soon as something brand new happens it's found about it, blogged about, and moves up the ladder of interest on the internet. It will be a few years before we can really assess what [the internet] really did for music. I can only hope it will be an awesome thing. I think it will be. It's just the way it is, and the sharing of sounds can only be a good thing. And I'm not talking about people sharing files and not paying for music. I'm talking about the interaction of the listener and the artist.
People got excited about the release of Crazy Glue [2011 EP]. They want more. Is there another studio album coming out?
Fisher: There's another studio album in the can. We're putting together the artwork right now. We're looking for a Fall release. I have this task of putting together all the pieces, but it's ready to go for October, I believe.
Can the fans expect anything different?
Fisher: You know, it is very different. Very different musically than Crazy Glue. But it's just another side of Fishbone. There may be something that feels a little different, something a little new. But, I don't know, that will be for the people to judge. We're always in pursuit of a sound that no one has done before. And a sound that we haven't done before. And I don't know until we get some reaction.
You always attract a wide variety of fans. That's something to be real proud of in todays' music scene.
Fisher: Yeah, Fishbone has a unifying element. It does make you proud.
Sometimes music becomes so predictable. Bands feel too comfortable inside their own genres.
Fisher: We give human beings the credit of being intelligent enough to deal with it. That whole mindset comes from a pattern that [believe] people are not smart enough to deal with more than one sound. The people currently doing it may not realize it's just the world they were born into. But the origins of that is that people are too stupid to be able to handle it, and we are like, "No." I wasn't the smartest kid on my block but it seemed like everybody had some kind of diversity in their record collection. When me and my peers shared music it was all kinds of stuff and when we talked about the things that were happening in popular music it ran the full spectrum and people were voicing the things that they liked. A full spectrum of musical sounds. Again, there's a panoramic view and it's not just horse blinders.
It's honest.
Fisher: And that is very much the original intention of the band — that our honesty could be the root of our originality.
You've found a replacement for Dre Gipson on keyboards?
Fisher: We got Paul Hampton, who was in the band the Skeletones, and Paul's an amazing addition to the Fishbone lineup.
It must be weird every time a member leaves. It's like a family member leaving.
Fisher: Oh yeah. It's never easy. It's never. What I've learned is that there's really no replacement because it brings something that only the individual can bring. So you can only bring something in that's different and …  you know, the chemistry changes. Period. So, hopefully, the chemistry creates a positive reaction. And I know in advance that Paul is the right man for the job. His background in music is perfect.
Are you gonna tour to support the new album coming out?
Fisher: We're gonna tour. But, really, as I prepare the new release — which will be called Intrinsically Intertwined — we've actually begun working on the next full-length. What we think will be a full-length — that's the aim, between nine and 13 tracks. We don't know exactly yet but we're gonna write far in excess of whatever the next full-length is, and it's really to be a concept record based on a piece of poetry by Angelo called "Road Dogs in the Can of Ill Repute" — which could possibly be the title of the album. The poem is about being on tour in a van, and how miserable it can be. And I think the concept of the whole record will be what it means to be in a band experience.
I don't think a lot of people understand that. They think it's all sex, drugs, and rock 'n' roll. They don't understand the grind, the hours, all that stuff. It's a crazy life.
Fisher: It is. You gotta be some kind of crazy to actually do it as long as we've done it.
Go to fishbone.net for more information.