Michael Schenker's Temple of Rock hits east coast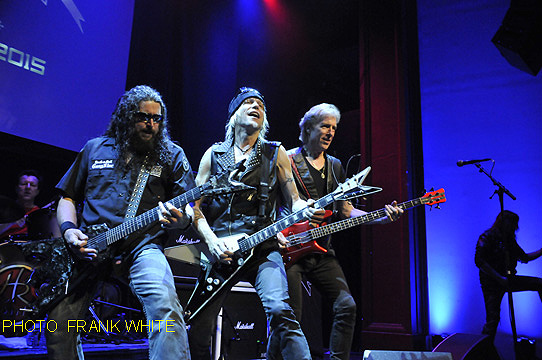 Legendary guitarist Michael Schenker  brought his Michael Schenker's Temple of Rock tour along with Hollywood's Gundriver to the Newton Theater in Newton New Jersey on April 17th  2015. On this tour, included are former Scorpions bandmates  bassist  Francis Buchholz and drummer Herman Rarebell  with veteran rock vocalist Doogie White and guitarist / keyboardist  Wayne Findlay.  The show consisted of songs from UFO, Scorpions, Michael Schenker Group, Temple of Rock releases including his latest album.
Schenker who's North American tour continues into the beginning of May has a new album that was released on March 24th called Spirit on a Mission.
Photos by Frank White
Michael Schenker's set list:
Doctor Doctor
Live and Let Live
Lights Out
Where the Wild Winds Blow
Natural Thing
Victim of Illusion
Armed and Ready
Lovedrive
Coast To Coast
Another Piece of Meat
Vigilante Man
Let it Roll
Before The Devil Knows Your Dead
Lord Of The Lost and Lonely
Rock You Like a Hurricane
Rock Bottom
Encore
Holiday
Blackout