New 'Metal for the Masses' comp the real deal at 48 tracks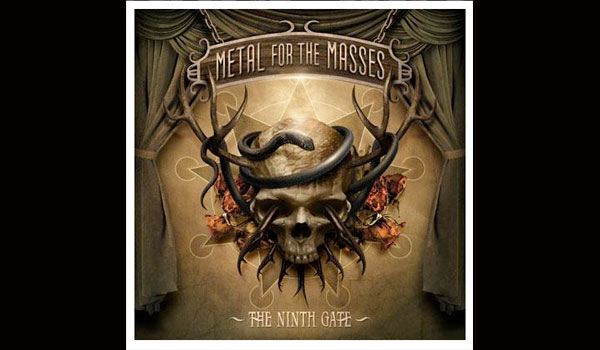 On September 13th, Century Media releases a specially priced triple-disc set. The compilation, Metal For The Masses Volume 9 features 48 tracks on three CDs at the low price of $8.99. The compilation will be available exclusively through all Hot Topic retail outlets nationwide and at www.hottopic.com
The three disc set offers a large selection of fan-favorites including tracks from Suicide Silence, iwrestledabearonce, Vampires Everywhere!, All Shall Perish, Symphony X, Earth Crisis, Architects (UK), Belphegor and many others. The third disc is a special collection of classics, highlighting early songs from Despised Icon, In This Moment, Lacuna Coil, Nevermore, and many more.
"We're very excited to be putting out the 9th installment of the Metal For The Masses series," says Century Media President, Don Robertson. "This low priced Hot Topic exclusive has been a very important sampler of our artists for the last decade and has proven to be a great way to give the metal community a chance to discover new music."
The full track listing can be seen below.
Disc One (The Century Family)
1 – Winds of Plague – California
2 – Vampires Everywhere! – Carnage At The Castle
3 – Suicide Silence – You Only Live Once
4 – Architects (UK) – Day In Day Out
5 – iwrestledabearonce – Karate Nipples
6 – Demolisher – Two Sided Coin
7 – Arsonists Get All The Girls – Will Someone Please Turn Down the Ocean
8 – Earth Crisis – Total War
9 – Suffer Well – For Today, For Yesterday, For Everyday
10 – The Devastated – The Devil's Messenger
11 – Arch Enemy – Bloodstained Cross
12 – Turisas – The Great Escape
13 – Deicide – How Can You Call Yourself a God?
14 – 7 Horns 7 Eyes – Vindicator
15 – TesseracT – Eden
Disc Two (Nuclear Blast America)
1 – Decapitated – Homo Sum
2 – All Shall Perish – There's Nothing Left
3 – Symphony X – The End Of Innocence
4 – Sepultura – Kairos
5 – Lock Up – Brethren Of The Pentagram
6 – Belphegor – Impaled Upon The Tongue Of Satan
7 – Hell – On Earth As It Is In Hell
8 – Destruction – Hate Is My Fuel
9 – World Under Blood – God Among The Waste
10 – Korpiklaani – Tequila
11 – Agnostic Front – My Life My Way
12 – Graveyard – Ain't Fit To Live Here
13 – While Heaven Wept – Destroyer Of Solace
14 – Before The Dawn – Deathstar
15 – Sylosis – Empyreal
16 – Pain – Dirty Woman
17 – Origin – Expulsion of Fury
18 – Amorphis – You I Need
19 – Scar Symmetry – Extinction Mantra
Disc Three (Classics from The Century Family)
1 – Arch Enemy – Taking Back My Soul
2 – Dark Tranquility – Through Smudged Lenses
3 – Despised Icon – Retina
4 – Eyehategod – 30$ Bag
5 – God Forbid – Precious Lie
6 – In This Moment – Daddy's Fallen Angel
7 – iwrestledabearonce – I'm Cold and There Are Wolves After Me
8 – Lacuna Coil – Heaven's a Lie
9 – Nevermore – The River Dragon Has Come
10 – Shadows Fall – Idle Hands
11 – Strapping Young Lad – Shitstorm
12 – Suicide Silence – The Disease
13 – Turisas – The Dnieper Rapids
14 – Winds of Plague – One Body Too Many