Sacred Oath will release 'best of' exclusively on iTunes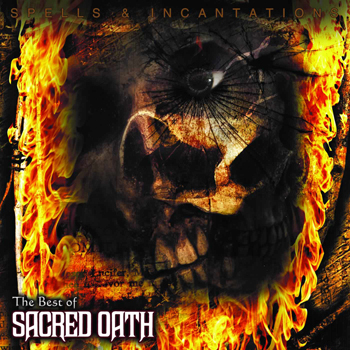 Heavy metal band SACRED OATH to release Spells and Incantations: the best of Sacred Oath exclusively on iTunes May 15th.
Sacred Oath – the American power metal pioneers who made their debut back in 1987 on Mercenary Records – will release a "best of" compilation album celebrating their 25-year history exclusively with iTunes May 15th. The CD digipack will be made available worldwide on their Angel Thorne Music label through Super D distribution two weeks later on May 29th. Sacred Oath is also selling a limited number of signed copies directly through their websites.
Leading digital retailer iTunes will have the album exclusively on Tuesday May 15th, two weeks earlier than all other retailers at a special discounted price of $5.99.
The album contains 12 songs spanning 25 years from the band's five albums plus two bonus tracks, including "Posers Must Die" – a brand new recording featuring original bassist Pete Altieri on lead vocals.
Sacred Oath formed in Connecticut in 1985 while still attending high school and quickly attracted international attention with their spooky galloping riffs, high-pitched vocals, and dramatic stage antics like climbing out of coffins drenched in blood. They signed to Mercenary Records in 1987 and released their debut "A Crystal Vision" which went on to become a cult classic. Five more albums were recorded and released between 1998 and 2010, including the critically acclaimed "Sacred Oath" and "World On Fire." Most recently, they premiered two music videos with MTV networks (Counting Zeros, Meet Your Maker).