Dust knew they were on to something. Their record label and management, though, weren't sure what they had on their hands or how to market it. And that, more than anything, kept Dust off the music industry radar and ultimately, led to their untimely demise.
Three high school friends from Brooklyn, Richie Wise, Kenny Aaronson and Marc Bell formed Dust – with production and songwriting assistance from Kenny Kerner – in the late '60s. As young as they were, they had a strong sense of who they were. They played heavy metal, though nobody was really calling it that back then. It was hard rock that was steeped in the blues, with occasional forays into European progressive-rock and folk. And they knew hardly anybody else in America was doing anything like it.
Signed to New York City's Kama Sutra/Buddha label in 1970, Dust recorded two albums – the self-titled Dust in '71 and Hard Attack in '72 – and toured with some of the '70s biggest hard-rock acts, including Alice Cooper. And then, realizing that perhaps they weren't being properly handled and that they were destined for obscurity if they stayed together, they split up. Everyone went their separate ways and went on to bigger and better things.
Wise and Kerner served as producers for the first two KISS albums and Aaronson played bass for such rock 'n' roll heavyweights as Joan Jett, Bob Dylan and Sammy Hagar – this after playing with Stories on their No. 1 hit "Brother Louie," a cover of the Hot Chocolate song. And then there's the story of Marc Bell, known better as Marky Ramone.
As Dust was in its death throes, Bell started hanging out at Max's Kansas City, where he met the transvestite punk force of nature Wayne County. Joining forces, they created Wayne County and the Backstreet Boys, but after a year and a half of gigging around New York City and not getting anywhere, they called it a day. Bell then made the acquaintance of one Richard Hell, who, along with guitarist Robert Quine and Ivan Julian, put together Richard Hell & the Voidoids. With Bell's work on drums, the Voidoids recorded one of the finest punk records in history, 1977's Blank Generation on Sire Records, and they later toured with The Clash.
But it was with The Ramones that Bell, rechristened Marky Ramone, made a name for himself. He was onboard for The Ramones' Road to Ruin album, which featured the classic "I Wanna Be Sedated." In all, he spent 15 years with The Ramones, surviving the Phil Spector sessions for End of the Century and appearing in the Roger Corman cult classic film "Rock 'n' Roll High School."
On the occasion of Sony/Legacy's reissue of Dust and Hard Attack on one CD, or the vinyl version released exclusively for Record Store Day on April 20, it's Dust that's on Marky's mind. In this interview, Marky Ramone talks about his days with Dust, the reissues and how he broke into punk. Technical problems sabotaged our conversation somewhat, but most of it was preserved. So, here's Marky.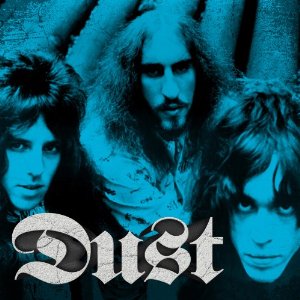 Why put this reissue out now?
Marky Ramone: Well, we were able to. The contract was finally up with the other record company that really didn't do it justice. So, Sony/Legacy, we remastered it, packaged it in numbered vinyl, collectible vinyl, and the packaging is unbelievable, and when you hear the remastering, it sounds twice as big as the original recording. So we were very happy to put it out again to show the public what we were doing 40 years ago in America, which was heavy metal, 'cause at the time there was hardly any metal in America in 1970. It was all coming from England. And also in America, there weren't that many producers who knew how to produce this genre of music. So, now it has a second chance.
So you view Dust as being pioneers in American heavy metal?
MR: Well, one of the few, yes. Black Sabbath in England solidified it there, and then when we started in '70, we got our record deal in '70 and recorded the album and it came out in '71. So we were kind of ahead of the game in America, along with a few other handful of bands. There weren't that many, and the term "heavy metal" wasn't even a phrase yet.
Listening to these albums now, and like you said, with the remastering it sounds bigger, but going back to them now, what are your impressions? The songs are really well-written.
MR: Well, we were highly skilled, honed, musicians for our age. And we really took our music seriously at our age. I had to worry about getting a diploma on the wall for high school for the parents. It was either that or you're not going to play, so I kept my grades up in summer school and night school, and eventually got my diploma from Erasmus High School in Brooklyn. And I was able to continue playing. The parents were happy with my grades, and that's how everything came about. We were free and happy to get out of there and play.
You touched on this already, but you were 16 or 17 years old when you played with Dust, and you were all just teenagers. Did you all go to the same high school and is that how you came together?
MR: Um, Erasmus High School on Flatbush Avenue in Brooklyn, and we all hung out in the same places in Brooklyn. And mainly, we didn't go to school. We'd just go to my house and rehearse in the basement and throw ideas around. And that's how me, Kenny and Richie did it. So those two albums are the result.
Did you keep in touch with those guys after Dust ended?
MR: Not at all. We all went in separate directions, and in late '72, Richie and Kenny Kerner ended up producing the first two KISS albums. Kenny Aaronson played on "Brother Louie" from Stories, which was No. 1 for two weeks that year. And I ended up working with Andrew Loog Oldham, the Rolling Stones producer on an album. So the legacy of the group is pretty interesting. And the rest is history.
In the years between the formation of Dust and that first album, what was the music scene like in New York City and what was Dust doing differently from the rest of the pack?
MR: Well, at the time, when Dust was together, radio was starting to play soft rock. I think it was called "folk rock," which is fine. It was easy listening. And I think at the end of the '60s, a lot of the music was becoming tamer. People were getting older … you know, the Woodstock era and all that stuff. So, you had soft rock, but we didn't like soft rock. We liked heavy, loud rock. So that's why we did form Dust, for that reason. But things that were happening in Brooklyn and New York … basically you had the older bands still playing that were around in the mid '60s and the late '60s. And then a whole new thing started, which was glam rock, in New York City, with the advent of the New York Dolls and Wayne County and, obviously, bands like KISS and stuff like that. But we didn't want to be part of any scene. We wanted to travel the world. We were way ahead of these people musician-wise, or technically. So that's what was happening at the time, and everything is relative to time. And then the punk scene started a few years later after the glam scene started and that's when I started hanging out at CBGBs.
It seems like there's a European or almost a progressive sound to the band, but it's still really bluesy hard rock. Where did that combination of sounds come from? Were those your influences at the time?
MR: Oh, okay. Well, we really loved Jimi Hendrix, we loved Cream, we liked The Who, the Stones, The Beatles … we liked a lot of the blues players, and then with Dust, that's what you have. You have an omelet and it's called Dust, and we just stirred up the pot, the eggs, and the next thing you know our influences came through and the only thing we put on top of it was the icing on the cake.
What do you remember about signing with Kamu Sutra? Did you know much about the label beforehand?
MR: Well … yeah I did. When I knew about the bands that they were signing up to the label … [The Lemon Pipers'] "Green Tambourine" … what's the other one? "Yummy, yummy, yummy/I've got love in my tummy." It was a bubblegum-rock record company. They had other great bands. They had the Lovin' Spoonful. So at the time that's what they were pushing, because that's what was making them money. Did they have the experience to handle Dust? I don't think so. I think our manager was a little inexperienced at the time with this genre of music, and I think that if we had waited it out for a third album on a different label, something like this label here, who knew how to handle bands like that, maybe the third album would have pushed us over the top.
Compared to other studio sessions you would later have, how did the writing and recording process of that first album go?
MR: Well, we had never entered a studio before in our lives. We had no experience producing. We knew our songs very well. We were very well rehearsed. So basically, those songs are two or three takes. I used the in-house drum set, because I couldn't afford a drum set at the time. Here we are just piecing things together that I got used or … whatever. And then we went for it. We had an engineer that was very skilled and suggested some things, and of course, we listened. And that's how the first album came about.
How long did it take to make it?
MR: About three weeks … yeah, about three weeks.
How much money did you have to make it?
MR: Oh, well, the advances were pretty good back then. They were, and things weren't as expensive as they are now, with hourly or weekly rates. So our advances were good. We were able to buy all-new equipment, PA, amps, drum set … the whole thing. But again, there weren't that many producers in America that knew how to produce this kind of music. We were still in a quagmire about which way to go – to get an English producer that might've produced an English heavy metal band, to wait and go with another record label that was bigger and have them suggest somebody. But we didn't do that. We just decided to go our own way, we parted as friends and that was it.
Who produced that first record, or was it yourselves?
MR: No, it was us.
That's what I thought. I just wanted to make sure. What were your expectations for that first album? Did you feel it had commercial potential?
MR: Well, in the metal genre, yes. It wasn't marketed that well, and it wasn't the answer to their prayers for them, because they had other musical genres that they could immediately make money off of. Everything has a budget, so we were kind of pushed, but not really. We were pushed better than some bands, but not as well as others.
How did you come to be signed by Kama Sutra, since they weren't into that type of music?
MR: Neil Bogart bought up all these labels, and he was interested. And we gave him the demo, he liked it and he signed us to Kama Sutra. We were close to getting signed to Atlantic, through a guy named Adrian Barber, but that didn't happen. So we decided we'd better do something here, and we decided to go with Kama Sutra.
What was happening within the band during the time between the making of the first record and the follow-up, Hard Attack? Was there a lot of touring?
MR: A lot of rehearsing. We toured with Alice Cooper, Wishbone Ash, Uriah Heep, John Mayall … we played a lot of those … there were a lot of good night clubs, but we realized also that what we were playing was a different genre, so there weren't that many bands around like us at the time. So when we did tour, we had to be placed with bands who did our kind of music. So that's where the inexperience of the manager came in. So, like I said, if we had a better manager and a better label, I think that would have all gotten us further.
Was the music well-received by the crowds you did play for?
MR: Oh yeah. Yeah, I can't say enough about that. We were so thrilled at how they received us.
I read where your best memories of Dust had to do with the band's tour with Alice Cooper. What was the high point of that tour?
MR: Well, the fact that the people gave us two encores, and then came initiation. I go to my hotel room … I mean, this is stuff that teenagers do I guess, but we were teenagers. Somebody took a dump in one of my drawers in the hotel room. And I knew something smelled pretty strange. I opened it up and there it was, and I never knew who did it, but I look back at it now, and I thought it was pretty funny. Would I do it? No, I wouldn't do it, but somebody did do it, and whoever it is, I wish I could find them.
So you never found out who did it?
MR: No, I didn't. Maybe these reissues will make that person come forward (laughs).
As far as playing shows, was there a particular one that was the high point of that tour?
MR: Cobo Hall. I mean that place was packed. And also St. Louis, in particular, really took a liking to Dust. And I think that if we continued to play to the Midwest, and we'd spread out to the East and West, but again, we just stopped that quick.
It wasn't that long between the two records, but was there a difference between the recording of the second one, as opposed to the first?
MR: We were more experienced. We bought our new equipment with our big advance … but that's just my opinion. A lot of fans of mine who come up to me with the older Dust, and the second one was a little more technical.
Why did the band eventually break up?
MR: Because we realized at this point that the sales from the second album were only a little better than the first …
What was your favorite song from each album?
MR: Yeah, I do. From the first album, titled just Dust, it's "From a Dry Camel." It's nine minutes long … and then "Pull Away." I love the way the drums came through in that song, and the chord changes were really nice. It's a metal love song.
When did it hit you that Dust was becoming a cult favorite?
MR: When kids would come up to me when I was on tour with The Ramones. Even now … even now they'll come up to me with the Dust album, and then I sign them – not Marky Ramone, but Marc Bell. That's who I was known as with Dust, before I became a Ramone, and it was amazing that these kids had these albums and they'd kept them immaculate. So that's when I knew the band had something, some longevity.
While Dust was in the process of ending, you starting hanging out at Max's Kansas City. What attracted you to that environment?
MR: Well, after I did the album with Andrew Loog Oldham, because I do live in New York, it was the place to go if you'd like to go and meet other musicians.
What do you recall about meeting Wayne County for the first time?
MR: Oh, he was great. He came up to me and asked me if I would come down to hear his band play, and I did. I liked it, because I always admired the fact that he was ahead of his time, and he was a great entertainer. And, you know, I could go on and on and on about that, but that'll be in my book. He had a great Southern drawl, which really … and that's how it started and I stayed with Wayne for about a year and a half, and they'd play at Max's. And then Tommy didn't want to play in The Ramones anymore, after three and a half years, and they asked me to join the group and the first song we did was "I Wanna Be Sedated."
It was, huh?
MR: Yeah.
The idea of joining Richard Hell and the Voidoids … what made the idea band so appealing [he played on the band's first album, Blank Generation]?
MR: Well, Richard was aligned with Television, and then he formed The Heartbreakers with one of the New York Dolls. And then there was a little competition there, and he left to form his own group. It was a good combination of people. Bob Quine was an exceptional and unique guitar player. Richard, I think, was from Mississippi or Missouri … one of those states. And he added a different flavor to the group, and he was a great writer. And we had Ivan [Julian] and myself, so it was an unusual combination, which really reflected on that Blank Generation album, and that's why it was rated as one of the best punk albums of all time.
How did the conversation go when Dee Dee asked you to join The Ramones? And what was it about them that made you want to be a part of it?
MR: It was at the bar at CBGBs, and I knew him before I joined The Ramones. And he said Tommy was leaving the band and would I like to join, and I said, "Of course." Richard didn't want to tour anymore. And it started there; I had to audition, but I knew I had it. I did "Rockaway Beach," "Sheena Is a Punk Rocker" and "I Don't Care," and I went back to the bar and that was it.
What was different about being in The Ramones as to Dust?
MR: Well, being in The Ramones was 4/4/2, 2/4 time. Dust was a lot more sophisticated musically. I was really able to let loose a lot with the drum fills, and the accents, and the time changes. The Ramones was just basically straight-ahead 4/4, so that was the difference.
What do you think kids today experiencing Dust for the first time will think of these recordings?
MR: Oh, they're going to love it. I'll tell you if they don't like it, I don't know what they'll like. I mean, when I heard it back, I couldn't believe it. I was amazed at how big it sounds.