As the end of Backstage Auctions' Rock Gods and Metal Monsters Auction approaches, things tend to get exciting.
Auction Closes: Sunday, April 6th – close process begins at 2:00 pm EST (not a hard close) (NYC – Time)
A few items Powerline has had its eyes on are:
Two Jackson bass guitars from Megadeth's Dave Ellefson (photo of one bass shown above). Jackson Custom Shop 5-string bass guitars, one that Ellefson played on every Big 4 show in Europe and the US. The bass guitars come directly from the private collection of David Ellefson and will be accompanied by a signed Certificate of Authenticity. Pretty damn cool.
And Joe Comeau's personal collection (2 lots!) of Overkill concert handbills, concert tickets, flyers, stickers and magazines, dated between 1996 and 2000. Four items have been signed. The signed items include a 1989 Czech Republic Concert Handbill, a 1998 German Magazine Cover, a 1998 Italian Monsters of Rock Magazine, and a U.S. Concert Handbill. Further included are three magazines featuring Overkill, a magazine promo ad, six concert handbills, three concert tickets, 2 promo stickers and a Morley product catalogue. The overall condition is excellent. All items come from the private collection of Joe Comeau, guitarist with Overkill between 1996 and 1999. Joe has also been active with bands such as Liege Lord, Annihilator and DuskMachine.
We had a few questions about these items and Backstage Auctions owner Jacques Van Gool was kind enough to comply.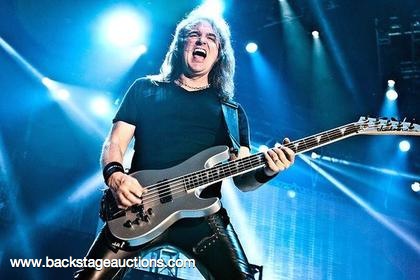 Regarding [Megadeth] Dave Ellefson's bass guitars. Did Ellefson explain why he wanted to get rid of such personal instruments, and do instruments get bid on quickly? Or does it depend on the instrument?
Jacques Van Gool: David Ellefson really didn't want to part with the two bass guitars that are currently in the auction…I had been in touch with David for a long time and it wasn't until January this year when I had the chance to spend some time with him at the Metal Masters in Anaheim that he agreed to consign a few of his personal pieces. Now mind you, I was in a room with the likes of Scott Ian, Charlie Benante, Frank Bello, Mike Portnoy, Billy Sheehan and several others that we have worked with in the past. Having an impressive group of peers (of David) sitting there and giving my company the thumbs up certainly helped – a lot!
In general instruments do not get bid on quickly only because they are usually very high in price and only appeal to a small portion of collectors/ fans. One of the guitars that David consigned is his personal 5-string Jackson bass guitar that he used on the Big 4 tour. This is a guitar that costs $5,000 'out-of-the-box'. Add to that the provenance and history and you have something that is quite expensive. So yes, why we love 'crown jewels' like a tour used instrument, we also realize that it is a much harder sell that for instance a t-shirt, poster or rare record.

Regarding [Overkill, Liege Lord] Joe Comeau's Overkill collection: Can underground metal items be as cherished as mainstream band items? And it's pretty cool to see how a musician like Comeau collected items about his own band — should be appealing to fans, no?
Jacques Van Gool: No, I don't think that an underground metal band will ever be as 'cherished' as a mainstream band, simply because of the sheer numbers. I mean, for every Overkill fan there are probably 50 Motorhead fans, 100 Motley Crue fans, 200 Metallica fans, 300 Iron Maiden fans and 500 Kiss fans. Those economics don't stop me from being stubborn though! Clearly there is a market for bands such as Overkill, just as there is a market for their peers such as Testament, Exodus, Death Angel and so on. All of these bands have a loyal fan base and while they might be small(er) in numbers, they too have a passion for collecting. And yes, it certainly helps that these items come directly from Joe…you can't beat that line of provenance!
Go to www.backstageauctions.com or more information.