The Rockstar Energy Drink Mayhem festival came to the Susquehanna Bank Center in Camden, New Jersey on Aug 1, 2014. The show featured 3 outdoor stages and the main stage inside the venue.
Rockstar Energy Drink once again brought to Camden a great music festival for fans with a killer line-up of bands, merch booths, signing sessions with bands and the Metal Mulisha were in full force performing their motorbike jumps. Also, in the center of the blacktop of the festival Rockstar Energy Drink offered a variety of free energy drinks for all the hot and thirsty fans. As Bodycount were about to hit the stage Ice-T's wife Coco (see photo) made a appearance with their two bulldogs and stood on the side of stage to watch her husband's band perform.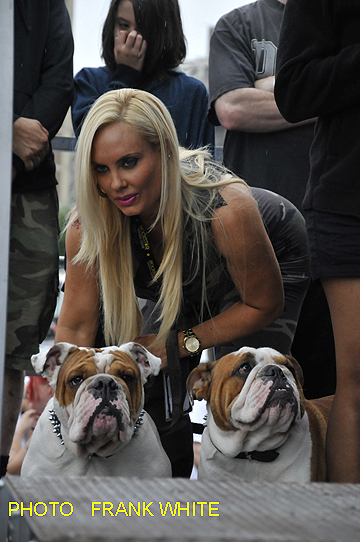 The bands that performed on the outdoor stages:
Victory Records Stage
Emmure
ill Nino
Wretched
Islander
Erimha
Headbang for the Highway / Sumerian Stage
Bodycount Freaturing Ice-T
Darkest Hour
Upon A Burning Body
Veil of Maya
Local Winner band
Coldcock Whiskey Stage
Cannibal Corpse
Suicide Silence
Miss May I
Mushroomhead
Texas Hippie Coalition
King 810
The Main Stage featured Avenged Sevenfold, Korn, Asking Alexandria and Trivium. However, due to the policy of Adrenaline pr the publicity firm that was hired by Rockstar Energy Drink to decide which outlets were able to shoot the main stage, Powerline was not given a photo pass to shoot this stage.