Spiders are Swedish hard rockers (Ann-Sofie Hoyles – vocals, John Hoyles – guitar, Olle Griphammar – bass, and Ricard Harryson – drums) who have recently released their second album, Shake Electric, with a very raw '70s sound.
The following Q&A is with Spiders drummer Ricard Harryson.
How would you compare Shake Electric to 2012′s Flashpoint?
Shake Electric is more of a natural progression of Flashpoint. Flashpoint is more of a straight forward album. With Shake Electric we wanted to keep that direct feeling and add some more layers to the production, without overdoing anything.
Was it harder or easier to record an album in your hometown (Gothenburg)? Wondering if being close to the everyday — family and friends — distracts from the creative process?
We use to record everything in Gothenburg. We love to record in our hometown, 'cause it's nice to met family and friends after a session. Both friends and family is a great inspiration when you write or record music.
All of the members were involved in the songwriting process for this album. The last album was mostly John Hoyles' (guitar) songwriting, no? If so, why did the songwriting responsibility rest on only him last time?
John had songs and ideas for the album ready when we recorded our last album. On Shake Electric we started from scratch to write the songs. And everyone contributed in their own way. Also Ann-Sofie (Hoyles-vocals) came up with some great tunes on Shake Electric.
How does every member getting involved in the songwriting affect the overall song structure? Do you prefer all the members getting involved from now on?
I think it's only positive that everybody contributes to the songwriting. The songs become more varied and it's more interesting to listen to.
An admirable quality of the band is its stylish but never polished sound. Many bands are too polished today, whereas Spiders sound is raw. Is that something you'd like to be distinct and recognizable about Spiders' sound in the future?
Thank you, that would be amazing! That's how I like bands, stylish but raw so if people listen to Spiders and feel that way, it's great!
Touring a lot helps improve the raw spontaneous sound, too, right?
Yes it does, we feel more free together since we have played live so many times.
Speaking of performing live, what was it like supporting a band like Metallica?
It was a great festival, Sthlm Fields. They had their own backstage so we never get to meet them.
Do you find that established bands reach out and offer advice when you gig with them?
Yes, we have been given advice and a lot of help from other bands we've toured and played with.
The album Shake Electric has a nice balance of heavy and soft, and the band handles it perfectly. Not many bands can switch gears well.
Well, thank you! That's what we aimed for when we recorded Shake Electric. I think that's where the magic happens, between heavy and soft.
Ann-Sofie's vocal range handles the different moods very well. She goes from the powerful demand of shouting "BOOM!" at the listener and them comforting them with a ballad. Personally, that ability really impressed me.
Yes, she's amazing! She sings natural and can sound raw and then just turn it into something soulful that hits you right in the middle of the heart.
Ziggy Stardust may be the single most powerful influence on the band, correct?
David Bowie has always been a hero for Spiders but to the recording of Shake Electric we actually listened a lot to Aladdin Sane with Bowie, and also a lot of Heart and T-Rex.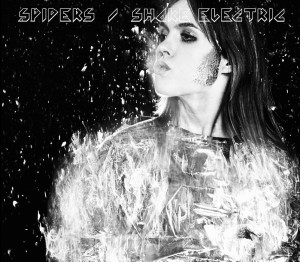 Iggy Pop, too? I can't help but think of a young Iggy Pop when I see the cover of "Shake Electric."
Cool! I think Ann-Sofie was a bit inspired of Iggy when she wrote "Only Your Skin" but I'm sure both him and David Bowie would be jealous if they saw the cover of Shake Electric.
Very androgynous.
Yes, I think rock 'n' roll music is very androgynous. The way it sounds and the way people look, that's great.
What are other influences that have molded Spiders?
We have so many. Spiders listens to a lot of different kind of music and I think we melt it all down together when we create our own music so you can hear everything in it, all the way from Alice Cooper to Tina Turner, for example.
Are there contemporary bands that you admire? And why?
Oh, yes, bands like Horisont, Morbus Chron, Imperial State Electric and The Vanjas are definitely bands we admire. They are all examples of great bands, musicians, and songwriters.
Appreciating many bands' sounds from the past, do you prefer vinyl over CD, MP3s? If so, why?
All members of Spiders are vinyl collectors of some degree. We use to go record hunting on each tour. Music sounds better on vinyl. It's as simple as that.
Will Spiders be touring the U.S. soon?
Sure hope so. We're working on it.
What would be the most important short-term goal for the band?
To tour the U.S. and do more shows in Europe. And eventually start working on the next album.