Godsmack's Fall Tour reaches Poughkeepsie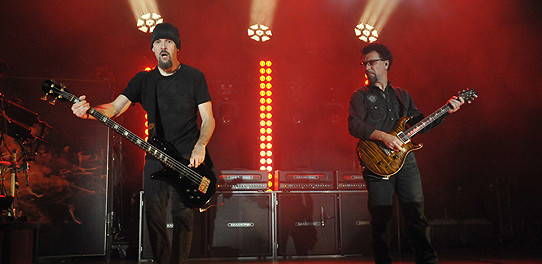 Godsmack 2015 1000HP Fall Tour along with Sevendust and Sidewise from Overland Park, Kansas packed and rock the house at the Mid Hudson Civic Center in Poughkeepsie New York on Oct 14th 2015.
Before Godsmack's set, a well produced and funny short movie with band members Sully and Shannon disguised as crazed fans, Sully dressed up like a girl with pink hair and lipstick and Shannon dressed up as a guy with glasses, short blond hair and carrying a selfie stick make their way backstage all the while being chased by security till the 2 make it inside the band dressing room . Then the band is filmed walking thru the backstage hallways to the stage. Just before the show starts 2 fans run on stage dressed like Sully and Shannon in the film and the chase is on by the band's security as the band takes the stage.
Sidewise set list
RECONNECT
PRISM
THE FINAL AWAKENING
OUR LAST WORDS
G D S
H L A H
Sevendust set list
BLACK
DRIVEN
DENIAL
DEAD SET
DISEASE
NOT TODAY
PRAISE
SHINE
DECAY
THANK YOU
Godsmack set list
1000 HP
STRAIGHT OUT OF LINE
AWAKE
CRYIN' LIKE A BITCH
GENERATION DAY
KEEP AWAY
SOMETHING DIFFERENT
VOODOO TOO
BATALLA DE LOS TAMBORES  ( DRUM SOLO )  Sully and Shannon on separate  drum kits
WHATEVER
BLITZKRIEG BOP  ( RAMONES COVER )  Shannon Larkin on vocals, and Sully on drums
Encore
I STAND ALONE