Black Country Communion to release double concert DVD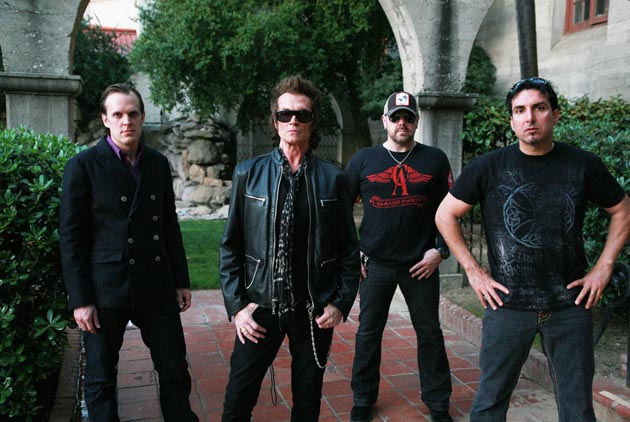 Black Country Communion, the English-American rock supergroup featuring the talents of bassist/vocalist Glenn Hughes (Deep Purple, Trapeze, Black Sabbath), blues rock guitarist/vocalist Joe Bonamassa, drummer Jason Bonham (Led Zeppelin), and keyboardist Derek Sherinian (Dream Theater), will release their first concert DVD Live Over Europe on October 24, 2011 (Blu Ray to follow November 15, 2011) on the J&R Adventures imprint. Watch the official trailer on YouTube here: http://bit.ly/bccexclusive.
The 2-DVD live set was filmed with 14 HD cameras and 5.1 surround sound during the band's debut tour in the summer of 2011. Over three nights, playing to packed venues in the German cities of Hamburg, Munich and Berlin, the 18-song set list (17 originals and 1 cover) hits on both of BCC's albums – 2010's debut and 2011's sophomore release 2, which The Sunday Mercury praised, "This is classic rock goes large, an album that lives up to its heritage. It may not be bettered this year." Live Over Europe highlights include the songs "Black Country," "One Last Soul," "Save Me," "Man In The Middle," "Cold," and "Song of Yesterday," which fans can sign up to receive as a free audio track download, available Sept. 8, here – http://bit.ly/bcclive. Bonus features include an exclusive 28-page collector's booklet and DVD with a 20-minute "behind the scenes" featurette and photo collection.
Producer Kevin Shirley explains, "We saw that this live act could be an awesome force of nature to behold; one that promised legendary performances like those of our heroes of Classic Rock. The plan was to get them out there for the entire world to hear. Records allow a certain musical finesse, but live performance promises so much in the very transient nature of a gig; chances are taken, boundaries are crossed and the most exciting performances explode. Two studio albums built a repertoire big enough for a full concert which allowed us to unleash the monster for all the world to see and feel."
BCC recently completed their debut tour, visiting a select number of cities in North America and Europe. On June 10, the band played to a near sold-out crowd in Anaheim, CA where The Orange County Register exclaimed, "The four members of BCC truly recast the heavy rock of the '60s and '70s and yank it into the 21st century as well as anyone in recent memory." At the Wolverhampton Civic Hall, The Birmingham Mail called their performance "rip-roaring" and "breath-taking."
As part of J&R Adventures' strategy to use social media as an integral part of the initial marketing launch of Live Over Europe, they created the Facebook BCC Event Page. Facebook members can join the page here http://on.fb.me/loebcc to receive an exclusive glimpse of the new DVD and a chance to download the live free track "Song of Yesterday."
Live Over Europe Track List:
1. Revolution of the Machine
2. Black Country
3. One Last Soul
4. Crossfire
5. Save Me
6. The Battle For Hadrian's Wall
7. Beggarman
8. Faithless
9. Song of Yesterday
10. I Can See Your Spirit
11. Cold
12. The Ballad of John Henry
13. The Outsider
14. The Great Divide
15. Sista Jane
16. Man In The Middle
17. Burn
18. Smokestack Woman
Bonus Features
-Forging BCC – The Making of Live Over Europe
-Photo Collection – Live On Tour
-Photo Collection – Behind The Scenes
About J&R Adventures
J&R Adventures was founded by Joe Bonamassa and longtime manager Roy Weisman. The company prides itself on its ability to diversify and stay nimble in the ever-changing music industry landscape using a vertically integrated business model to meet the needs of the artist and the fans. Since its inception, J&R has been able to combine customary label operations with artist management, album production and mastering, merchandising, publishing, licensing and concert promotion – all under one roof. Through these methods, together with the utilization of social media (Facebook, Twitter, YouTube), J&R has also been able to give control to its artists, allowing the artists to work hand-in-hand with the label to achieve their shared vision.
Get your free download of BCC's song "The Outsider" here – http://bit.ly/outsider2011
Watch the band's official music video for featured track "Man In The Middle" here: http://www.youtube.com/watch?v=hy6WLBvBXaI.
Get your free download of Joe Bonamassa's song "Dust Bowl" here – http://bit.ly/jbdust
Get your free download of the Beth Hart & Joe Bonamassa song "Well, Well" here – http://bitly.com/hartandbonamassa
Essential Links:
www.bccommunion.com
www.facebook.com/bccommunion
http://twitter.com/bccommunion
www.myspace.com/bccommunion
www.youtube.com/bccommunion