Webisode 'Lesson' series continues with Kittie drummer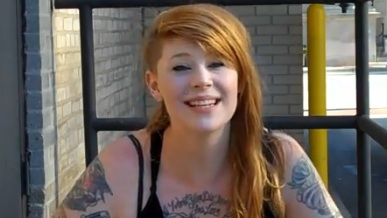 The latest episode in the webisode series Lesson Alley, features veteran all-girl Canadian metal outfit drummer Mercedes Lander of Kittie. A clip of the episode can be viewed here.
"I've Failed You" is the title track of Kittie's sixth album, which was released on August 30 via eOne Music. The CD was recorded at Beach Road Studios in Goderich, Ontario, Canada. The band once again worked with producer Siegfried "Siggy" Meier, who helmed KITTIE's last CD, 2009's In The Black.
KITTIE is:
Morgan Lander (Guitar, Vocals)
Mercedes Lander (Drums)
Tara Mcleod (Guitar)
Ivy Vujic (Bass)
Lesson Alley is a web series devoted to discussion of equipment, set-ups, recording, techniques, and instruction. Lesson Alley will go behind the scenes to get direct line access to artists, as well as the manufacturers. Whether it is rehearsal for their latest tour, recording session, or the latest innovative gear, each episode looks to inspire through open discussion. The series will provide interviews with studio performers, technicians, clinicans, and touring musicians to aid todays hopefuls into becoming better informed players and musicians. Offering something for every level of performer/player, the series is hosted by DaiTribe guitarist Tristan '1690' Grigsby.