Strange Karma is a hot new hard rock band from Australia that is gaining some momentum in America. After leaving Australia a few years ago, and playing the rock circuit from L.A. to Las Vegas in a relentless fashion, the band has gained many fans and built up quite a buzz. The legendary Sunset Strip club Whisky A Go-Go is so pleased with the band that they have become a personal favorite of their booking agent.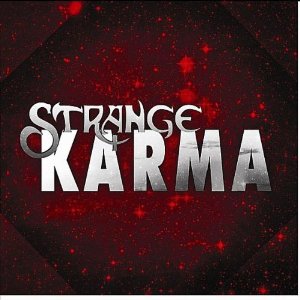 Strange Karma's sound can be described as a cross between the bluesy soul of Zeppelin and the anthemic rawness of fellow Aussies AC/DC (there seems to be a bit of New Wave of British Heavy Metal thrown in there for good measure, too). The single, "America," off of their debut album, "Volume 1," is almost an infatuation with the land of opportunity. America's music charts have been taken over by horrible, gaudy pop nowadays and could use a little Strange Karma.
Comprised of brothers Martin Strange (singer) and Paul Strange (guitar), as well as Doe Prijono (bass), and Jason McDonald (drums), the band has the determination and musical strength to accomplish acceptance from rock audiences all over America.
The following is a chat with singer Paul Strange:
The song "America" seems to be a strong fascination or declaration of love for this country [watch video below]. Can you explain?
Paul Strange: The song "America" is a reflection of what was happening at the time, It came together around the time we were heading over here a few years ago to test the waters. The band was buzzed about the upcoming trip especially having the opportunity of playing some of the worlds most famous rock venues like the Whisky. I had a riff going and a bridge that I took from another idea and put them together — then Marty (Strange) just started singing along to it: 'On a jet plane I'm coming to you, California … Vegas too.' This is what was actually about to happen. The same with 'Take a chance on me' —  its a reflection of what was and what is happening.
How is Australia different than America? What is the most noticeable thing …What is the first thing Australians think of when they think America?
Strange: Big! The land of opportunity. Everything here is a lot bigger — you guys have the population for it, its no secret that you guys do everything bigger and better.
The band now claims 100,000 friends on Myspace. Sounds like you guys already made it in Australia. And on your way here.
Strange: Yeah, there are a lot of people interested in the band. What we need to do now is get around to everyone so they can witness the live show.
What is the Australian rock scene like?
Strange: Unfortunately there isn't much of a rock scene these days, the cities are small with limited venues, lots of great bands with nowhere to play. Sad, really. There should be more support for live music over there -
Is the most popular rock band still AC/DC? or is it INXS? Australian Pink Floyd are pretty big, too.
Strange: AC/DC is without a doubt the most popular rock band in Australia, and see,  even they don't tour Aus that often.
AC/DC is without a doubt the most popular rock band in Australia, and see,  even they don't tour Aus that often.
What Australian band has inspired you the most?
Strange: AC/DC definitely in some elements and Cold Chisel is another great Aussie Rock band. I think they didn't get the world-wide recognition they definitely deserved.
Australian bands seem to have that 'brother thing' going: The Youngs, the Farriss brothers….
Strange: What about Van Halen? Oasis? Kings of Leon? Pantera? CCR? The Kinks? Beach Boys? (laughs) The brother thing seems to work great, we always got along with no problems, we are both on the same page so I guess that make things easier.
The name of this band is perfect. Did it come to you right away … to tie in with your last name?
Strange: Actually Jason (McDonald) came up with that when we hooked up with him —  sounded great so we ran with it.
Is it true that you came to an epiphany in NYC, while singing Led Zeppelin on a bat table, to start a band with your brother?
Strange: That was actually Marty, but yes it is true. Sometimes you have to go all the way to NYC to figure out who you are.
You are more a hard rock band than a metal band. Maybe Old School Metal is the best way to describe your sound, no?
Strange: I guess so, we just play music that we enjoy how ever you wanna describe it – after all how do you expect the audience to enjoy what you're doing if you're not getting into it yourself.
How was the Whisky A Go Go when you first played it? How did it feel playing on the same stage as icons like Jim Morrison, etc?
Strange: Great! Felt like home (laughs).
Any regrets in the debut? Thing you would have done differently?
Strange: No regrets. We actually recorded the album in only thirteen days — including getting everything down and mixing, so you can imagine we only had a limited budget. If there is anything I would have done differently?  Maybe have a few more days in the studio – to be able to walk away from it and come in with fresh ears, but I'm very happy with the way it came out. I wouldn't change it.
What kind of learning experience was it?
Strange: Great experience
I noticed on YouTube there were Strange Karma TV commercials in Japanese [see below] and Spanish.
Strange: We are looking to take Strange Karma global. Japan and South America are great rock markets. Europe, too.
Did you tour in Japan?
Strange: Not yet but would love to.
Recording new LP soon? Writing songs?
Strange: Ready for the second album, always writing songs …
What would like to see the band accomplish in the years to come?
Strange: Exposure, world wide!
For more information go to strangekarma.net