Andy Timmons shines on post-Danger Danger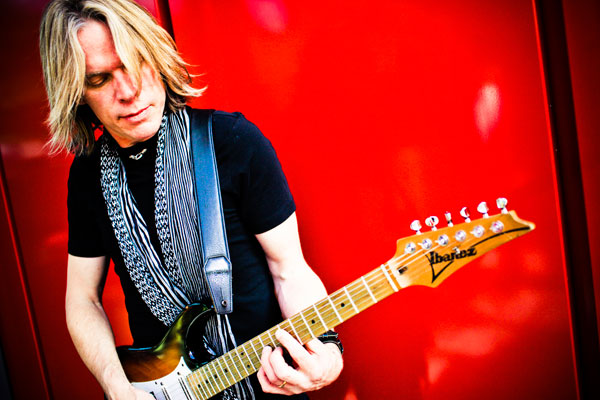 Andy Timmons has been recording and playing great rock guitar for decades now. He brought electricity to the band Danger Danger during Glam Metal's heyday and has continued to bring quality music with his band, the Andy Timmons Band (with Mike Daane on bass and Mitch Marine on drums). It seems only natural that Timmons would turn to one of his earliest influences to give him inspiration: Sgt. Pepper's Lonely Hearts Club Band by The Beatles. In October of last year, Steve Vai's Favored Nations Entertainment released Andy Timmons Band Plays Sgt. Pepper. This is an all-instrumental version of an iconic album that is an absolute blast to listen to; a joy for guitar enthusiasts and a delight for the fan needing to hear a new imagining of a well-loved classic.
Powerline recently spoke to Andy Timmons about his past and the present— leading off with a question about his decision to re-imagine Sgt. Pepper's Lonely Hearts Club Band :
Andy Timmons: I literally worked on the arrangements — on and off —over the course of two years. I really wasn't thinking of making a record, I was just enjoying the process. Then I started to realize "Wow, this is really working!" We had gone into the studio to record some new original material. At the end of the second day of recording, our engineer Rob Wechsler mentioned that we now had two extra days for recording, but we had already recorded the material I had prepared — so Mitch (Marine, drummer) said "What about those Beatle arrangements you're working on? Lets do it! " So, literally, in two days we recorded the whole record. Mitch and Mike (Daane, bassist) had never heard my arrangements before then. So it's pretty amazing how quickly Mitch got the drum tracks done. I never once had to mention anything about feel, etc. He knew exactly what to play. He really understands the beauty of Ringo's drumming and feel and then puts his own flare into it. I literally heard him playing in my head when I created the arrangements. Magic! I kept about half of my live tracks and replaced the other half with better performances at later sessions. Mike also replaced some of his parts. I think he had the most difficult task of learning the incredible McCartney bass parts, and then having to adapt them to my arrangements in the power trio setting. He did a brilliant job.
Besides the obvious, how would you say the album differs from all your other solo work?
Andy Timmons: It could really be considered Resolution Part 2 (Resolution was the 2006 release on Favored Nations) as the arranging and recording process was very similar. Strictly power trio with no overdubs. The real difference is, of course, everybody is already familiar with the material. My job is to try not to mess it up! It did dawn on me after I had finished the recording how 'full circle' the record is for me. It reflects my lifelong admiration and affection for the Beatles as well as my lifelong quest to become the best musician I can be. I don't think I could have attempted this record earlier in my career. My playing has matured to a degree where I felt comfortable with the task. Guys like Jeff Beck and Pat Metheny continue to inspire me and show us all the potential of the guitar. I think we're only scratching the surface of what's possible.
Steve Vai called you a 'great guitarist.' When Steve Vai calls you a great guitarist, doesn't that send shivers up your spine?
Timmons: Well, it's certainly a great compliment from someone I consider a genius, if not a ridiculously hard-working guy! It was an honor when Steve approached me to be one of his first signings on his Favored Nations label. After my experience with Danger Danger and major labels, I knew I never wanted to do that again. Steve was the first guy to come along with a business model that was actually fair for both artist and label. What a concept!
[pullquote_left]After my experience with Danger Danger and major labels, I knew I never wanted to do that again.[/pullquote_left]
You have worked with many different performers. What is it like to go from the heavy metal crowd to working with artists like Olivia Newton-John?
Timmons: It's all music to me and I love it all equally. Each genre brings along it's own set of challenges and I find it really fun and gratifying to be able to walk into all these different situations and play what's right in that particular situation. You have to be selfless to really do this well. When I'm playing with Olivia, I'm her music director as well as guitarist and I think about the fan coming to see her perform. I put myself in their position. What would I want to hear? I have the band learn everything from the original recordings and we really try to capture the sound and vibe. I love it! "Have You Never Been Mellow" was a favorite of mine when I was in grade school. What a beautiful vocal. She sounds better than ever now! Easy on the eyes too. (laughs) One of my favorite people on the planet.
Who have you enjoyed collaborating with the most?
Timmons: I played on Kip Winger's first three solo records. He's a truly brilliant composer/arranger. Olivia, of course. Simon Phillips was great too. My team (Rob Wechsler, Mike Daane, Mitch Marine). I'm still waiting for Paul, Ringo or Brian to call.  I'd also love to work with Metheny someday.
Do you miss the days of Danger Danger?
Timmons: Well, I certainly had a great time and received an invaluable education about the music business. I learned a lot about myself as well. Those days really helped me define who I was and what I wanted in my career. I didn't begin playing music to be rich and famous, I just loved music and wanted to be able to play well. That's still my motivation. Of course, as you get older you have to consider earning a living and guiding your career. Things have just kind of come into my path along the way. Somebody once asked me how I got the gig in Danger Danger and I modestly replied, "I guess I got lucky." He quickly responded "You weren't lucky, you worked your ass off for years and when the opportunity arose, you were ready." Fair enough!
When and why did you decide to leave the band?
Timmons:We had recorded a third record for Epic originally titled Scarred then later changed to Cockroach. After the initial exuberant label response, they sat on it for a while and eventually didn't release it at all (Note: the album was later released in 2001 in a joint venture with Sony Music). Things were falling apart internally in Danger Danger. Tensions between Ted (Poley, lead vocalist) and the band's founders Steve West (drums) and Bruno Ravel (bassist) came to a head and Ted left the band and sued both band and label. The band recruited Paul Laine to come in and re-sing the lead vocals, but it was too late. MTV essentially told us — and any bands like us — not to bother making any videos. They controlled everything at that time. If your video wasn't in rotation you didn't have much of a chance getting radio airplay. Seattle and rap were the priority. It was a change that needed to happen, but it was a drag for all those bands. At that point I had a choice: stay in New York or move back to Texas and finish my first solo record, ear X-tacy (named for his brother John Timmons' famous record shop in Louisville, KY). I moved back to Texas. I'm still good friends with Steve and Bruno. Ted and I did a show together in Brazil a couple of years ago. It was good to see him. Haven't seen Kasey Smith (keyboards) in years, but love him!
Did you consider Danger Danger glam rock? Glam metal? A hair band? Did you think the term Hair Metal or Hair band was derogatory?
Timmons: Probably hair band if anything — though, yes, I think it's a derogatory term, however deserved in many cases (laughs).
Was it strange being a NY band when most of the glam metal band scene was out in LA?
Timmons: I never really considered it, though a lot of people did think we were from L.A. I'm so glad we were in New York. I really treasure the time I lived there ('89-'93)
What was some of the strangest experiences on tour with Danger Danger?
Timmons: Can't mention most of them here! (laughs)  I loved the tours we did opening for Kiss. The last night of our tour in 1990 (Hot In The Shade) there were some funny on stage shenanigans. The Kiss crew were dismantling our gear while we were playing, gay phone sex adverts were being blasted through the P.A., transvestites parading onstage…complete chaos! Our only defense was to launch into "Deuce"! Gene Simmons quickly appeared in front of me in the photo pit. I leaned down to play the Ace Frehley solo note for note and he then proceeded to pour his Diet Cherry 7-up on my shoe. Good times!
Do you think Grunge played a great deal in the fall and popularity of the glam metal scene?
Timmons: Well, again, I think it was a necessary house-cleaning but it was a definite decision by MTV to stamp out the hair bands that had been the mainstay on their channel in the preceding years. They told Kip Winger (upon the release of the third record Pull in 1993), we don't like your video or your band, but check out this band, Pearl Jam. We're going to make them the biggest band in the world. They were that powerful. Of course, Pearl Jam has the goods and deserves being there, but it couldn't have happened without that push. That's what is so great about the current state of the industry. You don't have to rely on a label or a television network to wave it's magic wand for you to make it. You just have to be great! If you truly have something artistic and valuable to offer, people will find you. That's the beauty of the internet. The world is at your doorstep.
Danger Danger continues today. Have you gone back and jammed with the band? Do you still keep in touch?
Timmons: Aside from the one-off with Ted, no. Bruno and Steve came to see my show with Olivia last week and we still get along great. You never know.