Venrez bring a 'big rockalicious' sound to hard rock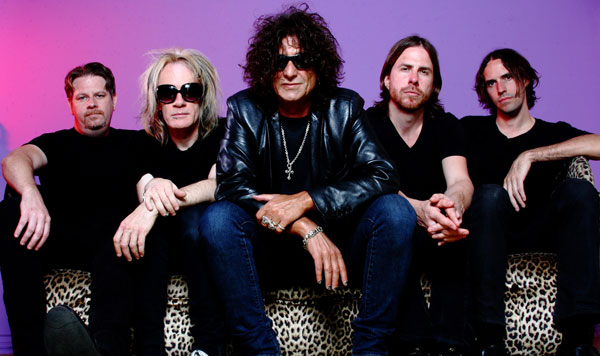 L.A. band Venrez is a pleasant surprise for 2012. They have all the right elements of classic hard rock with the proper mix of alternative and grunge — what vocalist Steven Berez describes as a "big rockalicious." And with the combination of Berez' dark mood and intelligent swagger and the big guitar approach of Jason Womack (ex-Juliette Lewis and the Licks) and Alex Kane (ex-Marky Ramone's Blitzkrieg), the big rockalicious sound is certainly appetizing. Their new album Sell the Lie (available February 28) also has the sleeze rock playfulness of any legit L.A. band but also a sharp social commentary that propels them higher.
The following is a recent interview with vocalist Steven Berez:

What is the meaning behind the title Sell the Lie? The lyrics of the song state: "allows me to release my pain of senseless killing." Can you elaborate?
Steven Berez: The meaning of using the words Sell The Lie as the album title was to send a message that the corporate monsters are no longer fooling the masses, they (the masses) are getting smarter. As to the lyrics of "Sell The Lie" —  I detest violence, war and senseless killing. So, I wrote the song about blood for oil money. The loss of our boys and girls in the armed forces as well as the collateral damage to innocent people.
You also state the phrase: "Freedom is just a state of mind" …
Berez: "Freedom is just a state of mind" means that we control how we think and feel. No one can make us feel anything. We have the choice to be the cause or the reaction.

Interesting cover art on Sell the Lie. How did the art come about and how does it tie in to the title of the album?
Berez: The album art concept was my idea. A wolf and a hot woman. Our manager hooked me up with the well known artist Michael Kaluta. Michael came up with the design and really just nailed it.
There is a very Aerosmith/GNR feel throughout, especially in a song like "Karma," and a song like "Sell the Lie" has an Alice in Chains feel to it. Does the band like comparisons to past artists?
Berez: Well, we always smile when compared to past artists. We are certainly influenced by several past bands musically, and myself by a few frontmen of past bands, some still performing some not. It's complimentary, but of course, we are doing our own thing and prefer to be appreciated for what we do and compared to no one.
Do you like being called a L.A. band, or having a L.A. sound?
Berez: Being called a L.A. band …? Well, we all live in L.A., and I was born in L.A. So, we are for all intents and purposes a L.A. band. Whether there is a L.A. sound, and if we have a L.A. sound, I really don't identify with that. We are a rock band and I think we get more comparisons to bands who came out of Seattle than to bands that came out of L.A. Some of the lower vocal notes I hit, I am told by many fans, are similar to Morrison of the Doors. The Doors are one of my all time favorite bands and they were a L..A band, so if people wanna call us a L.A. band that is fine with me.
Great to have influences as varied as '70s rock to Jesus and Mary Chain …
Berez: My writing partner, Jason Womack, writes all the music. So, clearly his influences have a large part to do with our sound. Jason grew up listening to the '70s period rock his parents were playing. He also was heavily influenced by Jesus and Mary Chain as well as all the bands who were influenced by them as well. I do think it's great. We have people from 13 to 54 years old joining our fan club daily. So it appears our music is appreciated by a large crossover audience in age.
Got a good guitar sound on the album — for instance, what a powerful riff on a song called "Insanity." That song never lets up. Do you think a lot of this bite has to do with the way the album was recorded live?
Berez: I think the great guitar work on "Insanity," and the album as a whole, does have a lot to do with the fact it was recorded live, but more so to the fact that my two guitar players, Jason Womack and Alex Kane are amazing players.
[pullquote_left]Whether there is a L.A. sound, and if we have a L.A. sound, I really don't identify with that. [/pullquote_left]
An 'onstage sound' in the studio, is not done enough these days. Agreed?
Berez: Yes, an onstage sound in the studio sadly is not done much these days, but we are not concerned with that. We want to give our fans the absolute best music we can create both in the studio and live on tour. With the album "Sell The Lie" we wanted to make a statement, and I believe we have no matter how successful or not the album turns out to be.
If you were a marketer and you had to sell your band, what would be your catchphrase for the band's sound? And what makes the band so unique?
Berez: The catch phrase would be "big rockalicious." I think the main things that make the band unique are clearly the two part harmonies between myself and Jason Womack and the way we have brought a '70s big rock beat to 2012 fresh.
You just started your US tour. What are some anxieties, expectations?
Berez: There are no anxieties nor expectations. We go out and do our thing period. The band records well together, rehearses well together, and tours well together. We love to play and we have so much fun on stage performing live shows. I think the fact that we truly have no anxieties or expectations makes the band what it is, REAL. And, if you are real, chances are good the fans will like what you are doing.
You've toured Europe already. What were your observations about different cultures (especially with the way they treat music)?
Berez: We have toured Europe twice. The fans over there love rock music and we were well received on both tours. They really come out to shows and are a very responsive audience. This is our first USA tour, and after 10 shows on this tour, I can tell you that the fans in the USA are exactly the same. Rock fans are rock fans, regardless if they live in the USA, Europe, South America, Asia or any other country in the world.
And you are already in pre-production on the next record. What should fans expect?
Berez: We are well into pre-production for the next album. Fans should expect more of the Venrez signature sound with lyrics that say something. I am very excited about the next album we will deliver to our fans after Sell The Lie.
Remaining Venrez tour dates with Fuel:
Tuesday, February 07 in Minneapolis, MN at First Avenue
Friday, February 10 in Vinton, LA Texas at Longhorn Club
Saturday, February 11 in Miami, OK at Buffalo Run Casinot
Tuesday, February 14 in Ardmore, OK at Heritage Hall
Wednesday, February 15 in Lewisville, TX at Hat Tricks
Friday, February 17 in Charenton, LA at Rox Night Club at Cypress Bayou
Saturday, February 18 in Biloxi, MS at Hard Rock Casino