Twisted Sister perform benefit concert for fallen officer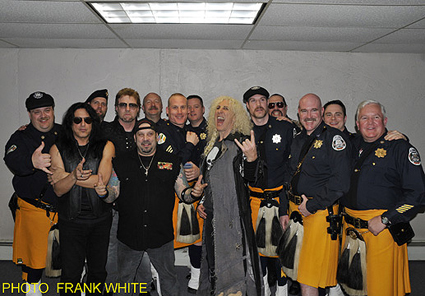 Twisted Sister performed at the Mid Hudson Civic Center in Poughkeepsie, New York last night, March 3rd, 2012. The show was promoted as the Officer Falcone Benefit Concert. Falcone was killed in the line of duty February 18. Proceeds went toward the John Falcone PBA Fund, the National Law Enforcement Officer Memorial Fund and Fallen Blue. Powerline photographer Frank White was there to take some great shots (see galleries below), including a shot of the band with actress Bebe Neuwirth who was in the popular television show Cheers (Ms. Neuwirth happened to be in the area, performing across the street at the Bardavon 1869 Opera House) and, obvioulsy, photos with Poughkeepsie police officers. Opening acts were Y&T and 3 Up 3 Down.

Twisted Sister set list:
What You Don't Know (Sure Can Hurt You)
The Kids are Back
Stay Hungry
Destroyer
You Can't Stop Rock 'n' Roll
The Fire Still Burns
Sin After Sin
We're Not Gonna Take It
The Price
Burn in Hell + Drum solo
Heroes Are Hard to Find (live debut)
I Wanna Rock
Encore:
Come Out and Play
Under the Blade
S.M.F.
Twisted Sister Benefit Show