Giveaway: Iron Maiden "En Vivo!"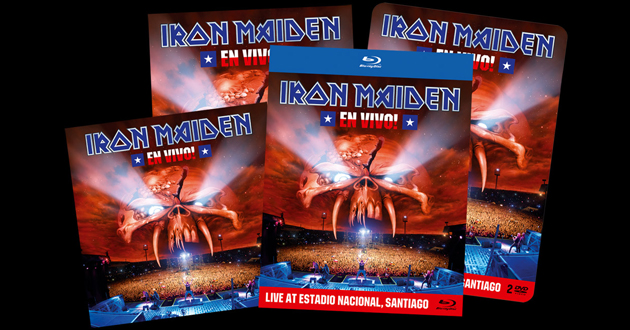 "EN VIVO!" was filmed on 10th April 2011 in front of over 50,000 ecstatic fans at the Estadio Nacional, Santiago during the Round The World In 66 Days leg of The Final Frontier World Tour, and captures a magnificent performance by the band, ardently embraced by the legendary Latino passion and energy of their Chilean fans. With spectacular stage backdrops, dynamic musicianship and a literally jaw-dropping appearance by Eddie, this live show encapsulates to perfection the heart and soul of Iron Maiden 2011.
For the month of April through the first week of May, Powerline — in collaboration with uMusic — is giving away four different formats of Iron Maiden's latest release, En Vivo! Each week will be a different format of En Vivo! to give away. All you have to do is enter your information below during the specified week for a particular format.
Product Details of the Iron Maiden: En Vivo! [Limited Edition Steel Box]:
Limited two DVD set includes a bonus DVD that contains a documentary, an extended version of the promo video "Satellite 15 The Final Frontier," a video about the making of "Satellite 15 The Final Frontier" plus the opening video sequence to The Final Frontier World Tour 2012 live release.
TO ENTER: Entrants only need to fill out information below.
By entering Powerline's Giveaway you will automatically subscribe to Powerline's eNewsletter and be signed up to receive updates and special offers from Powerline and carefully selected partners.