Appice says his reunion with Sabbath 'not gonna happen'

It has always been Vinny Appice's dream to start his own band — and a successful band at that. After years of gaining notoriety playing for Black Sabbath and Dio, Appice has finally come to realize his dream with the new band Kill Devil Hill. If you listen to Kill Devil Hill, it's obvious that the band has what it takes. Appice has teamed up with former Pantera powerhouse bassist Rex Brown and gained two excellent, relatively unknown musicians in the form of guitarist Mark Zavon and singer Dewey Bragg. The band has something special.
"I always dreamed I would have my own band," Appice told Powerline. "And I did have bands in Brooklyn where I grew up but my dream was to make it in the business with my own band. And then I had a band called Axis and that was becoming a dream but we couldn't do it. It was hard. And I had gotten in Rick Derringer's band, then we broke up and I went back to Axis and try to make it happen, then I got a call from Black Sabbath, so that interrupted that. And then Black Sabbath lasted, then Ronnie (Dio) wanted to do a new band so, of course, I'm gonna go with Ronnie. So I always ended up playing with other legendary people, and never had the chance to do my own band. I did it a couple times with World War III and a band called 3 Legged Dogg, but it just wasn't right at the time. It just fell apart. And then this thing, I still dream about having my own band, you know. And a great band, musically. And this [Kill Devil Hill] is more than what I expected. It's perfect."
This leads up to the question: Will Vinny Appice put off his dream if Black Sabbath calls? After all, it is uncertain whether drummer Bill Ward will join the Sabbath reunion (officially announced last year). And if Ward doesn't, that does leave the door open for Appice.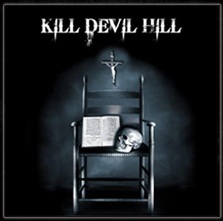 Appice: "Everybody goes: Well, If you did get asked, would you do it? And how could you turn it down? It's part of rock history. It's probably the last album they'll ever make, so who wouldn't want to do it? But I wouldn't want to stop my band in it's tracks. What am I gonna do, stop this and do that? I would say, if it was to happen, it would have to be both things, you know. With my band, maybe we can be on some of the dates and whatever… But it's not gonna happen anyway, because they're moving on. I don't know what's going on but obviously they're moving on, so … And I got this and I'm stoked, you know. This is my dream right here."
Kill Devil Hill's debut album will be released in the U.S. on May 22 on SPV Records. You can pre-order your copy here.
Stay tuned. There will be more to come on Powerline re: Kill Devil Hill in the coming days.