AC/DC exhibit at Experience Music Project is a hit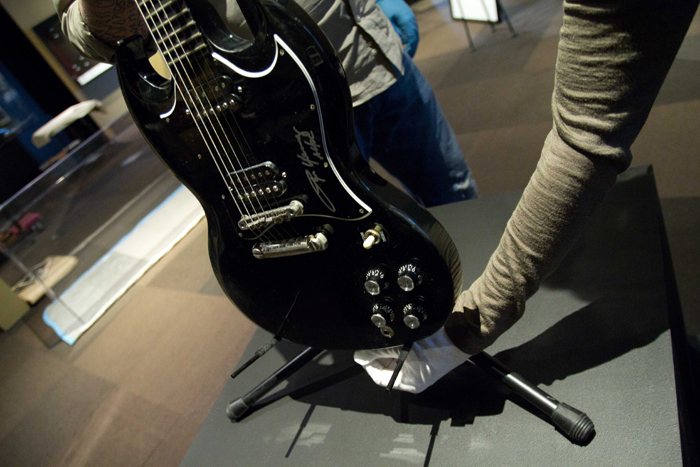 For AC/DC fans that want to get a look at some stellar artifacts relating to their favorite group, the Experience Music Project museum in Seattle is the place to be this summer, where the exhibit "AC/DC: Australia's Family Jewels" runs through September 29, 2012. EMP will be the only North American venue to host the exhibit.
There are over 400 items to see, covering the band's entire career. You'll find the original sheet music for "You Shook Me All Night Long." Bon Scott's leather jacket. Rare concert posters. The lyrics of "Highway to Hell," handwritten by Bon Scott. Angus Young's "Super Ang" costume from 1975, fashioned out of a blue girls leotard with a red "A" on the chest, red satin nylon shorts, and a cape, made by Angus' sister Margaret. And over two hours of music to listen to or watch in film clips.
The exhibit was first shown at the Arts Centre in Melbourne, Australia, put together by the Centre's curator, Tim Fisher. "What you'll find with this show is that it's told from an Australian perspective," he explains. "Partly because I wanted to do it for an Australian audience in the first place, and partly because that's just how it ended up in the process of making it. Lots of people offered me gold albums or platinum albums [for the exhibit], but in the end I wasn't that keen on reiterating how many albums they'd sold and that kind of thing. I was interested in the more personal history."
And it's this look at the personal side of the band that makes the exhibit especially insightful. The story starts with a display of the passport applications of the Young family, charting their move from Scotland to Australia, followed by artifacts from the members' varioius pre-AC/DC bands. Such as a 45 by Bon Scott's band The Valentines, produced by George Young and Harry Vanda, George being the brother of Angus and Malcolm Young, and a member of The Easybeats, of "Friday on My Mind" fame. Or a photo of Malcolm Young playing in a group called Velvet Underground, along with a poster showing that the group actually opened for Lou Reed at a show in Bankstown, near Sydney (sadly, there's no record of what Reed thought of his opening act's name).
The exhibit relates the band's history chronological fashion. The early years feature the most photos, along with video clips, and in one area, seven songs from a show at Glasgow's Apollo Theatre in 1978. As the band becomes increasingly popular, stage costumes and stage props become more prominent in the displays. Naturally, one of Angus' famous school uniform costumes is on display, with an accompanying description explaining that the outfit was suggested as a stage costume by Angus' sister: "As a kid I'd come right home from school and pick up my guitar without changing out of my school uniform. At dinner time I'd still be in the suit playing away. She thought it was cute. It would give people something to look at." The exhibit's costume, from 1988, features a blue velvet jacket and shorts, white cotton shirt, tie, and woolen cap. You can also see the stage cannon used on the band's 1981 "For Those About To Rock" tour.
Work on the exhibit gave Fisher a greater appreciation for the band's legendary lead singer Bon Scott. "He's such an interesting character," says Fisher. "And in fact it almost links it to the Nirvana show downstairs [referring to EMP's exhibit "Nirvana: Taking Punk to the Masses"]; the first five years of the band, developing the band, and then the sudden death of the lead singer. I've described Bon as a larrikin, which is not a word that's really used in America. It's somebody who's part of the culture but is slightly outside of it, and is a bit bad." (a more formal description of "larrikin" is: "a person given to comical or outlandish behavior").
The exhibit features 15 of Scott's letters. "They're really great to read through, because he's so descriptive," says Fisher. "He's a very good writer." One letter, sent to his wife Irene Thornton while Scott was on tour in the US, reads: "I'll come to see you in Adelaide. Oh no, we're [playing] in Melbourne. I'll come to see you anyway. Just don't die between now and then. I don't feel like going to hell yet. Yuck yuck!" You can also see his handwritten answers for a magazine's "Lifelines" feature: "Favorite drink: Whiskey. Favorite Bike: Harley. Don't like cars. Favorite Color: Silver. Preferably metal, and black. Favorite Guitarist: Don't mind the Young brothers." The inclusion of so many personal items is due to the participation of Scott's mother, according to Fisher: "Once she had agreed to help, a lot of other people came on board and agreed to lend items."
At the exhibit's end, you can pose in front of an AC/DC logo for a free picture then made available through EMP's flickr feed (see a sample photo above) ; you can even wear an Angus Young-styled schoolboy jacket and wield an instrument in the shot, a fun way to end your experience. "The audience for this exhibition consists of guys of my age who are mid-50s, and then mid-30s, and then younger kids," says Fisher. "So we've found really 3 generations of people coming to the show." Imagine that; a heavy metal exhibit that the whole family can enjoy.
ABOUT EMP MUSEUM
EMP is a nonprofit organization dedicated to the exploration of creativity and innovation in music, science fiction, and popular culture. EMP combines interpretative, interactive exhibitions with state-of-the-art technologies, and educational programming to offer visitors of all ages a first-hand, multi-dimensional experience of the creative and artistic process.
EMP is housed in a 140,000 square foot Frank O. Gehry-designed building. This spectacular, prominently visible structure has the presence of a monumental sculpture set against the backdrop of the Seattle Center.
OTHER EXHIBITIONS AT EMP
AVATAR: The Exhibition
Open now through September 3, 2012
Nirvana: Taking Punk to the Masses
Open now through April 22, 2013
Can't Look Away: The Lure of Horror Film
Open now
EMP MUSEUM HOURS
Winter Hours: Through May 24, 2012, 10:00am–5:00pm
Summer Hours: May 25, 2012 through September 3, 2012, 10:00am-7:00pm
CONTACT INFO
325 5th Avenue N, Seattle, WA 98109
206-770-2700, main line
206-770-2702, box office
1-877-367-7361, toll-free
www.EMPmuseum.org
facebook.com/EMPmuseum
twitter.com/EMPmuseum
youtube.com/EMPmuseum
flickr.com/photos/EMPmuseum