Theeeeeeee'ye Back!
Well, almost all of them. The traditional metal kings, Malice, are back with three of the five guys who made the band such a powerhouse in the '80s – Jay Reynolds (second from left, above) on guitar, Mick Zane on guitar, Mark Behn on bass. And they have just released a new album, New Breed of Godz, a disc of eight of their classics with four new songs. Yes, they are minus the amazing singer James Neal, but there is a strong replacement: the very potent belter James Rivera of the Texas power metal band Helstar.
Guitarist Jay Reynolds recently did an interview with Powerline and explained how the band Malice came together again.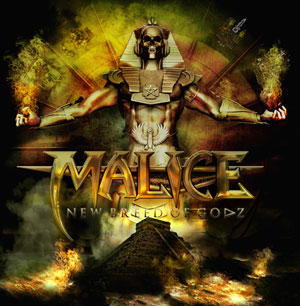 Jay Reynolds: I was in Metal Church from 2000 on and in 2006 we were doing a headline tour and Michael Schenker's band were on tour as well. They were playing the same venues, one day ahead of us or one day behind us, booked by the same agent. Finally by the end of the tour we played together in Hamburg and the key to this is that Michael's drummer Pete Holmes is an old friend of mine from where we all came from: Portland, Oregon. We kind of all grew up together. Anyway, he had almost been the drummer for Malice. He had been the drummer in Black N' Blue but after Black n' Blue broke up and after Malice broke up, he went on to play in another band with Mick [Zane] and Mark [Behn] called Monster [which released an album, Through The Eyes Of The World on Long Island Records]. At any rate, we were on tour and playing in Hamburg, and both of our bands were just killing it back in 2006. We were backstage talking about what a great time we were having. How much fun it was and how metal was huge again. And we thought what a great thing it would be to get our old friends Mick and Mark back in the game and do some Malice stuff in the downtime — because both of us were full-time musicians and we always had a couple months out of the year where we aren't doing anything.
So we got back to the States and called those guys and they were totally down for it. I knew a singer who could sing really well, who had the vocal range that James Neal did — a guy named Brian Allen. Brian's now singing for Vicious Rumors. But I called Brian and he was into it. We originally called James Neal. He was not into it. He didn't want to have any part of it. It was water under the bridge. Not really into metal anymore. He still plays and stuff but he just declined and said he wasn't into doing it. So we moved forward with Brian Allen. We did some rehearsals and booked some shows. The first show we did, we sold out. It was incredible. We figured we had something. But Brian wasn't really the right guy. Nothing against Brian. He's a great singer. He's doing an awesome job for Vicious Rumors, but if we were going to do this we wanted to find someone who really fit the band personality-wise as well as musically.
I had known James Rivera for a long time. I got to work with James in 2010 doing this all-star tribute to old school metal in Las Vegas. This band, called Denim and Leather, had a revolving door of people, you know, from known bands like Metal Church, Flotsam and Jetsam, Helstar, and it goes on and on. Different guys going through Vegas and do these gigs. James and I did a little mini-tour with that band and it was my opportunity. We had a great time on stage and we were just killing it and I told James, 'Look, dude, this Malice thing is just sitting right here, we're just looking for the right guy, and you're it." One thing led to another, he was interested, we started working on stuff, we got the Keep It True Festival booked and that was the starting point. Once we had a solid starting point, we were off and running. So, we literally went to Europe with four days of rehearsal and the five of us never played all together. We went over to Keep It True and pretty much kicked ass, man. I mean, for not having rehearsal for more than a couple days, I think we did awesome.
We came back to the States and started talking to SPV — who were at that show — and started negotiating the record deal and played some more shows. And the rest is what you see now in 2012.
And James Rivera is still involved with Helstar.
Reynolds: Absolutely. Malice, as much as we would like it to be, isn't a 365 day a year band right now. And [Helstar] did a lot of stuff last year, and some of their band members have some health problems so they'll be playing some shows this year but they're only playing for a couple of weeks. They just did a 30th anniversary show in their home town, and a live DVD. Really, it gives James two bands to focus on. He can do Helstar stuff one year and Malice stuff the next year, or every six months or whatever. It's almost like if you want to be a full-time working pro, you have to be in two bands. You know, Pete still plays for Michael Schenker half the time and I may be playing for Metal Church again. But we are serious about taking Malice forward. We are looking about making another record and we are going on tour. A short tour in July and then Fall we are hitting the road for a couple months and then go to Europe, do the States, and also do South America.
There was a real conscious effort to heavy the band up. I think it's evident when you listen to the record. It's a much heavier direction now.
You're right. Nowadays it's not uncommon for a musician to play in several bands.
Reynolds: It's not a detriment, man. James is a working professional. I think it adds more credibility to what we're doing by having — basically — an all-star line-up. You got elements of Metal Church, Helstar, Michael Schenker's band and Malice all squeezed together. I mean, I'd buy a ticket to that. And our live bass player, Robert [Cardenas], plays for Possessed and Agent Steel.
I was going to ask you about Robert stepping in on bass for Mark Behn during the touring process.
Reynolds: Yeah, and Robbie's awesome, man. We are pretty much blessed to have two bass players… in the modern world, we're all adults now and people have to work and they have families and [sometimes] they can't make the tour dates. Mark is obviously really involved in his film production for t.v. commercials. So if you can't commit to a full-time basis then … Bobby was just a perfect fit. In our circle of friends, we just asked him and he's a phenomenal bass player. He just stepped into the band seamlessly last year and played the hell out of some shows for us. We gave them both a shot to record on the album. Bobby did the new stuff, Mark did the old stuff. Both did a great job and you can't tell. I mean, they were both killer. When you are listening to the record, you're not thinking that there are two bass players, it's just awesome.
New Breed of Godz is an interesting title.
Reynolds: Look at the cover. It's 2012. What happens at the end of 2012, is the end of the Maya calendar. It's an interesting concept to think about. Whether it's real or not — if there's gonna be a cataclysmic, devastating event to end mankind. That remains to be seen but it still makes you think about the bigger picture. We explored that concept with our artist and if you listen to our songs it's really a conceptual album. I mean, even with the old songs. We used the old songs that tied together with the new stuff lyrically and conceptually. New Breed of Godz is potentially about some predator alien coming down and taking advantage of the cataclysmic shift of the earth as we know it. Heavy metal lends itself to those really abstract concepts and we just thought it was a really interesting subject matter to cover. I mean, if you want to look at it in a realistic point of view, if the end of the world is 2012 you better make the most of today.
If you listen to any death metal band, any speed metal band, any thrash metal band, any black metal band — they all listened to Iron Maiden. They all listened to Judas Priest. That's where it all came from.
I kind of read into it, too, that Malice is bringing an old school metal style back, which they call traditional metal now, or trad metal, which is gaining popularity again.
Reynolds: True metal, dude. It's true metal. And here's the deal: if you listen to any death metal band, any speed metal band, any thrash metal band, any black metal band — they all listened to Iron Maiden. They all listened to Judas Priest. That's where it all came from. And we fit right into that vein. If you compare us to bands like early Scorpions or early Priest or any Iron Maiden, or any of that, we fit right in. I mean, we're heavier now. We've kind of notched it up to the Painkiller-type Judas Priest. We've always been compared to Priest, so … But there was a real conscious effort to heavy the band up. I think it's evident when you listen to the record. It's a much heavier direction now.
For me, the Priest comparisons were always a positive. But do you think that hurt Malice at all?
Reynolds: No. back in the '80s, if you were going to be compared to anybody, Judas Priest was not a bad band to be compared to. I take it as a compliment.
You were reminiscent to early Priest, which was even better.
Reynolds: Absolutely. I don't think we're get it that much anymore. I don't think it will be as much of an issue as it was back in the '80s. I mean, we really have come into our own on this record. I've played the album back-to-back with some of the new stuff that's come out — the new Accept, the new Overkill, and other new records — and our record stands up to all that stuff. It's as good as anything out there. And the band's just breathing fire live. I can't wait to get out and tour.
I've played the album back-to-back with some of the new stuff that's come out — the new Accept, the new Overkill, and other new records — and our record stands up to all that stuff.
Well, Malice was always good live. I mean, that was part of your game. You were a live band.
Reynolds: And my strong belief is that you're not a band unless you get out and prove it live. We've always kicked some serious ass onstage.
Why did you decide to redo the old classics?
Reynolds: We haven't released a real full album since 1987. SPV's thought, initially, was that they wanted to reintroduce the world to Malice. Let's take the best of what the band did — four songs off the first album, four songs off the second album — and do four new songs. And, also, for the real die-hard fan, we have the digipak with the DVD which shows then, now and the making of the records. So, it really gives people an idea of who we are because there are a lot of people who never heard of the band. Fortunately, we have a lot of fans from back in the day but there's a whole legion of people who don't know who Malice is. There's a great opportunity to show folks exactly what the band is.
Going in to do it, it was like "Re-record the old songs?!" But, you know, James [Rivera] put his own stamp on them, Joe Floyd [Warrior] did an amazing production job, In hindsight, actually, it wasn't a bad idea at all — the record came out great. And we had no problem writing material. We probably have half of a new record written already.
I was curious, why no "Captive of Light" [a song featured on Metal Massacre, the first of a series of compilation albums released through Metal Blade Records]?
Reynolds: (laughs) You know, we thought about doing "Captive of Light" but we didn't want to go too far back and get too obscure on people. We're ready to move forward with a new album after the tour this year. All brand new songs, and with a heavier direction — I can't wait to do that. Ready to rip into it.
One of the things I've always cherished as much as your studio albums were the demos. Back in the '80s there was a lot of demo trading. Demos were just as popular. Have you heard from others, about liking your demos, too?
Reynolds: Yeah, and we actually made demos available with an album on Retrospect Records. The Rare and Unreleased. There are, I think, sixteen unreleased songs on there. Alternate versions of the songs recorded off the first album. There are the demo versions of the songs off Licensed To Kill. There are songs that never made it to record. It's everything that Malice ever recorded, except four songs we can't find. It's pretty cool. It even has the original demos — the eight track demos I did before Malice was pretty much even a band when I started writing the songs. It has the original versions with Deen Castronovo playing drums.
What lessons do you think you've learned from the '80s?
Reynolds: You know, we had a great shot at success and I guess the most important element in music is timing in terms of the industry. So if only we released the demos in '83 as an album. We had eight songs we could have put out an eight song album in 1983, we probably would have been a lot bigger. Because we would have had the second album out in '84 and the third album out in '85 and caught the wave. I don't know if people remember, but in the industry there was a metal backlash in '85 and that's when our first album actually got released. Basically the songs were already out there for two years but by the time the first record came out … and we had bad management and then we also had problems with our singer James Neal, which wound up being the demise of the band. You know, hindsight's 20/20 but I wouldn't take it back. We were there for the '80s. We were there for the rise of L.A. heavy metal. We then moved to New York and were a permanent fixture in New York for a few years. We got to tour with all sorts of bands, everybody from Slayer to Alice Cooper, from WASP to Nazareth to Saxon. We did shows with just about everybody. We were just lucky to have been there at that place in time, too. I mean, I wouldn't trade that for anything. That was a special time in music and awesome to experience the life of rock and roll in the '80s. Things are completely different nowadays. It's not a bad thing. Metal never went away in Europe but the '90s were cruel to heavy metal in the U.S.
Look at Metallica. They did it by constant touring and doing it right.
And experiencing L.A. — the hair metal — there was a backlash from it.
Reynolds: There was a saturation. Signing anybody and everybody but the real metal bands shown through. I mean, look at Metallica. They did it by constant touring and doing it right. The onslaught of a million hard rock bands called metal, the public was over-saturated in the United States. It was too much. People were inundated with crappy music. There were a lot of awful bands out there that were huge.
You did ask James Neal if he wanted to rejoin. James is really off on a different trip, huh?
Reynolds: Yeah, he's settled into his life. He's into music but he's just not really into metal anymore, which is all good, man. I mean, he's got his life together now. He had some alcohol problems back in the day. I mean, we all had our problems back in the day but it actually led to a big rift in the band. But we gave James the opportunity to step in when we decided to do this thing but he wasn't interested. The funny thing is, we have a singer named James now and they're both from Texas and the both fucking sing like a motherfucker, so …
Yeah, you got the right guy.
Reynolds: Yeah, we certainly did. If you listen to the record … when I listen to the record, I don't even think of James Neal. I just think, 'Wow, what a great record.' People know who James Rivera is. He has a following all to himself. He has fans around the world who are into whatever he does. Nothing wrong with that at all. I'm glad to have him in the band and call him my friend.
People know who James Rivera is. He has a following all to himself. He has fans around the world who are into whatever he does.
I think this new album does stand up to the albums you put out in the '80s and that says a lot.
Reynolds: And we're really proud of that fact. We didn't have the budget like we did back in the day but I think this album stands up to anything we've spent $100,000 – 200,000 on in the studio. We made a world-class album. We're trying to give fans their money worth and show that we really care. A lot of bands don't.