Here are the top 10 heavy metal items sold on eBay last week, July 7 – July 13 (listed in order of highest price in both categories "music" and "entertainment memorabilia"):
1. $635.00 – Running Wild Masquerade (shown above): promotional, deluxe, wooden box set (Noise Records 1995)
This item was limited to 100 numbered copies. The set includes:
The Masquerade LP
Masquerade Tour T-Shirt (printed both sides, with tour dates on the back and exclusive "Adrian" painting on the front)
Pirate Coin (with "Adrian" on one side and pirate ship on the other)
Treasure Pirate Map (sealed in a papyrus-like envelope with Running Wild/Adrian sealing wax)
A pirate's booty, for sure!
The seller claimed that this is the "ultimate collector's item and one of the most impressive and rare packages ever made" by the band Running Wild. The size of the box is 35cm x 35cm & 5cm thick, so the postage was expensive. But the buyer didn't care. In fact, it was a dogfight of 32 bids that started at $9.99!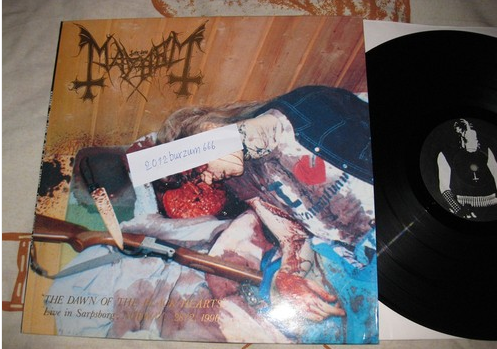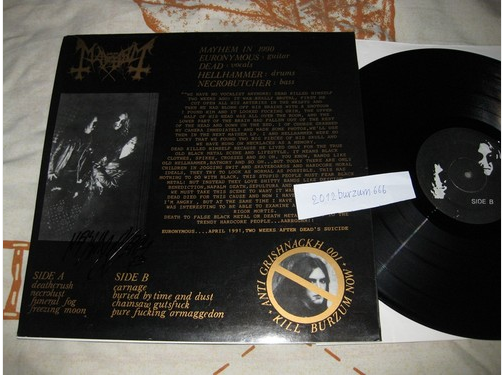 2. $529.99 – Mayhem The Dawn Of The Black Hearts LP
Nothing like seeing Death's brains blown out on a cover of an album. But some seem to find the Mayhem frontman's suicide photo appealing. Or amusing.  Who knows. It had 33 bids. But this particular album release has a sordid history behind it, so … that must be it.
The album is in EX condition and is on Warmaster Records (ANTI GRISHNACKH 001 1995). It is a Limited Edition of only 300 copies, In other words, mega-rare. It is also signed by Hellhammer of Mayhem on the back cover. Note: The "Kill Burzum Now" sticker on the back cover (see photo, above) may be the best part of this deal.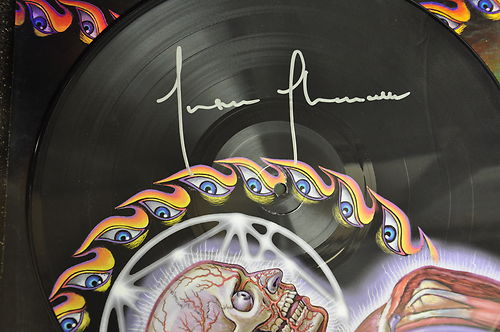 3. $470.00 – Tool LaTeRaLus vinyl LP, signed
This is reportedly a very rare item — and it went on the first bid. The seller's pitch: "Only 300 Copies were sold through toolarmy.com. I do not have a COA because tool army didn't include one. I have a new born at home and I need the money. These discs are in excellent shape, never been played (duh). This is a very good piece to have for any tool collector. I will also include a signed edition of the Revolver mag Tool special signed by Alex Grey for free."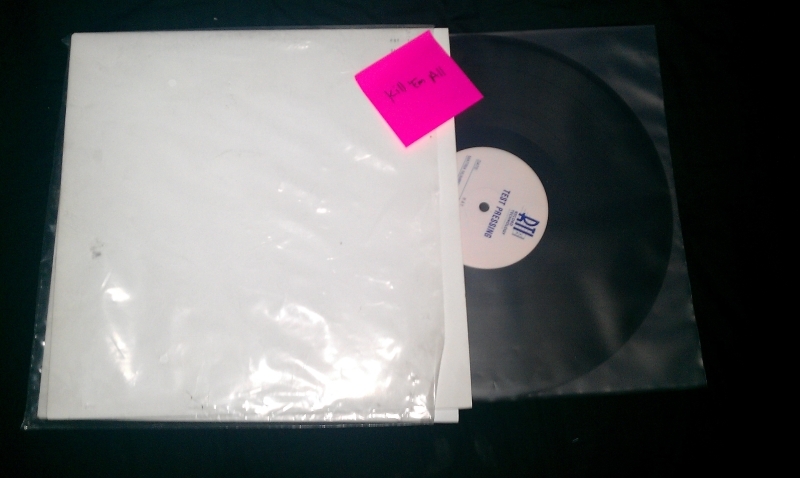 4. $376.55 – Metallica Kill 'Em All test pressing
Ah, a test pressing of Kill 'Em All. Arguably one of the best metal albums of all time. But you need to be sure you trust the seller on test pressings. Some would rather buy from a professional music auctioneer (i.e., Backstage Auctions) where they guarantee authenticity. Buying these kind of items on eBay has its share of risk. But that didn't dissuade buyers. They bid frantically to get this.
The seller's pitch: "(Matrix number: 343676-1). Two vinyls come with this, both making up the Kill 'Em All album and have NEVER been played, these test pressings are difficult to come by and I haven't seen any others like this surface anywhere–starting the auction at $0.99! These have been with me for a few years–and I am hoping these can go to someone who will appreciate them way more. I am moving on, and have 9 other albums up for auction. Audiophile sound quality! Here is your chance at grabbing your share of Metal history."
Do it for the metal history, man!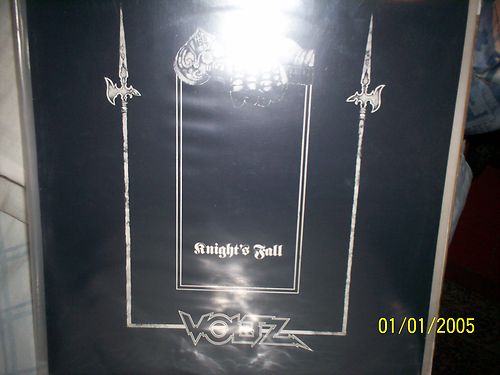 5.  $353.99 – Voltz Knight's Fall vinyl LP
Ah, a band from the NWOBHM (New Wave of British Heavy Metal) movement. One after the heart's of many true metalheads. This is one of the two covers of this 1982 release. You can listen to a sample of the band here.
Word to the seller: gotta get a better camera (or photographer), dude!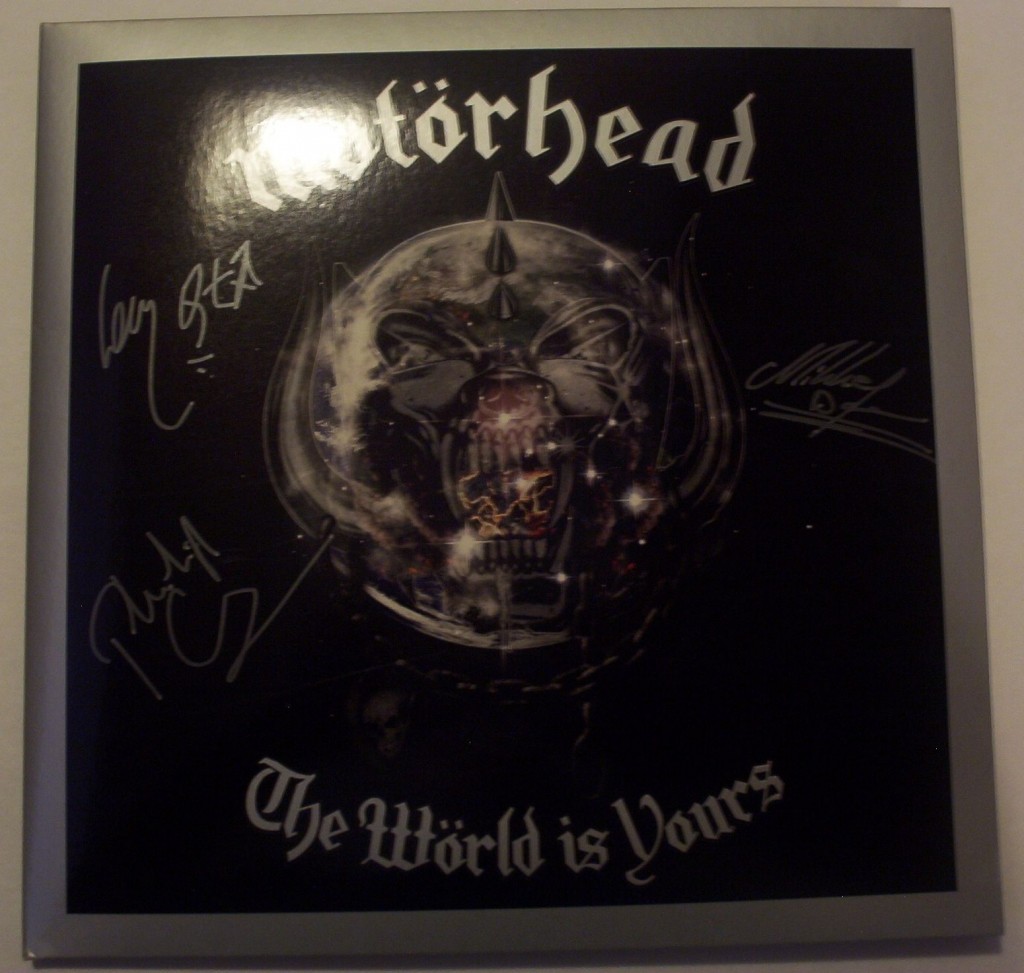 6. $325.00 – Motorhead The World is Yours silver vinyl LP, signed
Seller's pitch: "This album is BRAND NEW and is AUTOGRAPHED by all 3 members of MOTORHEAD!!! This is a RARE oppertunity to own one of these. I've never seen another one for sale… have you? This album came without shrinkwrap to allow signing and has NEVER been played! This was a BONUS for pre-ordering the CD from the MOTORHEAD website. I can't remember the exact number but I believe it was for the first 100 orders! I hate to part with this but bills are bills

I am a LIFELONG MOTORHEAD FANATIC!"
Geez, I thought he/she would never shut up! The succinct fact is this is a very cool item (blurry photo aside). I mean, it's f**in' Motorhead!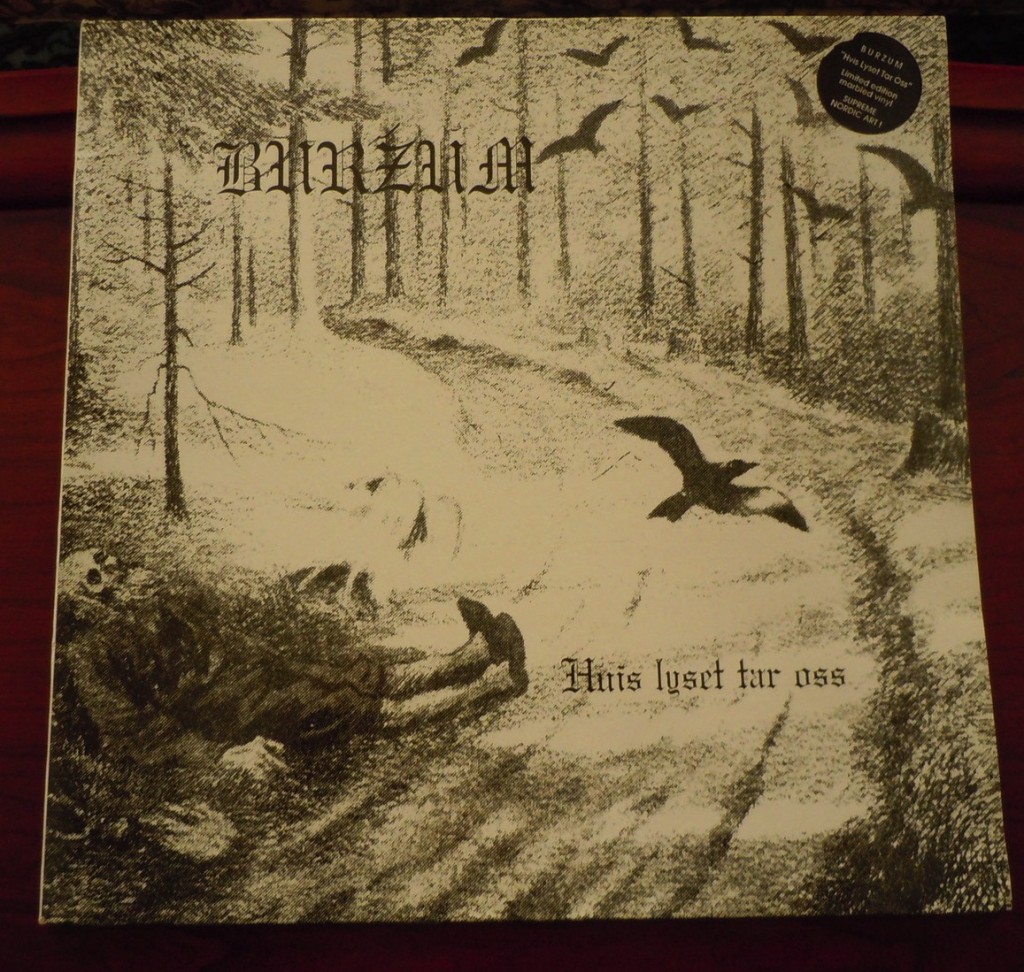 7. $325.01 – Burzum Hvis Lyset Tar Oss marble vinyl LP
Just when you thought it was safe to have a Top 10 eBay list without Burzum on it … Mayhem fans may want to kill Bursum but the music is as popular on eBay as ever.
The seller's pitch: very rare and sought after LP by Burzum "Hvis Lyset Tar oss" on original Marble Vinyl on Misanthropy records (Amazon 001, Eye 002 LP) It's in mint condition, and has been framed for years."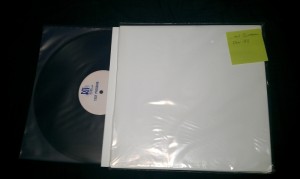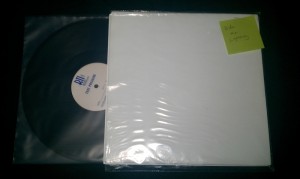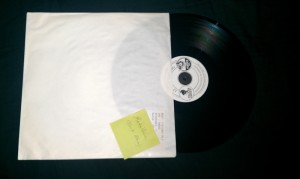 8, 9, & 10. $322.00 – Metallica test pressings of Ride the Lightning, … And Justice For All and the Black Album
From the same seller who auctioned off #4 on this list (can you say "Recording Industry insider"?). Same descriptions, except the Black Album is a German pressing. Gotta love the Metallica (and Lars made no money on this transaction either!)