Here are the top 10 heavy metal items sold on eBay last week, August 11 – August 17 (listed in order of highest price in both categories "music" and "entertainment memorabilia"):
1.Zaxas self-titled EP (above)
15 bids
Sold for $776.00
Seller's comments: Original pressing on the Accent label. Sleeve is VG++ with shelf wear and no splits. Disc also VG++ and plays great front to back! 4 song demo EP from obscure San Diego power metal band with the 2 Tracks shown below plus "One Nation" and "Shadow" on the B-side.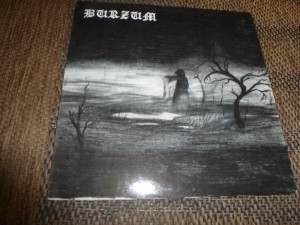 2. Burzum LP
15 bids
Sold for $756.91
Seller's comments: BURZUM "same" Vinyl LP on Deathlike Silence Productions from 1992 ! ( Anti-Mosh 002 ). This is the TRUE first pressing ! Cover is white on the Inside , NOT black ! NO "Voices of Wonder" print on the Backcover ! Plain , white Ineersleeve. Matrix says : MOSH 002-A NCB873161 , MOSH 002-B NCB873161. Also included is an original Burzum Flyer from 1992 ! Cover has only one tiny seam split on top and minor edge/spine wear = a strong EX , Vinyl has some light , inaudible scuffs and tiny surface marks but plays EX ! My own copy !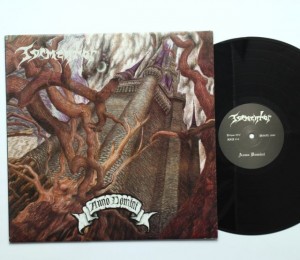 3. Tormentor – Anno Domini LP
29 bids
Sold for $516.89
Seller's comments: Legendary Old School Black Metal. Megarare 13 Track LP, with Poster (unworn), 1st press, ltd. 500. Original Nocturnal Art Productions Norway 1995. Vinyl = Top Condition NEAR MINT / Cover = Top Condition EX+ / (minimal dents on 2 corners)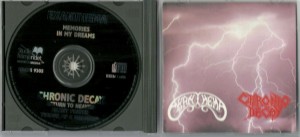 4. Exanthema – Chro​nic Decay CD
27 bids
Sold for $504.00
Seller's comments: ORG93 Swedish death legends. Distinguished split release (between top Swedish death beasts!). Paramount and definitive death upon the masses! Limited to 500. Original 1993 Studiefrämjandet! MATRIX CODE: SFRCDS 9305 dcm. 13051207 DISC: Very Good (Surface marks that do not affect play) INSERTS: Very Good/Excellent (has minor tab dent on upper left, and strong tab dent on lower right of front insert)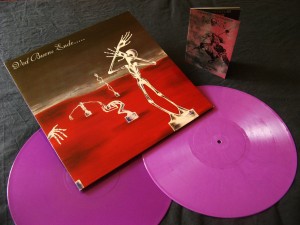 5. Ved Buens Ende – Written in Waters LP
18 bids
Sold for $416.44
Seller's comments: Gatefold LP First Press!!!! ulver arcturus. Misanthropy Records. PURPLE MARBLED VINYL + Flyer Sleeve: MINT ; Vinyl: NEAR MINT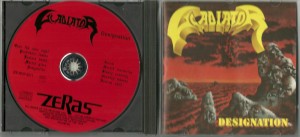 6. Gladiator – Designation CD
18 bids
Sold for $371.00
Seller's comments: ORG92 Death/Thrash Relic! Monumental death/thrash piece from Slovakia. Part of the amazing school of Czech/Slovak 80′s and early 90′s metal (Ferat, Dark, Master's Hammer, etc). Original 1992 Zeras!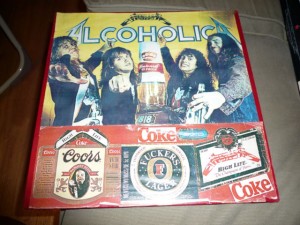 7. Metallica – Alcoholica LP
47 bids
Sold for $360.00
Seller's comments: ORIGINAL PRESSING not a reissue MEGA RARE. original press, black vinyl printed center labels. they dont say the name of the songs because its a fanclub press. vinyl in excellent shape. the cover is in great shape as well. just a little bit of folding of the paper because it was glued and tapes on in multiple sections. very very rare. NOT a reissue. all records are visually graded.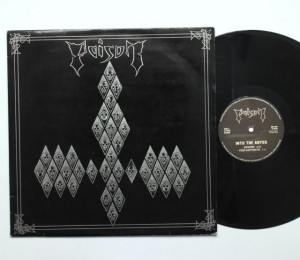 8. Poison - Into the Abyss LP
27 bids
Sold for $358.00
Seller's comments: 1993 Original Vinyl 1st pressing ++ GERMAN CULT DEATH/THRASH. Megarare Vinyl Version incl. the Demo 1989. Black Vinyl, with a papier copy insert and patch. No Fucking Bootleg, Original Release MIDIAN CREATION BELGIUM 1993. Vinyl = Very Good Condition EX+ / (small scratches, marks). Cover = Very Good Condition EX / (little used marks on the sides)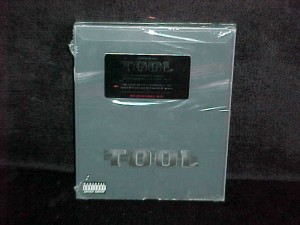 9. Tool – Salival CD/DVD box set
Buy It Now or Best Offer
Sold for $399.99
Seller's comments: New & Sealed. RARE & OOP! UP FOR YOUR CONSIDERATION IS A BRAND SPANKIN' NEW COPY OF TOOL SALIVAL. THIS IS THE CD/DVD VERSION. PLASTIC HAS A SMALL TEAR IN IT ON THE BACK AND ON THE FRONT TOP. HAS TAPE HOLDING THE SECURITY TAG ON IT. USE THE ZOOM FEATURE TO SEE IN DETAIL. VERY HARD TO FIND STILL SEALED IN ANY CONDITION. I HAVE NOTICED MANY OTHERS JUMPING ON THE BAND WAGON TRYING TO SELL THESE SETS BUT I HAVE BEEN SELLING THEM FOR ABOUT 5 YEARS NOW WITH NO PROBLEMS. I AM ALSO A MEMBER OF THE TOOL ARMY SO BUY WITH CONFIDENCE FROM ME AND GET EXACTLY WHAT YOU EXPECT.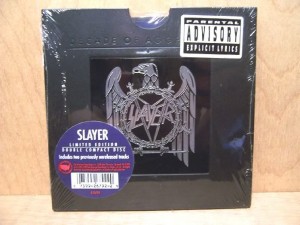 10. Slayer – Decade of Aggression CD box set
Buy It Now
Sold for $347.50
Seller's comments: NEW CD Metal Box LIMITED EDITION. ery Limited – Brand New and Factory Sealed Steel Case Edition with Original Wrapper with Original Stickers – HEAVY – Has 2 Previously Unreleased Tracks – Beautiful Etched Metal Slip Case — In Storage Since Released. Serial Numbered. CD Condition = New. Cover Condition = New. Label and Number = Def American – 075992679220 Year = 1992