The Top 5 Randy Rhoads songs of all time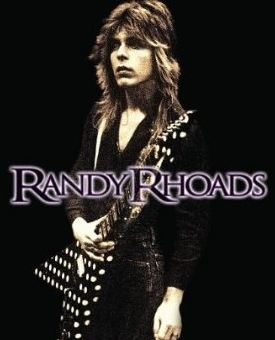 This year, Velocity Publishing released a 400-page coffee table book, Randy Rhoads, written by music journalist Steven Rosen and Andrew Klein. The massive book also vividly documents Randy's life through hundreds of rare photographs and memorabilia
Andrew Klein, who is not only a Rhoads expert but a top collector, gave Powerline what he believes are the Top 5 Randy Rhoads songs. Here they are:
1. "Revelation Mother Earth"— This was Randy's favorite track and the one that he was most proud of. It has a strong classical influence which demonstrates Randy's ability to incorporate and blend it with Ozzy's style of music.
2. "Mr. Crowley" — Randy's pride and joy. Don Airey's keyboard intro gave birth to the archetype Ozzy sound which he was able to build an entire career. Randy was particularly proud of the solo, which he struggled with in the studio. Ozzy exited the control room, walked into the studio and told Randy to abandon all of his ideas and just play from his heart instead. The next take Randy recorded was improv and subsequently became the final version that appears on the record.
3. "Diary of A Madman" — This is the epic masterpiece that comes along once in a lifetime, if an artist is lucky. Pink Floyd had The Wall and Led Zeppelin had 'Kashmir." Ozzy is very fortunate that Randy wrote 'Diary' — The first time Randy, Bob and Lee played it for Ozzy, his response was, "I'm not Frank fucking Zappa." Ozzy didn't quite understand the various time signatures. The song is structured in a way that is unlike anything Ozzy had ever recorded. The string section, which Randy's mom helped him with, was recorded at the famed Abbey Road Studios. Conductor and composer Louis Clark helped bring those strings to life. They add a final touch of something magical and haunting.
In December of 1981, Ozzy attended a Christmas party at Randy's house. Ozzy spent the entire evening in Randy's bedroom with headphones on, listening to 'Diary' over and over again. He knew how good it was. Throughout the 80's and 90's Ozzy was always quoted as saying that he keeps recording new albums because, "I haven't yet recorded my Sgt. Pepper. In 2012, looking back on his career, surely Ozzy must feel that the Diary of a Madman album is his crowning jewel. Certainly its his greatest moment as a solo artist to date.
4. "Crazy Train" — This song is a blueprint for a style of music that became popular for many years since its debut 32 years ago. Today, this song is a national anthem that blares throughout stadiums at every major sporting event in America. Walk into any music store and you are almost certain to see a young, impressionable guitarist sitting on a stool and playing "Cray Train." Nearly all the guitar players we interviewed cited this song as their introduction to Randy Rhoads. The opening where he slides into the opening riff, is one of the greatest guitar moments ever captured on record.
5. "Tonight" — Very uncharacteristic of an Ozzy Osbourne song, very characteristic of Randy Rhoads. This song is somewhat of a ballad. Its emotional, yet, heavy at times, and rich with layers and melodic forms. The solo is perfect and represents all things Randy. Johnny Cook's piano playing adds the necessary ingredient needed for the exclamation point. There was a rumor about the fadeout that had taken on a life of its own. Max Norman told me that it is simply
not true. He said the reason the fade out is so long is because he wanted to include all of what Randy had played. He confirmed that the band stopped playing just as the last notes can be heard on the record. Max also said that Randy recorded that solo on the rhythm track while he played with the band, rather than overdub the solo later. That's pretty remarkable.
Bonus #6. "Laughing Gas" — I had to include this song for many reasons. This was the Quiet Riot song that most resembled what Randy wanted to do. Quiet Riot music was heavily influenced by Kevin Dubrow's musical tastes. However, "Laughing Gas" was the highlight of Quiet Riot concerts because it featured Randy's spotlight solo. It was a heavy song, which was also a favorite of drummer Drew Forsyth who favored the heavier stuff as well. I never
understood why the band did not record this song. They pumped a lot of energy into it and energized their captive audience. Its truly a shining moment for Randy that stands out during his 5 years tenure with Quiet Riot.