Top 10 Metal items sold on eBay: weeks up to November 23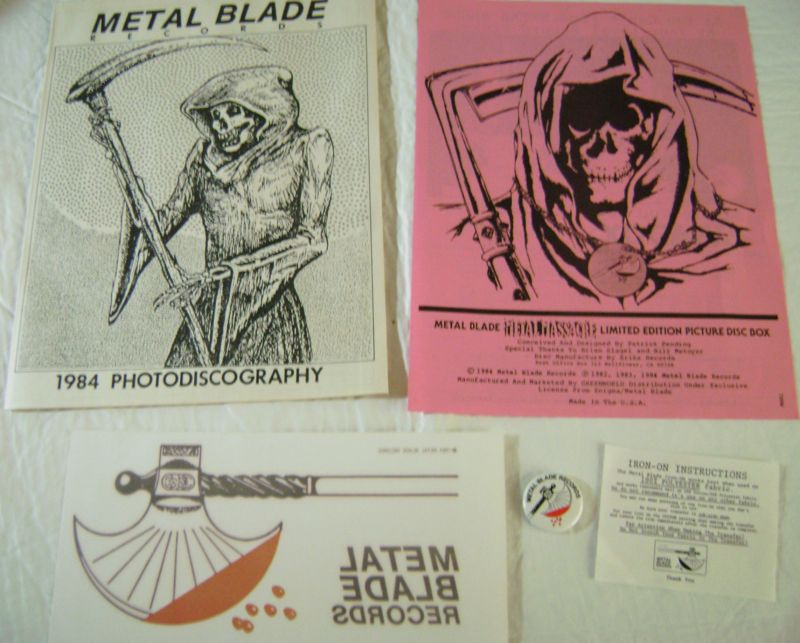 Here are the top 10 heavy metal/hard rock items sold on eBay the last three weeks, November 3 to November 23.
1. Metal Massacre box set (limited edition, numbered, special edition, picture discs)
Buy It Now or Best Offer
Sold: $300.00 best offer, from $499.99
Seller's comments: This is an original Metal Massacre picture disc box set from 1984. It includes Metal massacre 1-5 on picture disc as well as a pin/button/badge, an iron on, a flyer and a cool discography! The set was limited to 1,000 copies. This is #520. This one still has the original shrinkwrap w/ sticker. It is very rare to find one of these sets complete, nevermind in such excellent condition. I am not the originla owner, and I never played the discs, They look great.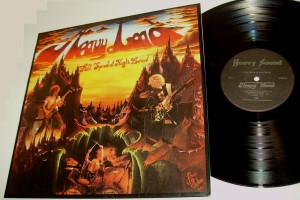 2. Heavy Load – Full Speed at High Level vinyl LP
Buy It Now or Best Offer
Sold: $299.99
Seller's comments: RARE HEAVY METAL, RARE ORIGINAL PRESS 1978 * HEAVY METAL*SWEDEN HEAVY METAL * LABEL : Heavy Sound HSLP 03, RECORD : ex, COVER : ex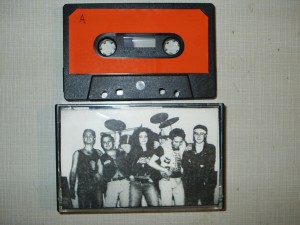 3. Black Ghost demo tape
12 bids
Sold: $233.50
Seller's comments: BLACK GHOST RARE DEMO TAPE 1985, 5 SONGS HEAVY METAL / POWER METAL, VERY GOOD CONDITION PLAYS GREAT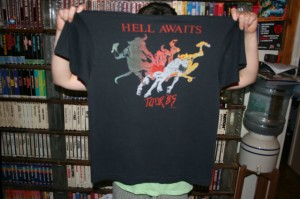 4. Slayer Hell Awaits 1985 tour shirt
Buy It Now
Sold: $220.00
Seller's comments: Original commercially produced SLAYER – HELL AWAITS t shirt. I bought this from Rock Tops in the late 80s and wore/washed it approximately 15-20 times. Lightly worn, just now breaking in. Neck is still in good shape. Tag is almost gone but as you can see it is an EXTRA LARGE. Measurements Pit to pit: 21 inches. Collar to bottom: 2 ft.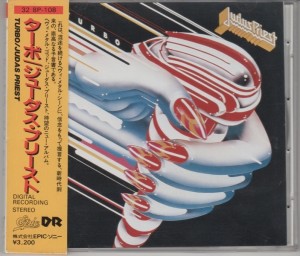 5. Judas Priest – Turbo box set (Japan CD, OBI)
12 bids
Sold: $205.41
Seller's comments: The controversial 1986 album from Heavy Metal Legends – JUDAS PRIEST. This title will have Metal-heads and aficionados debating its worth and meaning until the end of time. This is an absolute classic in my book. Much like SAXON did with Innocence Has No Excuse, JUDAS PRIEST experimented with sounds of the time. But I challenge anyone to dismiss the unbelievably good songwriting, regardless of how heavy it is. One of my favourite Judas Priest releases. A classic then, a classic now. THIS IS THE FIRST JAPANESE CD ISSUE… ISSUED IN 1986… AND COMPLETE WITH THE BOX OBI STRIP (THAT SITS AROUND THE OUTSIDE OF THE JEWEL CASE). EXTREMELY HARD TO FIND THESE DAYS. DON'T MISS IT! OTHER DETAILS – THIS CATALOGUE NUMBER IS THE FIRST PRESS OF THIS TITLE IN JAPAN. THIS ISSUE WAS FIRST MANUFACTURED IN 1986. ISSUED AT 3200 YEN WITH A BOX OBI (THAT SITS AROUND THE JEWEL CASE). FULL ENGLISH LYRICS AND JAPANESE INFORMATION ARE INCLUDED. RETAIL EDITION (NOT SAMPLE). SUPER RARE!!! CONDITION: CD – EXCELLENT- INSERTS – EXCELLENT- ORIGINAL OBI STRIP – EXCELLENT- ("complete" but with 1 split and inside the box there are some stains – please see all the listed pictures at the bottom of the auction page for better views of this rare Box Obi). I DO NOT GRADE JEWEL CASES. PLEASE REFER TO THE 'DETAILED CONDITION GUIDE' BELOW FOR MORE INFORMATION ON HOW I HAVE GRADED MY ITEMS. FIRST JAPANESE CD ISSUE (EPIC) MATRIX: 11A1 – COMPLETE!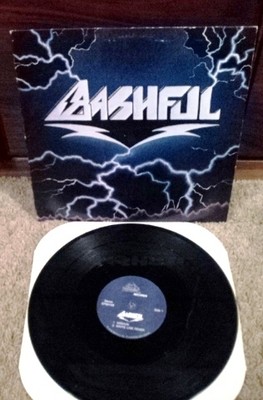 6. Bashful – Bashful vinyl EP
Buy It Now
Sold: $199.99
Seller's comments: Incredibly Rare and much sought after private press lp from Mt. Union, PA. Record is in G Condition LOTS AND LOTS of SCRATCHES !! This does play through with some noise / pops, not real bad , but does not skip. Cover is in VG+ Condition. Catalog #Arctic EP851108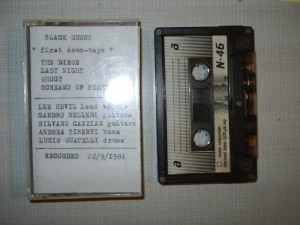 7. Black Ghost demo tape
13 bids
Sold: $192.50
Seller's comments: BLACK GHOST FIRST DEMO TAPE VERY RARE ORIGINAL DEMO TAPE 1984 HEAVY METAL / POWER METAL. 4 SONGS HEAVY METAL. VERY GOOD CONDITION PLAYS GREAT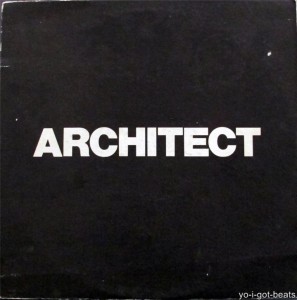 8. Architect – Architect vinyl LP (private pressing)
14 bids
Sold: $190.50
Seller's comments: Architect – No Label listed AR-101 – Self-Titled. Track Listing: A Fool's Paradise, Rush Hour, Slipping on the Ice Again, The Next Train, Night and Day, Teacher's Pet, No Reason to Cry, Satanic Dreamer. Rare private label hard rock LP, recorded and mastered at Ardent Studios in Memphis. Heavy chugging power chords and ratty heavy metal shredding with hints of southern rock and power pop. Sounds about three years ahead of its time. All songs written and arranged by Eddie Key, who makes for a pretty good lead singer.The condition of the jacket is VG- (twelve inch top spine split, two inch bottom spine split), the vinyl is VG- (audible scuffs, does not skip). Original Pressing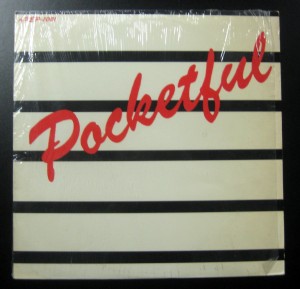 9. Pocketful – Pocketful vinyl LP
4 bids
Sold: $170.25
Seller's comments: Crazy RARE 80's Private pressing Power Rock/Hard Rock 12″ EP by POCKETFUL. Released in 1983 on A&N Records (ANEP-1001) Fully play tested and sounds great! Glossy vinyl has some light sleeve scuffs on side 1, otherwise it's really clean. Vinyl is a conservative VG+/VG++ visually, plays solid EX+ or better. Sleeve still in original shrink with some minor age discoloration, looks sharp. Please email any questions and be sure to check my others auctions for more great vinyl.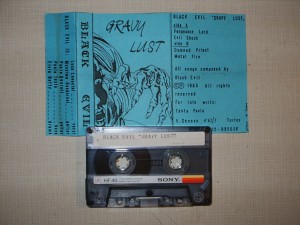 10. Black Evil – Gravy Lust demo tape
12 bids
Sold: $159.50
Seller's comments: BLACK EVIL GRAVY LUST RARE ORIGINAL DEMO TAPE 1985. 4 SONGS HEAVY METAL. EXCELLENT CONDITION. PLAYS GREAT