David Coverdale's Whitesnake to have a busy 2013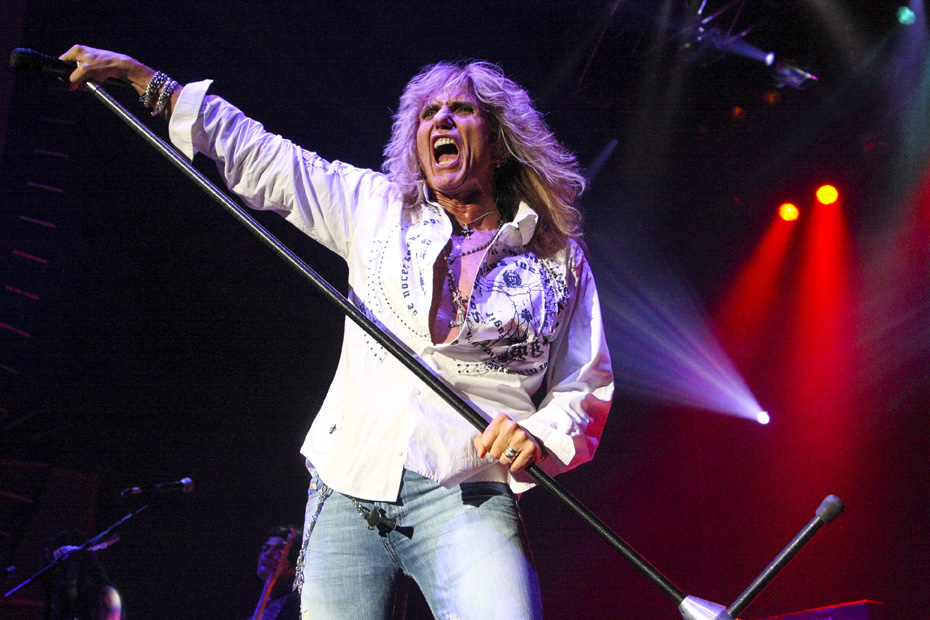 Whitesnake's new DVD/live CD release, Made in Japan, is as much of a tribute to Japan as it is to Whitesnake. Whitesnake thrives onstage, and add that the Japanese fans have always been among the band's most enthusiastic followers.
Made in Japan also captures a good period in the history of Whitesnake. Frontman David Coverdale has had a pretty solid unit for ten years now and he seems very confident about where the band is.
And in the following interview, David Coverdale expresses his excitement for 2013.
Made In Japan is to be released in April. You've always had a positive experience in performing in Japan to the fans, going back to the Deep Purple days, no? What is it about Japan that has been special for David Coverdale and Whitesnake?
David Coverdale: Japan has supported every single musical adventure I've taken to them, God Bless, 'em. They love music and they love musicians who take their craft seriously. It's always a pleasure playing for them, as they really listen — as well as get down and jiggy with it (laugh).
Why not a Made in Britain album? Has the British audience become a let down over the years? After a British tour supporting Slip of the Tongue, you once told Powerline Magazine: "I adore playing to the British. I'm proud of being British. But there's something unhealthy, a certain percentage of pseudo-intellectual people who seem to loathe any kind of success from a Brithisher." Do you still feel that way at times?
Coverdale: Ah, now here's what you get for trying to stir it up. We do have a Made In Britain CD coming in July. So there! (laugh) Not only that, but, the second CD is called Whitesnake:The World Record where we've taken a song from cities all over the place: Sao Paolo, Helsinki, Oslo, Buenos Aires, you name it. The MIB CD is taken from several shows we did in the U.K., not just one show. Everyone get's a look in.
As far as live performances are now concerned, bands need to entertain more. Unlike the old days of, say, Deep Purple when you could just stand there, put your head down and overindulge in a long jam on stage. Do you agree?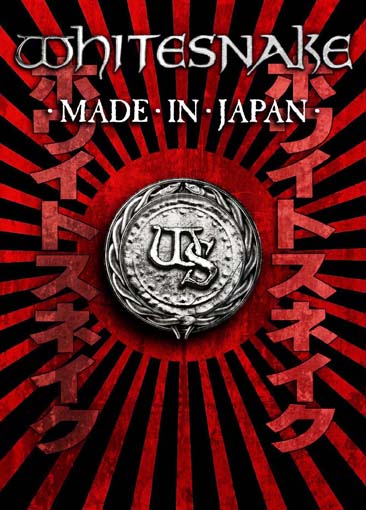 Coverdale: It's up to the musicians. I feel Whitesnake has always worked hard for the crowd and we've been rewarded for it. There's no shame in entertaining
people, particularly now in such challenging economic times. Whatever anyone else wants to do on stage is of no consequence to me, to be honest. I just do what I do. Hopefully others have as much fun doing it as we do.
The idea of including sound checks on Made in Japan was a lot of fun. Many bands are guarded about that sort behind-the-curtain kind of stuff.
Coverdale: As were we, it's just a different time, different thought process, and, of course, you don't have to 'seek permission' from the big corporate record companies. They would never have gone for that. I think I play the soundcheck disc more than the show disc in my car!!
"Fool for Your Loving" always packs a punch live, and it is one of the songs that is timeless. It's a lot more than the musical groove of it. There will always be those guys out there that will do anything for a woman even if it's self-destructive. So the lyrics add to the timelessness, no?
Coverdale: Completely and utterly. But, that's 'love'. It is the most fascinating subject for me to write about all these years. I love being in love and all the elements that it includes. And I celebrate or commiserate in my songs.
Listening to the Whitesnake catalog, there always seemed to be a similar structure throughout, which ties it all together. Will the next studio album follow suit? Are you writing new material for a studio LP?
Coverdale: It's the 'Whitesnake identity'. Forged from years of heartache, celebration, debauchery and doing the naughty. Yes, all the ol' familiar elements: hard rock, blues, rhythm & blues…melodic and human themes anyone and everyone can identify with and relate to. And why not? I've never been one to 'bottle it up'.
[pullquote_right]I've never been one to 'bottle it up.'[/pullquote_right]
So you don't feel like you are always competing with the last released album?
Coverdale: Nope. I did with the incredible success of the '87 album and it was a fucking emotional nightmare. Never again. I just do my best to take it to
the next level.
[Guitarists] Doug Aldrich and Reb Beach have been with you for, what, ten years now? That's a lengthy time. It kind of shuts up those old critics who used to say that Whitesnake was purely a vehicle for David Coverdale?
Coverdale: I love working with these guys. Great players, great 'people' And when was I ever supposed to be concerned about critics? That's like asking a
lamp post how it feels about dogs. I'm still here and what does that tell you? And, yes, it is a vehicle for David Coverdale … and everyone else who is involved with me.
[pullquote_left]When was I ever supposed to be concerned about critics? That's like asking a lamp post how it feels about dogs.[/pullquote_left]
You've worked with such phenomenal guitar players over the years. There must have been a favorite, if not a favorite experience with them?
Coverdale: I've loved all of them. I LOVE guitar. I've always been blessed with great players who also wanted to work with me… and drummers… and bass
players. I am so fortunate that I get to work with amazing people. Blackmore, Page, Bernie, Adrian, God, Doug & Reb. Serious players!
You once said that you had found a perfect songwriting partner in Adrian Vandenberg. Did you expect that to continue or pick up somewhere in the future?
Coverdale: Indeed. Adrian and I wrote and collaborated on some super songs — as Doug and I are doing now. I must include Doug. He has been and is a partner to die for. I am so very happy with everyone I am involved with now that I don't even think of working with anyone else. No disrespect meant to any of my associates.
[pullquote_left]I am so very happy with everyone I am involved with now that I don't even think of working with anyone else.[/pullquote_left]
In a Powerline interview in 1990 you've said that "A lot of people tend to let their personalities, private egos or whatever, interfere with the big picture. And that's something that I have to stop.  It's a team. And whatever the reputation, if I'm supposed to be a dictator, then I'm comfortable with it." Do you still need to take this kind of hard stance still? Or are those days long gone?
Coverdale: I don't appreciate anyone pissing on the Whitesnake parade… so, yes, I probably still embrace a lot of that philosophy. I'm firm, but, I would draw the line at dictatorial. (laugh)
Then again you once commented that "talking about music was like singing about football, it doesn't make a whole lot of sense." Maybe it's best to not take yourself too seriously?
Coverdale: Agreed, but, one must respond seriously if the situation calls for it. The music business is not all a piss up and  a sloppy rock show. Sometimes I have to wear a business man's hat. But, that's fine. I can compartmentalize. I don't let it affect to 'fun' side of things.
[pullquote_right]The music business is not all a piss up and  a sloppy rock show. Sometimes I have to wear a business man's hat.[/pullquote_right]
There are constant references to Whitesnake in U.S. pop culture. For example, I was watching a movie the other day called Bad Teacher and there was a great bit about Tawny Kitaen's video car scene. It isn't the first time I've seen that referenced. And it probably won't be the last. You must always find it interesting?
Coverdale: I only know about that stuff thro' my website or Twitter, to be honest. It has no consequence in my life, though I suppose it all chips in to the big picture, awareness & all that…Next!
Speaking of the old days, how does it feel to have drummer Tommy Aldridge back in the fold, on tour?
Coverdale: Very, very excited. Tommy and I feel it is time to finish our destiny together. It's his third time in the 'Snakes. Christ, no one's ever made it in twice!
BTW, have you heard Doug Aldrich's Burning Rain album, Epic Obsession? Are you okay with members of the band branching out creatively?
Coverdale: Sadly, I haven't heard it, but, I have no doubt it will be a cracker. Doug is a major  talent. I'm delighted to call him my friend as well as my partner. Yes, I fully endorse my guys going off & engaging in other creative opportunities. As long as it doesn't conflict with Whitesnake activities. Go for it with my blessing.
2012 was a rest year for you, really. And throughout your career you have taken these breaks. Is it good for the creative soul, and with that answer.
Coverdale: A rest year? That's a laugh. We haven't stopped since we came off the road in December 2011. God, I wish. (laugh) Just so you know, when
you see a 'day off' on a band's tour schedule, it usually means a travel day. A tiring travel day.
Is 2013-14 going to feature a lot of activity than already announced?
Coverdale: Yes, much more. Stay tuned, Mates.
Note: Made in Japan is set for release on April 23rd in North America and will be available in several formats: a deluxe 2CD/DVD edition, Blu-ray and a standalone DVD. The performance footage is shot in HD in 5.1 and stereo and is taken from Whitesnake's co-headlining set at the "Loud Park" festival on October 11th, 2011 held at Saitama Super Arena in Japan during their "Forevermore World Tour."  The performance was initially recorded only for Japanese TV and future Loud Park promotions, but after three songs were broadcasted on a Loud Park highlights program in Japan, Whitesnake received unprecedented requests for this performance to be made available to the general public.