Powerline will be giving away a Fender Squire Stratocaster, signed by Stuart Smith from the band Heaven & Earth. All you have to do is fill out the form below between Monday, May 6 — Monday May 20, 2013. There will be a random drawing on May 21, 2013 for one (1) winner. Winners will be notified by email. Official rules.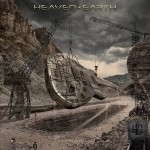 HEAVEN & EARTH is a hard rock band comprised of guitarist STUART SMITH, singer JOE RETTA, bassist CHUCK WRIGHT, drummer RICHIE ONORI and keyboardist ED ROTH. The band fuses elements of hard rock, blues and bits of classical with bravado and a razor-sharp focus. Taking up from where iconic bands like Deep Purple and Bad Company have left off, HEAVEN & EARTH is on a mission to resurrect the sanctity of classic rock in its purest, most accessible form on their new studio album titled Dig (left), out now Quarto Valley Records. Produced by Dave Jenkins — who's turned the knobs for everyone from Metallica to Tower of Power — and features special guests Howard Leese (Heart, Paul Rodgers), Richie Sambora (Bon Jovi) and David Paich (Toto), Dig contains the hard hitting and lyrically direct single "No Money, No Love," which has already logged over 300,000 views in just over a month.
TO ENTER: Entrants only need to fill out information below.