Marta Gabriel doesn't want to spoil anything, so she's been careful not to give too much away when talking about the story of Julia.
Suffice it to say, she goes through a lot one night, and the latest album from Poland's Crystal Viper wraps her spellbinding tale in darkly epic, thundering metal that thrashes with rage one moment and glows with heavy, melodic incandescence the next.
A concept album in the tradition of Mercyful Fate's Melissa, Possession is the cinematic sixth studio album – they've put out a brace of singles, along with a compilation album and a live LP, as well – from this pulverizing power metal militia. Formed in 2003, Crystal Viper is led by the multi-talented Gabriel, who wrote all the music and lyrics for Possession. Bart Gabriel (Burning Starr, Sacred Steel) produced the record, which included 50 screams submitted by Crystal Viper fans in the final mix.
All the trappings of traditional metal, from its blindingly fast tempos to its beguiling passages of shape-shifting melody, are found on Possession, as it bears a resemblance to the work of Ronnie James Dio and Judas Priest, but it undoubtedly gets its black atmospheres from influences like Bathory and King Diamond's old musical haunt. And Michal Oracz, famed for his design work with Polish board games and role-playing games, did the cover art.
It's an ambitious package, with vocal contributions from Jag Panzer's Harry Conklin and Desaster's Sataniac, especially considering all the fashion design – she has a clothing line called Thunderball Clothing – and studio session work Gabriel does outside of Crystal Viper. Gabriel talked in depth recently about Crystal Viper's new record and all the other irons she has in the fire in this e-mail interview.
This is a concept record with a story that revolves around a young girl named Julia, and it's an incredibly cinematic tale. Tell us about Julia and how you developed her character.
Marta Gabriel: I wouldn't say I developed Julia's character in some special way, as the story basically tells what happened "around" Julia, during one night, on Friday [the] 13th. But I can tell you Julia is reincarnation of the witch named Sarah, and you could meet Sarah on our previous album Crimen Excepta…
Is this the most ambitious record Crystal Viper has ever made?
MG: I don't know, [it's] hard to say. We never plan anything. When we have enough good new songs, we do an album, that's all. We never think, "We should do this, or we should do this." We love writing, playing, and recording heavy metal. We prefer to act, not talk.
"Evil" is a topic that comes up a lot on the record, and there seems to be this inner struggle in Julia between innocence and succumbing to darkness or becoming possessed. How much do you relate to the character of Julia and what she's going through?
MG: Struggle between innocence and being possessed? Not really. Our story has a pretty unexpected twist. Let me keep the secret: if I would tell you what Possession is about, then it would be like telling people how the movie they are going to watch will end. But I can tell you another thing: if you will carefully analyze the front cover artwork of our new album, and you will listen to the album and read the lyrics, you will find out that almost every single song is represented on this picture.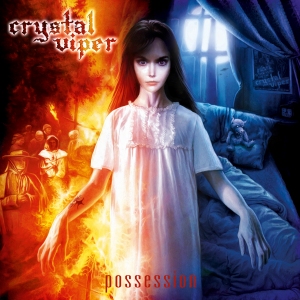 What makes these themes of possession and evil such interesting subjects for you to write about and how did the story take shape?
MG: It's hard to answer this question, as the album, well, it's not really about "possession." At least not kind of the "possession" everyone expects. It's not [a] typical ghost / exorcism story. It has an unexpected twist and goes into themes and subjects no one would expect from a band like us.
In making this record, it seems that you wanted it to be darker, sort of blending traditional melodic metal with classical music, the thrash influences of a Metallica and the blacker epics of somebody like Mercyful Fate or Bathory. Was it the story that drove you to do that or did you simply like the idea of experimenting with all those different elements?
MG: Both yes and no. First of all, all members of Crystal Viper are die hard metal fans. All of us collect records, we go out to see other bands, we travel to see bands on festivals and so on. And everyone in Crystal Viper has different personal favorites, different tastes. All these tastes and personal influences melted together make what Crystal Viper is all about. So I can say that yeah, we are a heavy metal band, but I could list many, many thrash, black, and even death metal acts as our favorite acts, or influences. But you are right, Mercyful and Bathory are right there, between bands we all love.
"Why Can't You Listen?" is one of my favorites, along with "Voices in My Head" and "Mark of the Horned One." They're all really heavy, but you incorporate a lot of diverse influences and interesting changes in mood and texture. When writing songs, especially with this record, how do you balance that desire to be aggressive with fleshing out melodies and wanting songs to take on different characteristics?
MG: It's all about the story that I'm going to say in a song. Possession is a concept album. It's one big story told in all songs, one after another. So at the beginning I had to sketch the story, and then I was writing songs to build atmosphere around them. It was like painting a picture with sounds. You know, you can't do for example a fast and funny-sounding song about let's say killing or something epic. It would make no sense, unless you want to say the story from, I don't know, some maniac's perspective. Writing concept albums is maybe a bit harder than writing normal albums, but it's great fun for me. It's like doing a movie without pictures, without vision. You need to make sure the sounds, the melodies, and atmosphere of the songs go side by side with the story. I'm a great fan of movies, especially classic horrors, so this is the real reason of doing concept albums.
You wanted your fans to be involved in this record. How did you come with the idea to have them send in their screams and bring them into the recording?
MG: We love our fans. The truth is if there would be no fans, there would be no music at all, no heavy metal and no Crystal Viper. I'm not sure who exactly come out with this idea. It came out on one of our band meetings. We thought it would be something cool to do something special, something unique – you know, everyone can buy a CD or a t-shirt, but how often can you find your name in the album booklet, and say, "Hey, it's me!" when you listen to some song? I think it's really cool.
How would compare the playing on this record to that of past Crystal Viper records? Would you say the band as a whole is progressing as musicians?
MG: All musicians learn their whole life. If you are a musician, and you come to a point when you start to think you already know everything, it means you should start doing something else and quit playing. So with this in mind, I'm sure everyone's playing on each next Crystal Viper album is a little better.
Inviting vocalists Harry Conklin of Jag Panzer and Sataniac of Desaster certainly adds fascinating contrast to "Fight Evil With Evil" and "Julia Is Possessed." What made you pick those two singers in particular to appear on the record, and as for your own vocal treatments, was there anything different about Possession that made it challenging?
MG: Yes, we have Harry Conklin from Jag Panzer and Satan's Host, and Sataniac of Desaster on our album. We always try to invite members of other bands to be special guests on our album; it's already kind of tradition for us. We invite people we respect and like. This time it was Harry and Sataniac from Desaster. They are great guys, talented musicians, and it was great pleasure and honor to work with them. So everyone, if you don't know Desaster or Harry's bands – Jag Panzer, Satan's Host and Titan Force, check them out. They are f**kin' awesome and metal to the bone. Challenging? I don't know, for sure there were easier and harder parts to sing. Maybe most challenging was to put right emotions into singing, as with a concept album you actually tell the story.
You are also an in-demand session player. Has working on others' records influenced what you wanted to do with Crystal Viper?
MG: I wouldn't say so. I mean I love working with other bands and with other musicians, as I learn all the time. I'm like a sponge, I absorb everything. But I wouldn't say working with other bands had influence on what I do with Crystal Viper. We rather have an own path to follow.
You've recorded with power metal acts like Sabaton and Majesty, as well as Witch Cross. What was the most memorable thing about those experiences?
MG: Every single opportunity of working with other bands and artists is absolutely wonderful and memorable. I couldn't list only one. It's great when bands invite me to sing or to play with them. It shows the unity of the metal bands.
Tell us about your clothing line, Thunderball Clothing. What are the designs like and what was it that made you want to get into fashion?
MG: When I started to play on stage with my band, I couldn't find clothes I like in stores, so I started to make clothes for myself, and later for my bandmates. From time to time my friends were asking me if I could create something for them, and later, from one word to another, strangers started to ask me about custom clothes, as they've seen something cool that I've made for others. As there were more and more requests, I decided to open my own company, and create a clothing line, Thunderball Clothing. I think I found another amazing way in my life, as designing and making clothes is [the] next opportunity to make an art, which of course is inspired by music.
As a woman in metal, do you think the genre is becoming less of a man's world and that female artists are gaining more power?
MG: I will tell you like this: if someone doesn't like or doesn't accept female fronted acts, then well, it's not really my problem. Everyone has personal taste. I personally like a lot of female fronted acts, or even all female bands, like for example Rock Goddess, Warlock, Acid, Blacklace or Chastain, or even several of these modern female-fronted acts, such as Nightwish or Within Temptation. If I like someone's music I don't think if it's male or female singing or playing. I'm not really paying attention if there are more or less female artists. I do my own thing.
You decided to cover the Riot classic "Thundersteel." What made you decide to remake that song and what approach did you want to take toward doing it?
MG: We always wanted to record cover version of "Thundersteel,"as it's one of the greatest heavy metal songs ever written. We were just waiting for the right moment. And recording it as the bonus track for [the] new album was a perfect match, because when you will see all lyrics from the new album – with "Prophet Of The End" being the last song – and you know [the] lyrics of "Thundersteel," you will find out that "Thundersteel" can be taken as the song about something that got revealed in "Prophet Of The End." We are actually in touch with Riot members, and they were between first persons who heard it – they like it very much, so it's a big honor! One trivia here: when we were recording this cover, we tried to mix both versions, the original demo version which was recorded by Narita (Mark's other band he had in 1985) and [the] version that everyone knows from the Riot album.
Where does Crystal Viper, and, in particular, Marta Gabriel, go from here?
MG: I won't surprise you here: writing, composing, and recording lot of music – not only for Crystal Viper, as I have million other projects in mind as well! And yeah, doing next clothes for Thunderball Clothing!