Derek Sherinian happy to reissue his solo work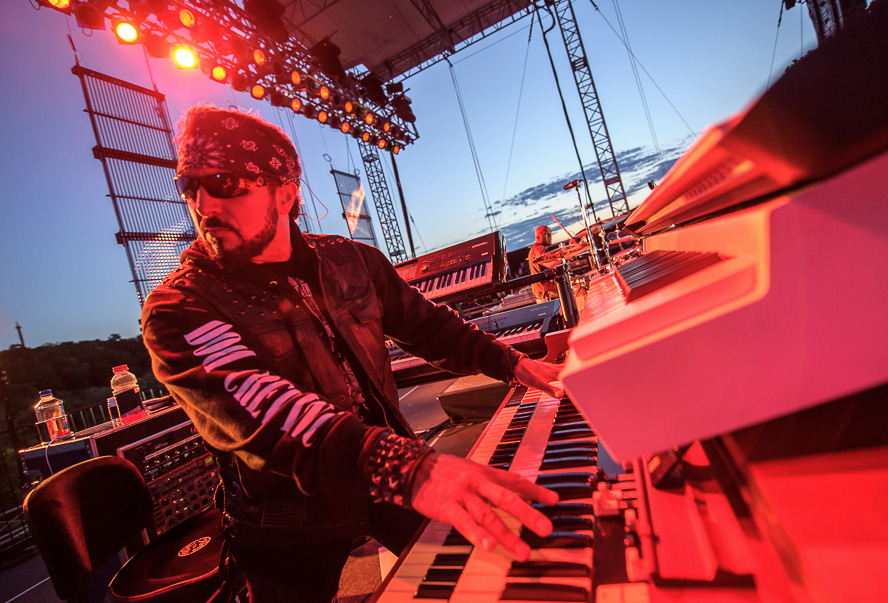 Keyboardist extraordinaire Derek Sherinian (and ex-Black Country Communion, Dream Theater, and Planet X member) has decided to reissue his solo catalog through Armoury Records with brand new exclusive liner notes. Sherinian describes himself as a chameleon, able to jam with any musician of any genre, and these solo albums back this statement as they contain a broad brush of musicianship with the likes of drummer Simon Phillips, and guitarists Zakk Wylde, Steve Lukather, Al Di Meola, and Slash.
The first reissue  is Inertia, originally released in 2001, followed by Black Utopia (2003), Mythology (2004), Blood Of The Snake (2006), and the electrically amped Molecular Heinosity (2009).
The following is a brief chat with the talented keyboardist about the new reissues.
How did the idea of reissuing the solo albums come about?
Derek Sherinian: My licenses for these records had expired so I thought it was a great opportunity to reintroduce these releases to the people who missed them the first time around.
Do you feel the release dates of the reissues should have been more spread out, or do you like them being released around the same time?
Sherinian: I think it's good that they all come out at once.
Can you explain how these reissues differ than the original releases? Was there anything you wanted to specifically do differently on any of these solo albums?
Sherinian: The audio is exactly the same. There are additional photos, and liner notes from the participants in the reissues. Each of these records represents a snapshot of my life during that particular time in my life.
Do you think there is a specific solo album that perfectly describes you as a musician?
Sherinian: I think they all have elements of my musicianship. I am a fan of many styles, and I think my solo records reflect my diversity as a musician, composer, and producer.
You've said that you actually have a "guitaristic" approach to your keyboard style. Can you elaborate?
Sherinian: Mainly in my solo style. It is very aggressive, and you can hear the guitar nuances throughout.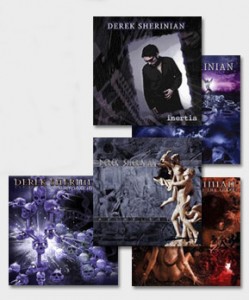 Molecular Heinosity has been called out for sounding more like a guitar album than a solo album from a keyboardist. However, I see it differently. It may be the strongest of the solo albums. It really pushes the intensity to the limit, and your musicianship seems to be the controlling element, like the conductor in an amplified symphony. What are your feelings on the album?
Sherinian: Molecular is very guitar heavy, but the trilogy on the front that I wrote with Virgil Donati is very progressive ala Planet X. Everyone has their opinion on which record is their favorite.
Do you find it easier to write instrumentals than writing music around lyrics?
Sherinian: There is for sure more freedom because the instruments become the vocal/melody line.
Is it hard to switch gears from jamming with a musician who has a more fusion style to one who has a more metal edge?
Sherinian: No. I am very chameleonic so I can adapt instantly.
Guitarist Zakk Wylde is a nice addition to your solo albums, too. He is almost like the Yin to your Yang. Do you agree?
Sherinian: I dont know about that, but Zakk and I have connected musically and as friends for almost 25 years now. He has an open invitation to play on anything I do.
You've played with so many different musicians during the course of your career. Is there any musician(s) who stand out that you feel naturally comfortable with?
Sherinian: Everyone that I had the honor to work with has been very important to my musical growth, but the one musician that has had the biggest impact is Simon Phillips. Being around him makes you better in every way.
What was your experience like working with drummer Simon Phillips as co-producer and musician? Phillips work has made albums shine. For instance, he brought Judas Priest's Sin After Sin to the next level.
Sherinian: As I said, Simon is a massive musical figure in my world. He can do it all from writing, producing, engineering and, of course, he is one of the greatest drummers of our time. I love his playing on Jeff Beck's There and Back .
You've always wanted to jam with Jeff Beck. He is coming out with a new album soon. Will you ever approach him and ask to jam with him?
Sherinian: I hope one day it happens, but I am not holding my breath. But I have learned to never say never in this business.
Is it true that Alice Cooper called you 'Caligula of Keyboards'? That's a strange way to compliment someone. 
Sherinian: Alice wrote the liner notes for my first solo record and he used that quote. Not sure what he meant by it… probably my first big world tour was with him, and all of us in the band were quite festive to say the least.
A solo career can be more challenging success-wise than being in a band. What are the other challenges? What are the things you miss about being a full-time member of a band?
Sherinian: I have worn many hats, producer, composer, solo artist, sideman, band member, etc. They all have their rewards, and headaches. The key is versatility to keep rolling.
Can you describe what happened with the band Planet X? Is that a moniker/band that will ever resurface?
Sherinian: Planet X will resurface at some point. Instrumental music is a hard sell, and the labels were not giving enough of an advance to justify us taking four months out of our lives to make a PX record, so we all went in different directions.
Many fans were saddened by Black Country Communions breakup. Was the band meant to last long-term? Deep down, was it really only seen as a project anyway?
Sherinian: It was always a project from the start. It became more successful than we all anticipated, but it was always a side project.
Will there be a new solo album after these reissues?
Sherinian: I hope so, because I really enjoy making them. Right now I am very busy touring with Joe Bonamassa for the rest of 2014, so we will see.