Randy Rhoads Remembered at the Bergen Pac in NJ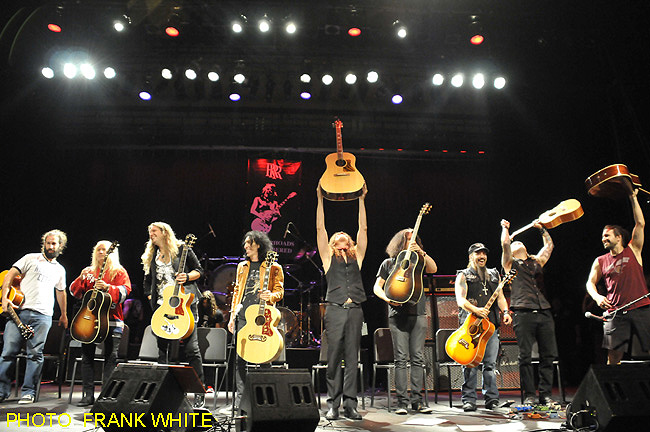 Randy Rhoads Remembered, A Celebration of a Legend was performed at the Bergen Pac in Englewood New Jersey on June 4th. The MC for the evening was Joe Sutton with Randy's brother Kelle Rhoads and sister Kathy Rhoads D'Argenzio. The singers for the show were Michael Devin and Chaz West and guest singer Sherri Klein, on keyboards was Stephen LaBlanc, Drums Brian Tichy, Bassist Rudy Sarzo, and the guitarists:
Phil Demmel
Joel Hoekstra
Mike Orlando
Alex Skolnick
Brian Tichy
Mike Tichy
Brent Woods
Chris Caffery
Jeff Young
Contest winners Drums Andre Jevnik who played on No Bone Movies, and Guitarist Deve Ferguson, Doug Bryan and Ethan Brosh played on Crazy Train
The set list:
S.A.T.O. Brent Woods
Tonight Brent Woods
Kelle and Kathy gets introduced to crowd by Joe Sutton
Believer Alex Skolnick
Flying High Again Alex Skolnick
Mr Crowley Alex Skolnick
I Don't Know Phil Demmel
Suicide Solution Phil Demmel
Back To The Coast / Killer Girls Kelle Rhoads Sherri Klein Jeff Young
Over the Mountain Jeff Young Mike Tichy, Mike Orlando
Crazy Train Contest Winners Guitar Players Dave, Doug, and Ethan
Iron Man / Children of the Grave Chris Caffery
Goodbye to Romance Brian Tichy on vocals Kelle percussion, Sherri Klein Brent Woods, Jeff Young
No Bone Movies Contest Winner Andre Jevnik Brian Tichy playing guitar
Revelation / Steal Away the Night Mike Orlando
You Can't Kill Rock and Roll Brent Woods Mike Tichy
Little Dolls Joel Hoekstra
Diary of a Madman Joel Hoekstra Jeff Young
Dee acoustic with all guitar players
Photos by Frank White, scroll down for photo galleries.