Whiplash thrash Dingbatz 10 Year Anniversary in NJ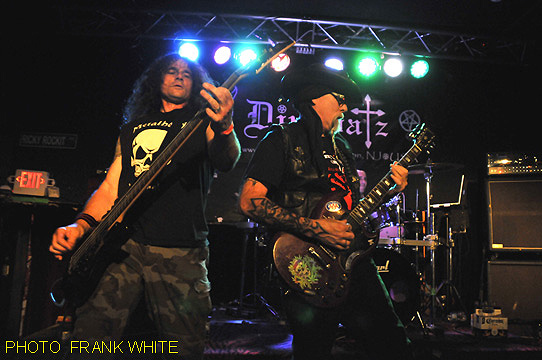 Whiplash kicked off their Plague Of Pain Tour headlining the Dingbatz 10 year Anniversary Show in Clifton, NJ on June 22nd. Performing a set of classic old school thrash, original guitarist & vocalist Tony Portaro shredded to an audience of long-time Whiplash fans and younger metalheads. The new song in the set, Sword Meet Skull, Skull Meet Sword, blended right in with Whiplash's legendary East Coast Thrash sound, and kept the power and pain coming.
Animated bassist Dank DeLong charged each end of the stage and belted out powerful backup vocals. Sick Drummer Hall-of-Famer Charlie Zeleny (Blotted Science, Joe Lynn Turner, Drumageddon) officially made his debut as Whiplash's new terrorizing madman on the skins.
Seven additional bands giving all-in performances at the Dingbatz Anniversary show were Sinners, Thanatotic Desire, Psychoprism, Shat, Ogre, The Unknown and The Dirty Stayouts. Three-quarters into the set, Portaro and Dingbatz club owner, Freddie Dingo raffled off a Dean VX Electric Guitar, which was won by Sinner's talented and intense front woman, Nancy Lou. Whiplash will be joined by Sinners on the California leg of their tour in late August. Shows in July at Starland Ballroom, Sayreville, NJ will have Psychoprism opening for Skid Row, and Thanatotic Desire opening for Cannibal Corpse.
Whiplash set list:
Last Man Alive
Spit On Your Grave
Killing On Monroe Street
Stagedive
Sword Meet Skull, Skull Meet Sword
Spiral Of Violence
Insult To Injury
The Burning Of Atlanta
Red Bomb
Warmonger
Last Nail In The Coffin
Eternal Eyes
This
Walk The Plank
Power Thrashing Death
Nailed To The Cross