The Soundtrack of Summer tour fires up the east coast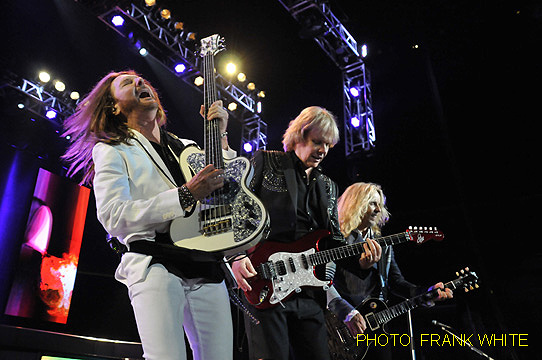 The Soundtrack of Summer tour featuring Foreigner, Styx, and Don Felder performed at the Prudential Center in Newark, New Jersey on June 26, 2014. Opening the show was Q 104 radio contest winner Johnny Knollwood who played a few songs on a acoustic guitar and is from a local New Jersey band called Skunk Daze.
A night of hits started off with Don Felder guitarist and songwriter who played with the Eagles from 1974 to 1980 and then again 1994 to 2001 came out looking Great and played a steller set of Eagles songs and a couple from his new band. For the last song Styx's drummer and Tommy Shaw came out to perform with them on Hotel California.
Their set list
All Ready Gone
One Of These Nights
You Don't Have Me
Those Shoes
Seven Bridges Road
Witchy Women
Heavy Metal
Heartache Tonight
Life in the Fast Lane
Hotel California
Styx came on starting off with Grand Illusion as the stage flashed many colorful backgrounds the band played hits from their long career and was joined by Don Felder who sang and played guitar with the band on Blue Collar Man ( Long Nights ).
Their set list
Grand Illusion
Too Much Time On My Hands
Fooling Yourself
Lady
Light Up
Suite Madam Blue
Superstars
Blue Collar Man
Come Sail Away
Rockin' The Paradise
Renegade
When Foreigner came on stage and started playing at first someone seemed to be missing from their line-up. After the 3rd song lead singer Kelly Hansen introduced Mick Jones to the crowd who is the sole original member and started the band in 1976 began his part of the show with Waiting For A Girl Like You and continued the show with the band kranking out other Foreigner hits. When the band came back on stage for their first of 2 encores, a group of boys from St.Peter's Prep from Jersey City, New Jersey who are a award winning chorus sang backup for I Want to Know What Love Is and then the band finished up with Hot Blooded
Double Vision
Head Games
Cold as Ice
Waiting For A Girl Like You
Feels Like The First Time
Urgent
Starrider
Juke Box Hero
Encore
I Want To Know What Love is
Hot Blooded