Greg "Wags" Wagner is the Metal man for the job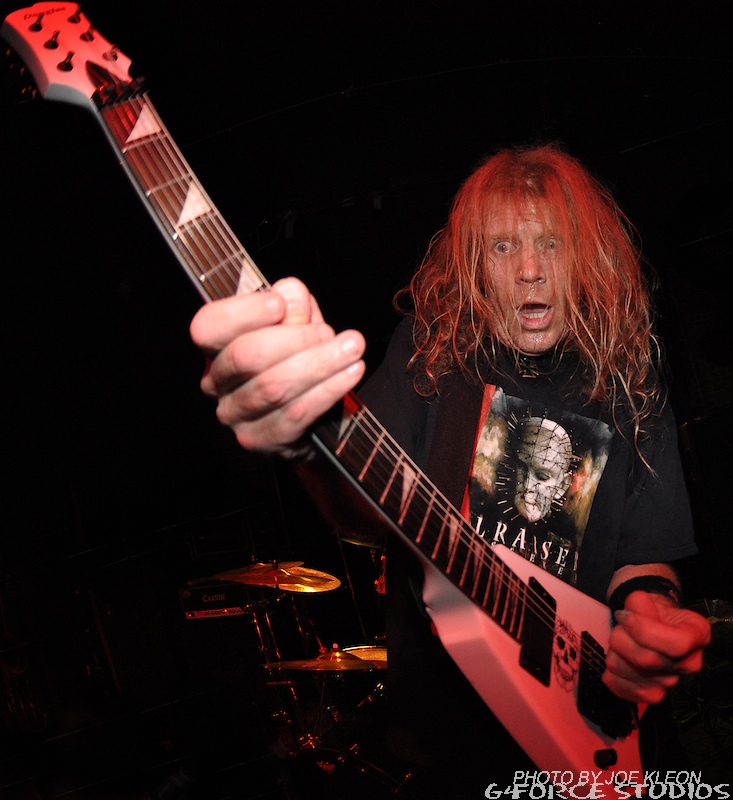 By Phil Swanson
Main photo by Joe Kleon/G4orce Studios (www.g4orce-studios.com)
I was recently on Facebook when I came across a post by Mark Briody (guitarist) of Jag Panzer mentioning their search for a new singer. As a huge fan of Panzer's Ample Destruction I felt it my obligation to immediately add my two cents by offering up the name of Greg "Wags" Wagner, who I feel is probably the best and most proper heavy metal singer out there right now, especially when it comes to the aggressive power metal style of bands like Jag Panzer, Metal Church, Meliah Rage, Flotsam and Jetsam and the like. Whether it fell on deaf ears or not…if nothing else somehow it got to Greg that I was praising him to high regard and he was kind enough to drop me a line of "thanks." We began talking and I asked if he could help me find the very rare and pricey Public Outcry releases that he was abundantly responsible for. He then went through mention a couple dozen more releases — even far more obscure than Public Outcry or anything mentioned anywhere on the internet.
After our discussion I quickly came to the realization I have come in contact with a "true" heavy metal prodigy with an insatiable appetite for creating his extremely exceptional brand of heavy metal that spreads broadly and seamlessly across the NWOBHM to thrash genres. I then felt it necessary to investigate his history much deeper not only for myself but to share him and his heavy metal treasures with anyone like me who is readily willing to listen.
It's near impossible to consume it all or to really grasp just how far reaching Wags is into the genre with just the few words we shared below, but I hope it gives anyone reading a small glimpse into the world of a "true" and dedicated heavy metal devotee and diehard. This guy has no limits to his heavy metal creativity and seems to be continually bursting at the seams with new material. I assure you I am not using the term "prodigy" loosely here whatsoever. In a time when heavy metal is as popular as ever you can't afford to be missing out on the real deal like Wags. So many poor misguided imitations and neanderthal attempts… I'm dumbfounded on how this is so greatly overlooked. Maybe people like dumbed-down, half-ass exploitation because at least they can call it their own? Or maybe they prefer to listen to the most obscurely poorly executed lost treasures so they can pretend they discovered something yet unheard? I myself still prefer a great riff and a dynamic vocalist on top of a class metal song. If you're like me I suggest you give Wags a listen, you wont be disappointed. He does what everyone wishes they could do but too often fall well short.
So I have a massive discography in front of me from you, can you tell me where it all began?
Wags: AC/DC, Frampton, Kiss, Black Sabbath and many others. Then I started singing, too. When I was very young,  I remember I always loved listening to my Dad put his Elvis, Fats Domino, and many other artists from that era, on his old phono player. And talking about music and enjoying the evening. I got into more '70s rock as I grew older. As the older kids gave me some B.T.O. chords. At the age of 10 I realized I could emulate a lot of the singers on the records I played.
At about 12 Years old I saw my friend playing a black Les Paul copy guitar and I knew right then I wanted to play guitar…..I didn't realize what was to come but I knew I liked what I heard and had to get me one. So I went to Pavlov's Music Store and talked the manager into letting me put some cash down on a white Honda II Les Paul copy. I'm a lefty and had been learning to play my friend's guitar upside down which I can play somewhat. So I played It upside down for about a year and finally had someone turn the strings around for me and that changed everything. I started practicing day and night, watching people pick and try to mimic what they were doing. But I noticed early on that I was writing my own songs and everyone else was playing other people's songs. I knew I was special and continued to hone my playing skills and started writing songs fairly easy. Then I got into a fun band called Zephyr. And the guys helped me put together my first set of originals. And I've been writing, performing and recording music ever since.
What has been your favorite band or project vs your most prominent and successful band / project?
Wags: I can honestly say I liked all the projects I was part of because it helped forge the massive amount of work I've done and helped shape my singing and playing styles. But If I had to choose a few I would say H.A.T.E., Concussion, Archetype and Shatter Messiah would be the top four. None got the respect or push they deserved at the time I was in the bands from a business/management side. Great music but no engineer to get the train rolling.
What bands influenced you most in your early beginnings?
Wags: My main early influences were Black Sabbath,Kiss,B.T.O.,AC/DC,Scorpions,Triumph,Aerosmith,Ted Nugent,Judas Priest & Foreigner…then when I got older all the NWOBHM and Thrash took hold and I started being more influenced by bands Like Metal Church,Judas Priest,Iron Maiden,Helix,Metallica,Megadeth,Testament and many others.
Are there any bands that shaped and inspired you along the way and bettered you as a musician by their influence?
Wags: Judas Priest,Metal Church,Kiss & Black Sabbath were the biggest but all of them helped because I listened to so much music growing up. I even listened to lighter stuff which helped me as a singer because of the broad range of the singer's abilities.
Can you tell me about all the broad styles and genres you have taken on and how you go about approaching different metal subgenres?
 Wags: I pretty much soaked up all kinds of musical styles and genres and try to give newer stuff a modern edge. My Legions of Brutality for example was heavily influenced by Pantera. My vocal style in Shatter — I credit Curran for bringing out the beast in me as far as the newer vocal styles I achieved. The Archetype was a long time ago and Chris had a vision on what he wanted and I tried to get the vocal deliveries he wanted. Breaker was a mess from the start because I was fighting Hamar's legacy and wasn't accepted really. I think I could have built my own but wasn't used correctly .All were great learning experiences and great musicians.
I was handed so much material by you I could hardly keep up with it all, exactly how many recording bands and projects have you been a part of and how many releases and songs would you estimate you have written to recording? (see discography attached)
Wags: I believe to date I have created, recorded on or have been a part of the writing on 26 albums.
I first heard your voice on the Archetype release and was completely floored by its strength and maturity. Coulld you tell me about how it came to be and your experience in Archetype?
Wags: I was doing nothing, really, around 1996 and I saw an ad searching for a vocalist with range to record an album and possibly tour — in Cleveland's Scene Magazine with a phone number…so I call the number and a guy answers (who is Chris Matyus,founding member of Archetype). He says, Can you sing like Rob Halford? and a few other prominent singers. I say yes I can and he says I would like to give you a demo of the music because we want to get into the studio right away and record. I get the demo and lyrics in the mail with him kinda talking his way through a legend for me to work off of. I get the stuff, I tweak it, meet them at the studio. Out comes the 4-song EP "Hands of Time." Then we get right back to work on "Dawning," releasing it a few years later, I Think. Played a few shows then kinda lost the fire for the project because we were idling too much. I think Chris wanted a different style of singer. No hard feelings here as all the dudes are top notch players and Chris is a gifted songwriter.
My next  Wags experience was with you fronting Shatter Messiah which brought you to a much more powerful forefront which you dominated with great ease. Can you describe the transition from Archetype both musically and personally?
 Wags: It was quite easy as far as the transition. Curran was looking for a guy with my qualifications vocally. We hooked up and went right to work recording "Never To Play the Servant"….Curran then found Robert Falzano (who as a beast on drums) for the skins position, and rounded out the rest of the band and we recorded "God Burns like Flesh" right after the debut CD. Interesting to note: I NEVER heard one note of G.B.L.F and went in and did all the vocals in 4 1/2 working days…Also, I hardly heard any of the material off of N.T.P.T.S.
Can you go into any noteable live experiences with Archetype and Shatter Messiah?
Wags: There were so few Archetype shows that the experiences are not memorable except that the band was not as energetic as I was so we were oddballs together. Not a good fit live. The Shatter Messiah shows were memorable because I had killer nights vocally and got high praise from bands touring with us and magazine writeups. A few singers on the bill were impressed with my vicious approach and wide range live….Good Times!
HATE has been a long running band for you with two awesome class heavy metal CDs released, whats the history behind HATE?
Wags: H.A.T.E. was formed after I dismantled Public Outcry around 1987/88. A good friend, Chuck Ruszin, who played guitar jumped to bass and we teamed up with Todd Foutz (drums) and later Bill Knisely (guitar, vocals). H.A.T.E. was a team-oriented band … all had a hand in some of the material and lyrics. I wrote a lot of the tunes and Charlie and Bill and Todd wrote some of the tunes. We started playing around our hometown of New Philadelphia,Ohio instantly creating quite a ruckus.We started seeing our fanbase grow quickly and we caught the eye of Auburn records President Bill Peters who was at a battle of the bands we were on one night in Cleveland. A friend of ours, Greg Martini, suggested to Bill to check us out. Bill was pretty impressed at our solid tunes and crushing live deliveries and started putting us on some shows opening for bands like Shok Paris, Breaker, The Spud Monsters and others. Then we got some radio airplay on Z-Rock And WMMS and quickly started to see the Cleveland crowds grow in huge numbers.. We started playing to 800-1000 people on any given night supporting Death Angel, Forbidden, Love Hate and other national bands as well as Cleveland's cream of the crop. We had a few demo cassettes we sold out of all the time, played some great show. Then egos collided and tore us apart. We could have been really big If we would have stayed focused a little longer. Then fast forward to 2005, me and Michael Harris (American Dog, Digital Nerve) decided to resurrect H.A.T.E., get Charlie back in and get a great guitarist. After several failed auditions we got Michael Miller to fill the other Spot. Michael is a very gifted player, by the way. We went into Curran Murphy's Studio and recorded "Metal Forever" in three days, then we teamed up with Bill Peters again and released "Inject the Infection" on Auburn Records… got a new drummer and bassist in the final stages of the album. Had a killer slot on the HOA Festival in Germany but had to cancel it because the drummer pulled out three weeks before we were set to depart. It killed the momentum we had and destroyed our spirit, and we broke up..
Public Outrcry, I think, is my favorite material you have released, love the power thrash attitude of it, can you fill me in on any details behind it?
Wags: Public Outcry Was started by me and drummer Kenny "Lomy" Larkin (RIP) in 1982 in his basement. We quickly added Alan Grewell on bass and started writing a massive collection of original tunes. We were the first all-original Hard Rock/Metal band around here and quickly filled the local nightclub called the Windchaser Lounge. We only played Cleveland a few times and recorded a demo back then. Due to band bickering and booze, the band broke up. Then in 1996 I put together a new lineup and started opening for nationals around Ohio and recorded "Pound 'Em To The Ground" at Fortunate Records in Massillon, Ohio. Then changed musicians and went in and recorded "Funny Time's Over" at Fortune Records. Played more shows and then shut the project down due to personal problems within the lineup. Everyone says I'm a hard person to work with but I demand the most out of my players and band members and when I see erosion in the playing it's time to move on
You actually were in Ohio legends Breaker for a period, can you tell me about that experience?
Wags: The Breaker gig was a hired gun thing. No matter what anyone wants to say I say brought in to fill a hole because if I was used properly we would have wrote fresh tunes and went in and did a full length CD. But it's hard replacing an iconic singer like Hamar. It's almost like Ripper trying to replace Halford. It's only gonna go on so long.. I did three tours of Germany, met great people, played with some of the biggest bands in the world, held my own and learned many valuable lessons along the way….Nothing bad to say.
You are always active with Wags Metal, Inc with more than a few releases where your proving to be a more than capable multi-instrumentalist. Can you tell me about the pros and cons of WMI versus your other bands and projects?
Wags: The Pros to Doing the Solo thing is Freedom To write,Arrange & Produce My songs The Way I Want To…….Plus I Get To play Multiple instruments Which is Cool……The Cons Are No Team Chemistry,Metal Brotherhood and Basically No Band to play it Live…My Solo Stuff is More Intricate Also Because I don't Have To worry about Difficult parts to Sing & Play At The Same Time.
Do you prefer the band environment or solo?
 Wags: Band for sure. Nothing like a well oiled metal machine that's real and ready to rock!
Vocally I would put you in the caliber of David Wayne, Harry Conklin, Eric AK, Warrel Dane and the like. These would be considered metal's finest, its almost shocking to me that you are yet to be seen in the same light. What are some of the obstacles and pitfalls youve had to overcome over the years?
Wags: I would say lack of exposure to the right person, management, Etc… Some of it has been my fault for not doing more.I haven't had the right person/company to get my music out there. I mean I have 20 solid CD's sitting here waiting to be released that only need packaging and distribution to the masses. And I think a good amount of airplay somehow wouldn't hurt. Maybe a night on the Late Night Show (laughs).
You have dozens of recordings that have never have even been released, do you have any plans for these?
 Wags: Yes,RELEASE THEM!!!!!!!…….SOMEONE HELP ME!!!!!!
What do you currently have in the works presently?
 Wags: I am currently helping out on some of Michael Miller's material vocally and lyrically, working on going into the studio with a new project called Sinister Mind, I also play Malcom Young in the AC/DC tribute band Dirty Deeds(USA) and I'm always open to doing studio work but would like to work with some bigger people this time around….Also I'm working on a project with Hasad & Rob From San Fransisco yet to be titled.
What are you looking towards in the future and where would you like to see yourself and be remembered down the road?
 Wags: I look forward to a year filled with fun shows with Dirty Deeds & Sinister Mind. Trying this year to get my music out to the world somehow.
What would you like to say about "Wags" that hasnt already been said?
 Wags: Don't believe what you hear about me. I'm dedicated to my music and any projects I get involved in. Too many times I get the runaround and my eyes are wide open now. Wanna tell all the people who support and enjoy my music and performances that you are well loved by WAGS!!!!!….METAL FOREVER!!!
GREG WAGNER Discography:
Public Outcry "1986 Demo" 1986(Unreleased)
Public Outcry "Pound 'Em To The Ground" 1996/97 Fortunate Records(Out Of Print)
Public Outcry "Funny Time's Over" 2002 Fortunate Records(Out Of Print)
Concussion "A Blow To The Head" 1991/92(Unreleased)
Concussion "The Lost Files"1993(Unreleased)
Archetype "Hands Of Time" Ep 1997
Archetype "Dawning" 2000
Buzzkiller "Hateful Intentions" 2000(Unreleased)
Buzzkiller 2 2002(Unreleased)
H.A.T.E. "Live @ Joe's Barn" 1989/90(Unreleased)
H.A.T.E. "Metal Forever"2006(Unreleased)
H.A.T.E."Inject The Infection" 2008/09 Auburn Records
Wags Rocks! Vol.1 2010/11(Unreleased)
Wags Rocks! Vol.2 2011/12(Unreleased)
Wags Rocks! "Instrumentally Yours" 2012(Unreleased)
The Greg Wagner Project "A Season To remember"2000(Unreleased)
The Greg Wagner Project "Another Season" 2003(Unreleased)
Shatter Messiah "Never To Play The Servant" 2007/08(Dockyard 1 Records)
Breaker "Peace,Love,Death 2008(Auburn Records)
Shatter Messiah "God Burns Like Flesh" 2009(Dockyard 1Records)
WagsMetalInc. "Debut"2009(Unreleased)
WagsMetalInc. "Planet Divine" 2010(Unreleased)
WagsMetalInc. "Metal To Infinity" 2011(Unreleased)
WagsMetalInc. "Land Of Metal" 2012(Unreleased)
WagsMetalInc. "The Metal Madman" 2013(Unreleased)
WagsMetalInc. "The Final grand Slam" 2014(Unreleased)
Legions of Brutality "4 Song EP" 2002(Unreleased)
Buzzkiller "4" 2014(Unreleased)
Digital Nerve "Pulse" 2000 Fortunate Records(Unreleased)
Wags Metal Inc. youtube channel: https://www.youtube.com/channel/UCYbZqhVouKhD56FjOfXXoHw/videos
Wags Metal Inc Bandcamp (coming soon) : http://bandcamp.com/wags