Cult album strong out of the gate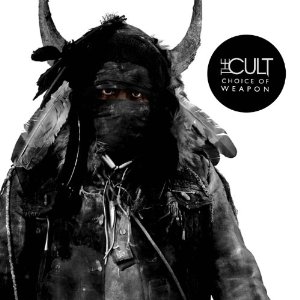 The Cult's Choice of Weapon (Cooking Vinyl) has come out of the gate strong, debuting on Billboard's Top 200 Albums chart at #34. The album made other impressive Billboard chart numbers as well – #3 on the Hard Rock chart, #15 on the Rock chart, and #7 on the Indie Albums chart. Choice of Weapon made impressive entries on the UK charts (#20) as well as the Canadian national charts (#15). The album was written by vocalist Ian Astbury and guitarist Billy Duffy, and produced by Bob Rock and Chris Goss.
In addition, Choice of Weapon has been heartily championed by the press, the consensus being that it is The Cult's best album in years. The UK's Mojo gave it a Five Star review, Entertainment Weekly tagged it with an A-, Magnet said it was "as epic and compelling as nearly anything in The Cult's '80s back catalogue," The UK's Q magazine called it "brilliant," the Phoenix New Times wrote "everything clicks," and MSN stated simply that it was "their best album in 20 years."
Beyond the accolades, Choice of Weapon is being recognized for its message of survival in our ever-changing society. In its review, Classic Rock talked about the album being "a reflective, powerful and dark work drenched in the band's signature blend of mystical poetry and melodic, dense guitars," while the UK's Louder Than War went straight to the heart of the matter: "A ballsy f*ck-you record for ballsy f*ck-you times."
As one rock critic put it, "'Choice of Weapon' is a citadel of rock refinement for a fragile period in music appreciation that has all but forgotten what a monster rock album sounds like. 'Love' begets "Electric' begets a latter-day rare diamond cut from artists who care more about the edges and grooves than the luster."
The Cult is supporting Choice of Weapon with a global tour which kicked off May 25 with a 22-date trek in the U.S.- Against Me! and The Icarus Line support. Remaining dates are below.ates are below.
JUNE
1 Chicago, IL – Congress Theatre
2 Windsor, ON – Great Canadian Beaverfest, Riverfront Festival Plaza
3 Pittsburgh, PA – Stage AE – Indoor Stage
5 Boston, MA – House of Blues
8 New York, NY – Terminal 5
9 Hampton Beach, NH – Casino Ballroom
10 Philadelphia, PA – Electric Factory
12 Washington, D.C. – The Fillmore
13 Norfolk, VA – The Norva
15 Myrtle Beach, SC – House of Blues
16 Orlando, FL – House of Blues
17 Atlanta, GA – The Tabernacle
19 Houston, TX – House of Blues
20 Dallas, TX – House of Blues
22 Tempe, AZ – Marquee Theatre
23 Hollywood Palladium, Hollywood, CA
(European Tour Dates):
JUNE
28 Belgrade, Serbiz – USCE Park (with Ozzy & Friends)
29 Graz, Austria – Schwarzl Freizeit Zetrum (with GN'R)
JULY
1 Bucharest, Romania – Rock the City Festival (with GN'R, Faith No More)
3 Split, Croatia – Spaladium Arena (headline)
4 Ljubljana, Slovenia – Kino Siska (headline)
7 Zottegem, Belgium, Rock Zottegem Festival
8 Weert, Netherlands – Bospop Festival
10 Utrecht, Netherlands – Tivoli (headline)
13 Pizzola Sul Brenta, Italy – Contarini Festival (headline)
14 Rimini, Italy – Velvet Rock (headline)
15 Milano, Italy – Carroponte (headline)
17 Barcelona, Spain – Razzmatazz (headline)
18 Madrid, Spain – La Riviera (headline)
19 Porto, Portugal – Mares Vivas Festival (with Garbage)
VISIT THE CULT AT: http://www.thecult.us/