Kill Devil Hill enters Billboard charts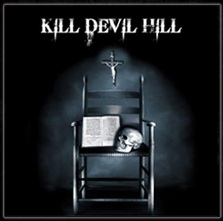 KILL DEVIL HILL the new project featuring acclaimed drummer Vinny Appice (Black Sabbath, Heaven and Hell, Dio) and bassist Rex Brown, (Pantera, Down) guitar slinger Mark Zavon and lead vocalist Dewey Bragg released their debut album last week via SPV/Steamhammer. Shifting over 1800 copies, KILL DEVIL HILL landed at #9 on the Billboard Top New Artist Albums (HeatSeekers) Chart, #41 on the Top Hard Music Chart and #50 on the Independent Album Chart.
The album is available in a standard CD edition, iTunes digital download, and Double Gatefold LP. It is available for purchase on AMAZON here.
The band recently released a video for the single "Strange" below.
Rex Brown, bassist of this supergroup and erstwhile member of Pantera and Down sees KILL DEVIL HILL in its entirety as an extremely exciting new band "To me, this band is a musical adventure trip," he reckons.
For more info please visit: www.killdevilhillmusic.com