NWOBHM legends Savage prefer to live in the present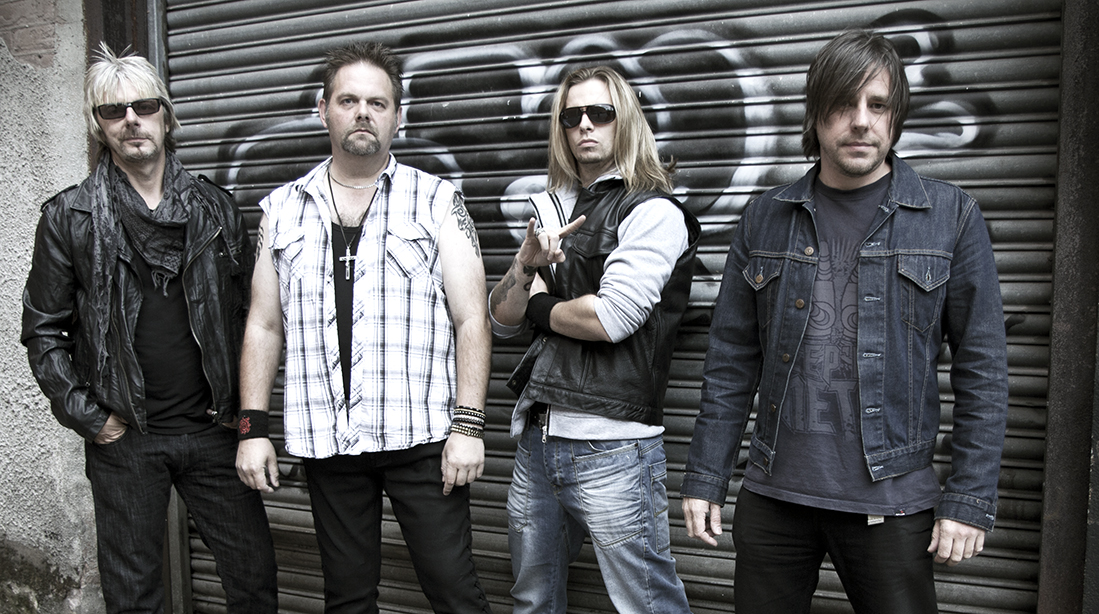 Savage was one of the more popular bands of the New Wave of British Heavy Metal (NWOBHM) movement in the late'70s/early '80s. In fact, Savage was a favorite of Metallica drummer Lars Ulrich. Savage's song "Let It Loose" — off their debut album Loose 'N Lethal (on Ebony Records) — was later covered on Metallica's first demo "Hit the Lights" (aka Ron McGovney's '82 Garage demo). Savage's Loose 'N Lethal was perhaps lacking in production value but the songs had the speed and the power to delight any true metalhead of the time.
Ironically, Savage's second album, Hyperactive, was criticized for being overproduced. The songs had the same quality heaviness, however, and most of their fans stood behind them. Unfortunately, it would be ten years until their next album, Holy Wars. Then came Babylon in 1996 and Xtreme Machine in 2001. It then took another ten years for their newest album to be released, Sons of Malice (read Powerline's review here). Longstanding members Chris Bradley (vocals and bass) and Andy Dawson (guitars) have added drummer Mark Nelson and guitarist Kristian Bradley (son of Chris Bradley and nephew of Andy Dawson) and Sons of Malice is as solid as anything the band has done. The album has much to say about the world we live in today.
The following is an interview with Chris Bradley, Kristian Bradley and Andy Dawson.
The title track "Sons of Malice" is cathartic. It seems to express the view that the global economy, Wall Street, etc. is stacked in favor of the privileged few. Correct? Can you elaborate on your exact feelings, on what you are trying to express?
Chris Bradley: The whole world is stacked in favor of the few and always has been. There are the few that sit behind the scenes pulling the strings and they don't care about anyone but their own little clique. Many of these are ultra-rich families who have been in their positions for centuries — hence, Sons of Malice — and they continue to control the rest of us because we sit back and take it. Every one is fighting everyone else for scraps off the big table, and until we all say enough is enough nothing will really change.
Andy Dawson: Power has always been in the hands of the few, and always will be until we all wise up and get involved. 'What can I do?' is what we all say. If millions of us took action we could solve famine, disease and war … big concept!
[pullquote_right]"I don't subscribe to one political view or ideology, that's where we go wrong." — Andy Dawson[/pullquote_right]
Is there a global solution that you support?
Dawson: Openness and fairness work pretty much in all aspects of life. I don't subscribe to one political view or ideology, that's where we go wrong. The solution lies amongst many ideas and view points. If you act out of love and not fear, you can't go far wrong.
C. Bradley: Without wanting to sound religious — because I do not subscribe to organized religion — but 'Do unto others as you would have them do unto you' is a pretty safe bet for a fairer and more caring society. I am all for fairness and equal opportunity. However, I do believe success should be rewarded, though not if it was at the expense of others and that the strong should help the weak, always.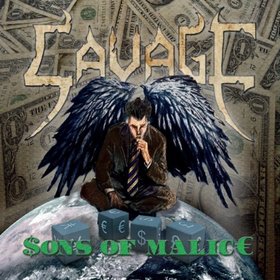 The song "Choose Revolution" sounds like it would back the political movement here in America called Occupy Wall Street. Have you followed that? Do you sympathize with them?
Dawson: At least they are taking action. The financial crisis doesn't seem to be hurting the rich too much so the power remains with them. The whole world now is dominated by economics: 'How will the markets react to 9/11' or confidence in the housing market or the Euro. There are a small number of investors and hedge fund managers f**king with all of us to make money. Even governments have no power over the markets. Scary.
C. Bradley: It's not just about Wall Street. This stuff goes way beyond a nation's frontiers. Money and economics are global we need to adopt a radical new economic model, globally, based around smaller more sustainable activities 'that meet the needs of the present without effecting the needs of future generations' and not this ever-growing list of wants created by an out-of-control consumerist society.
[pullquote_right] "I think in America there is a belief that anyone can be successful but in the U.K. it's different, know your place." — Andy Dawson[/pullquote_right]
You also express the feelings of the working class in a song like "Monkey On Your Back." Does this come from personal experiences? And, in your opinion, how do you think the working class differs from the working class in America?
Kristian Bradley: We're from a very working class area in Mansfield/Sutton-in-Ashfield; mills, coal mining and such. As Dad says, we're a very socially aware band — so, yes, this has certainly had an influence on the lyrical themes of the album. Always has, I believe.
Dawson: I think in America there is a belief that anyone can be successful but in the U.K. it's different, know your place. Personally, I think people are chasing gratification rather than concentrate on being fulfilled. Although that's easy for me to say when there are millions who don't know where their next meal is coming from. I have worked hard most of my life and that has brought respect and a decent wage. I don't feel bitter towards anyone who works hard and fair. Class is hopefully a dying concept.
C. Bradley: "Monkey on my Back" was about combining the two different meanings of the term. The original meaning relates to a 'burden' of some description and the contemporary meaning relates to a 'drug or alcohol addiction', combining the two into a song that is basically about an intervention where the stresses and strains of the modern working world are blamed for the characters drug and drink addiction.
In America there is a big debate over healthcare. Being British — does socialized medicine work? Does it help the less fortunate in England?
C. Bradley: It's a great concept. Healthcare should be an undeniable right for all citizens and I am constantly surprised that America with its Constitution for undeniable rights has not done this a long time ago!
K. Bradley: I think I prefer the British Healthcare system over what you have in America. The NHS certainly makes things easier and, as you say, more affordable.
Dawson: Yes, the health service, for all its faults is a safety net for all. I think Obama is right to want that for the US but not many people seem to agree. Everyone deserves the right to be given healthcare regardless of their ability to pay for it, it's called civilization.
[pullquote_left]"Healthcare should be an undeniable right for all citizens and I am constantly surprised that America with its Constitution for undeniable rights has not done this a long time ago." — Chris Bradley[/pullquote_left]
Explain how different the creative process is in writing songs centered on political issues rather than fantasy. Is it more cathartic, etc?
Dawson: Writing about things that matter is important. Dragons and wizards is for kids.
C. Bradley: (laughs) I leave that stuff to Tolkien. He was much better at it than me. I never really thought of it as political but more a reflection on societal issues and the human condition. It's far more real and interesting, but doesn't stop me listening to Dio. God bless him!
Looking back, are you proud of the New Wave of British Heavy Metal movement? Were you then?
C. Bradley: It's nice to be considered part of something that influenced so many and people and artists but we never really felt part of it back then. In all honesty, we thought — with few exceptions — most where a poor man's version of those Heavy Rock bands that had gone before, like Deep Purple, Black Sabbath and Led Zeppelin.
Dawson: I'm pleased to be associated with a movement that many people relate to. We didn't feel particularly associated with it at the time — we were just trying to emulate our heroes such as Thin Lizzy, UFO, Purple, AC/DC, etc.
K. Bradley: The New Wave of British Heavy Metal movement has certainly helped music progress, particularly Heavy Metal. Were would we be now without it? Potentially, no Metallica or Megadeth … Mustaine & Ulrich were so obviously influenced by NWOBHM music.
Which bands, in your opinion, were the best of that period?
Dawson: The ones that lasted. Iron Maiden, Def Leppard and Saxon have all survived. Longevity in this business is everything.
C. Bradley: Yeah, sounds about right — though Def Leppard would not agree with that and you missed out Metallica … NWOBHM from the USA!
K. Bradley: Not British but my personal favorite is Mercyful Fate. King Diamond is awesome!
Which were the worst, or overrated?
K. Bradley: Diamond Head.
Dawson: There were lots of bands that I can't remember or didn't like, so I didn't pay them much attention.
C. Bradley: All of us! (laughs) I'm not about to pull any band down. Critics do that well enough all by themselves. What I will say though is that it seems to me a lot of those bands from that period in time seem to be remembered with far more affection than they actually deserved.
Were there any bands from that period that you did not get along with, and for what reason?
Dawson: Not really. When you did a gig with them, you just get along. We did a strange gig with Mercyful Fate and they didn't really seem to like us even though we lent them all their gear for a UK tour.
C. Bradley: We did a show with Diamond Head in our hometown. They where getting a lot of press and it was just before we started to make waves, so to them we were just some local band providing the guest slot. So they f**ked us about like there was no tomorrow. We were wanting to get our gear on stage and they just kept pissing around during their sound check going off stage then back on, including Sean Harris (vocals) having a session on the drums. Anyway, they all came out the dressing room when they heard the reaction from our home crowd who did know us and were there for us (laughs). But, hey, goes with the territory. We never really mixed with most of the bands back then. We were to busy doing our own thing. I remember us doing Wacken back in 2000 with a bunch of bands from back then. We were all on the same flight and bus when we hit Germany. And someone started calling out each band's name and then everyone else on the bus cheered for them. There was Grim Reaper, Praying Mantis, Samson, and others … don't remember who. But when it got to Savage everyone booed (laughs). Well, I thought it was funny!
Are you happy on the way heavy metal has evolved?
K. Bradley: I am! The New Wave of Thrash scene has seen the resurgence of some quality bands. Megadeth are still making quality music. Testament's new album is immense. Machine Head get better and better and have certainly influenced my band, Metal Cross. I'm still not into dudes dressing up as dead chicks singing songs about bats though.
Dawson: (laughs) I think the fact that it evolves is a good thing, whether it get's more extreme, faster or funnier! The whole hip hop/rap metal was interesting. I saw Rage Against the Machine at Rock City in Nottingham and they were absolutely incredible. Metal has got too contrived and then loses its power and emotional content. It's not just a technical exercise or false anger. It can be funny, poignant and sheer enjoyment.
C. Bradley: Everything evolves. Not always for the better but there have been some great bands over the last thirty years that have come through the various offshoot genres. I am a big fan of Disturbed.
In the song "Fallen Idols" it sounds like you are talking about a musical influence that had disappointed you in some way. Is there a specific band?
C. Bradley:  No one in particular. There are hundreds of them out there that build careers on demonizing 'The Man' and then one day when they have achieved their success they become 'The Man.' But that's the way in all walks of life, though I did find it amusing when Johnny Rotten of the Sex Pistols — the epitome of anti-establishment — started advertising butter on TV commercials.
Dawson: It's not just music. All icons are never what they are cracked up to be, should maybe be false idols! Killer riff though.
[pullquote_right]"I did find it amusing when Johnny Rotten of the Sex Pistols — the epitome of anti-establishment — started advertising butter on TV commercials." — Chris Bradley [/pullquote_right]
What kind of feeling was it when you found out that Metallica used to cover your songs, and even covered "Let It Loose" on one of their first demos?
Dawson: At the time, didn't really know them so… but always flattered when someone wants to record your song. As Metallica have become the biggest band of all time then that's pretty awesome to be part of the history.
C. Bradley: It's an affirmation that you have created something of value that others want to emulate, so I personally am proud when anyone covers our material.
Have you heard Metallica's "Let It Loose" demo version?
C. Bradley: It's not very good but it was along time ago and I am sure they would make a much better job of it now. But having said that, a lot of guitar players that try to play it do not understand it's all about the up and down strokes. Try to play it all down strokes and you will fail.
Dawson: Yep, it sucks! They couldn't play the riff right — its all in the right hand (laughs).
K. Bradley: It's cack. Dad always used to say it sounded like Mustaine singing on it, but it's definitely James.
Do you look back with fondness on meeting Metallica — and didn't Savage briefly tour with them?
C. Bradley: We have met a lot of people over our careers. Some good people and some complete assholes. Metallica were always good to hang out with, though we never toured with them. We were once on the same bill which was Aardschok '84, along with Venom, Tokyo Blade and Horizon.
Dawson: They were really cool guys and pretty down to earth. We did that one festival and then did a drinking session in London but they were great to hang out with. This was before rehab and contemporary art collections though.
[pullquote_left]"We have met a lot of people over our career. Some good people and some complete assholes. Metallica were always good to hang out with." — Chris Bradley[/pullquote_left]
Do you still keep in touch with Metallica?
Dawson: James calls me most weekends.
C. Bradley: The answer is no. Not spoken to them for nearly 30 years and doubt they would recognize us in the street if we walked into each other. We got on the guest list at Sheffield Arena on the Load tour, but they wouldn't come out and speak to us. Yet it was Jess Cox — who was the Neat label manager — who had got us onto the guest list that said they were getting bands from the NWOBHM days into their shows on that tour and hanging out after the show because they enjoyed the reminiscing. But with us they stayed in their dressing rooms so read into that what you will. Guess we not on the Christmas card list anymore (laughs).
Obviously, the album Loose 'N Lethal made a solid impression on people. But is there anything you would do over if you were able to?
Dawson: Loose 'N Lethal… re-record the whole damn thing.
C. Bradley: Ditto. We hated the sound. It was horrible, but I loved the album for the songs and the in-your-face energy.
Do you still see the album Hyperactive as a letdown, compared to Loose 'N Lethal?
K. Bradley: I love that album!
Dawson: The songs were great but the production was way too Pyromania for me. Hey, lets re-record that one too!
C. Bradley: Because Loose 'N Lethal sounded so thin and shitty we wanted to prove that we could do a big-sounding album. At that time we admired the work of Ted Templeman (Van Halen), Max Norman (Ozzy, Bark at the Moon) and the early work of Mutt Lange (AC/DC, Highway to Hell). The linking factor was they all made albums with big and live sounding guitars and that's what we wanted. The studio we recorded in had been recently built by Munro Acoustics who were a respected recording studio designer and installer. The place had a huge live room, 2'' 24 track tape machine and state of the art outboard effects and the in house engineer was the dog's bollocks. However, what we didn't know was that one of the studio owners who was an amateur engineer had removed the room EQ (control rooms are designed to be flat EQ and are balanced on completion to achieve that, this is to ensure that the control room shape doesn't color the sounds you hear in that room while recording and mixing). So to simplify the story what we heard and mixed in that room came out sounding very bottom heavy and woolly, which we had to try an correct at the mastering stage. Unfortunately, that seemed to boost the snare drum and backing vocals and all of a sudden we got a fucking AOR sounding album, but you can still hear all that reverb in there though (laughs) so in response to Andy 'Lets re-record it': No! We still got the 24 Track masters. I would love to bounce them down onto Pro Tools and let Mark re-mix it. It would have sounded huge and heavy as fuck! Most of the stuff on that album was written before Loose 'N Lethal and formed part of the live set, so I will always disagree that the album was a wimp out. How could it be with songs like 'Eye for an Eye', 'Gonna Tear Ya Heart Out', 'Stevies Vengeance', 'We Got the Edge' and one of my all time favorite Savage songs 'Cardiac.' I rest my case!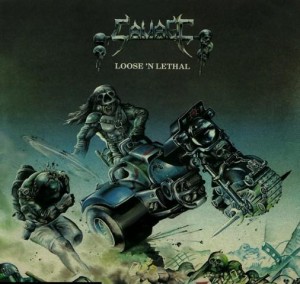 Do you still feel bitterness towards the record label Ebony? Some bands found tough relationships with Neat Records, too. Savage was signed to Neat after Ebony. Was your relationship with Neat alright?
Dawson: No bitterness. Waste of time, It worked really well for a short time, but it could have been so much bigger for them and for us if he hadn't been so scared of letting it go to other labels and distributors. Neat got us going — again, so no complaints from me. Savage hasn't been severely ripped off in the way some bands have I can assure you. It's the lack of promotion and push that frustrates me.
C. Bradley: It is what it is! Small companies just cannot compete, so that's why we do it ourselves now .We got the same limited resources but now at least we control what happens. Though I'm still waiting for accounts for Xtreme Machine!
Why the long wait for a new album from Savage?
Dawson: When the times right, its right. It could have happened five years ago but life gets in the way. Life, death and taxes.
C. Bradley: Like Andy said: the intention was to follow Xtreme Machine a lot sooner but life, death and taxes got in the way — though mostly, death and divorces.
What are your ambitions for this new record? And what about an American tour? When's the last time you've toured America?
K. Bradley: Is this an invitation? As Dave Lee Roth says, all I need is a pair of jeans and a T- shirt. Let's do this!
C. Bradley: For more people to buy it than download it for free! American tour? Oh Yeah, Lets do it, I've been ready since the last one (laughs).
Dawson: We played in 2000 which was a blast so we are way overdue. My bags are packed! The new album is cool and heavy so I want all you guys to buy it, or steal it.
Go to www.myspace.com/savageuk for more information.