Top 10 Metal items sold on eBay: Week of September 21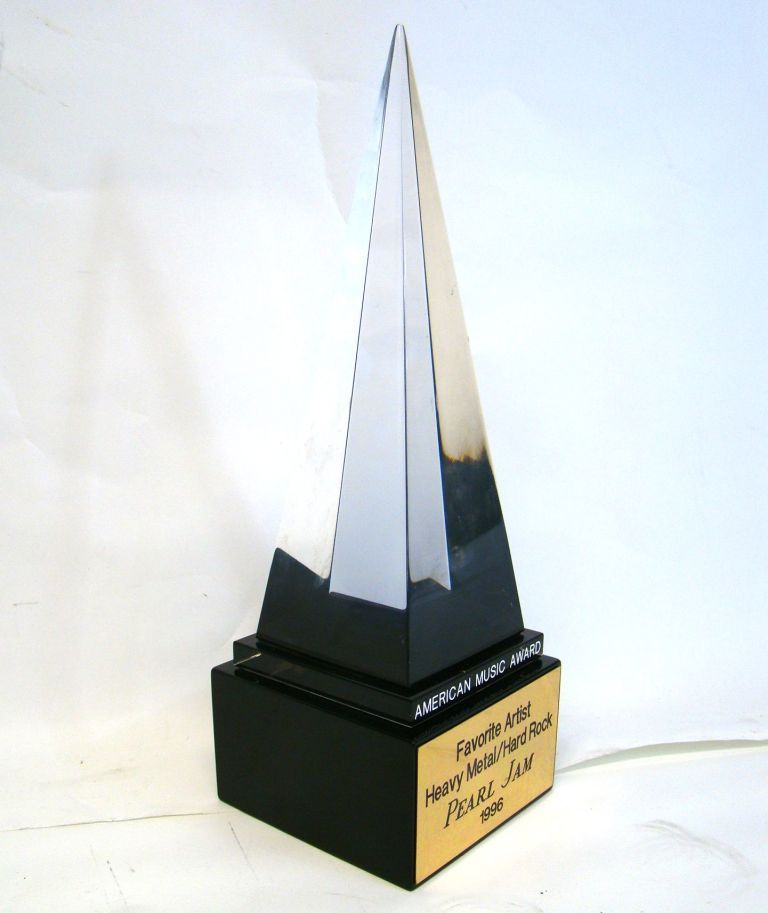 Here are the top 10 heavy metal/hard rock items sold on eBay last week, September 15 to September 21 (listed in order of highest price in both categories "music" and "entertainment memorabilia"):
1. 1996 Pearl Jam American Music Award for Favorite Artist Heavy Metal/Hard Rock
25 bids
Sold: $8,400.00
Seller's comments: Make: Pearl Jam American Music Award; Model: Favorite Artist Heavy Metal/Hard Rock; Condition: Good/Very Good – This item has been used very little. There is little to no wear on the outside and everything is working just as it should with no issues. This item will not have multiple marks scratches, or scuffs to the exterior. Auction includes: Award Only. Last of 3 AMAs that we have obtained.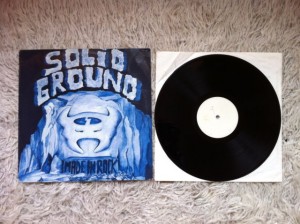 2. Solid Ground – Made In Rock LP
1 bid
Sold: $500.00
Seller's comments: 1st press SOLID GROUND – MADE IN ROCK LP. Rare swedish metal from 1976. On SCAM RECORD, LPS-L 007, STEREO. Cover: VG – Hardly noticeable fold in the right corner. No seam split, tears, or ripps.Vinyl: NM – Hardly noticeable sticker mark in the middle of the A-side. Mega rare and most heaviest mid-70's Scandinavian Hard rock/Metal private press. This is a true Original copy, not a counterfeit repro which comes in rather fuzzy printed cover with white label. Really heavy, tremendous hard blaster with violent axe, loud searing leads, and volcanic rhythm section. The cover is in near Mint condition. Vinyl is in near Mint. Plays fantastic! ONLY SERIOUS BUYERS.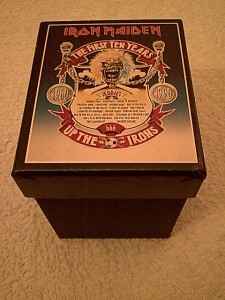 3. Iron Maiden – The First Ten Years CD box set
24 bids
Sold: $461.59
Seller's comments: UK 1ST PRESS. BOX IS IN VERY GOOD+ CONDITION. CD'S ARE ALL IN EXCELLENT – NEAR MINT CONDITION
CD CASES ALL HAVE ORIGINAL STICKERS AND ARE ALL IN EXCELLENT CONDITION. CRUCIAL. I WILL NOT POST THIS WITHOUT INSURANCE!! SOME SELLERS TAKE PHOTO'S OF THEIR RECORDS ON THE FLOOR (WHAAAAAAT?), SOME ON THE TABLE. NOTHING TOUCHES MY RECORDS APART FROM MY FINGERTIPS, THE INSIDE OF THE SLEEVE, AND THE VINYL PLATTER.
AN EXCELLENT RECORD FROM THE BOYS!! FOR REAL COLLECTORS!! NOW YOU CAN OWN IT!
I AM A PROPER COLLECTOR! FROM MY OWN COLLECTION. I LIVE IN HACKNEY WHERE IRON MAIDEN GREW UP. YOUR ITEM COMES FROM BOMBER 'ARRIS'S STOMPING GROUND!! I WOULD NOT SEND YOU SOMETHING I WOULD NOT LIKE TO RECEIVE MYSELF, POSTED IN SECURE PACKAGING AND DESCRIBED PRECISELY.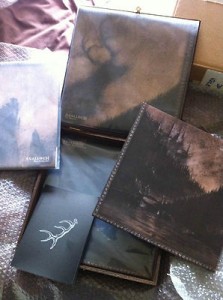 4. Agalloch – The Wooden Box LP limited edition box set
Buy It Now or Best Offer
Sold: $485.88
Seller's comments: Reluctantly selling, for financial reasons, my copy of Agalloch's limited edition "The Wooden Box" – number 312 of 500. Has been kept mostly as a display piece – the 4 vinyl LPs have never been played or taken out of their sleeves. As you can see in the photos it's complete with the slipcases, mat, and gorgeous lyrics and photography booklet. The nature of the wood of the box seems strange in how it attracts marks – for the sake of not being deceiving I'd like to point out the mysterious splodge just above where the A of Agalloch is. Not glaringly obvious but that's somehow happened since I acquired it. For all I know it could easily be treated and cleaned, but I just don't want to risk making it worse. So in summary apart from a few blemishes of sorts on the wooden box it's pretty pristine.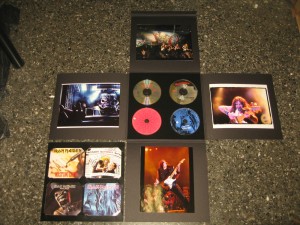 5. Iron Maiden – Hallowe​d Be Thy Singles 4-CD singles box set
14 bids
Sold: $371.69
Seller's comments: This is a Mega Rare JAPAN PROMO BOX SET with special CROSS PACK SET. This box includes 4 CD Singles:
WASTING LOVE
BE QUICK OR BE DEAD
WILDEST DREAMS
RAINMAKER
This SPECIAL PACK opens like a CROSS and has 4 rare band photos (25×20) + The covers from the Singles. ONE OF A KIND RARE ITEM! Condition: Cross Pack is MINT / CDs are EX+++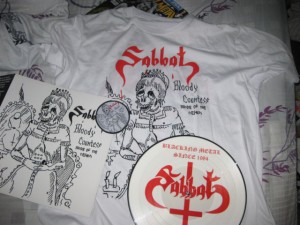 6. Sabbat – Bloody Countess pic disc LP
7 bids
Sold: $366.00
Seller's comments: MEGA RARE PIC LP + STHIRT SIZE XL AND PATCH. ONLY 100 COPIES MADE. OFFICIAL RELEASE !!! LONG SOLD OUT AND DELETED !IMPOSIBBLE TO FIND !!! VINYL: MINT SLEEVE:MINT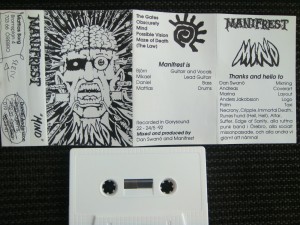 7. Manifrest – Mind demo
Buy It Now
Sold: $350.00
Seller's comments: MANIFREST MIND DEMO ORIGINAL CLASSIC OLD SCHOOL SWEDISH DEATH PRODUCED BY NONE OTHER THAN DAN SWANO STILL IN EXCELLENT SHAPE AFTER ALL THESE YEARS.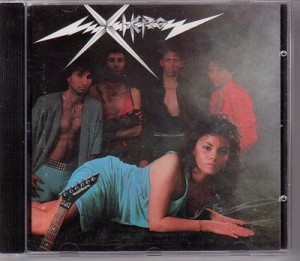 8. X Hero S/T CD
Buy It Now
Sold: $299.25
Seller's comments: X Hero "S/T" CD (CDFLY 1040) released 1988 on Fly By Night. Hyper rare Italian metal gem sung in English. This original copy is in mint condition. 8 songs. Feel free to check out the Starlighthoney store for more out-of-print AOR, melodic hardrock, metal and pop.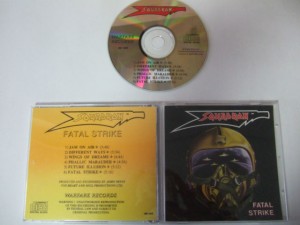 9. Squadron – Fatal Strike CD
Buy It Now
Sold: $289.00
Seller's comments: Squadron – Fatal Strike CD 1985/8 Warfare Records Not Boot! Cd in like new condition.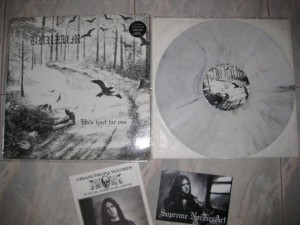 10. Burzum ‎– Hvis Lyset Tar Oss LP
7 bids
Sold: $275.00
Seller's comments: Burzum ‎– Hvis Lyset Tar Oss White Marbled original lp + original flyer!!!Limited to 2000 numbered copies.
Cover – VG Vinyl – EX