Chiller Theatre Expo 2014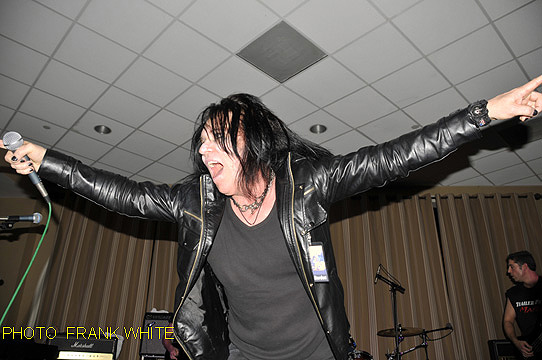 The Chiller Theatre Expo — the annual Horror convention that has been getting bigger every year since 1990 — had its 3 day Halloween Expo on Oct 24-27 2014 at the Parsippany Sheraton Hotel in Parsippany New Jersey. The hotel itself was constructed to look like a giant castle, just perfect to hold this type of convention.
This weekend once again starred TV host Zacherle the cool ghoul. Rooms thoughout the main floor of the hotel were filled with celebrities from the Horror genres, TV sitcoms, TV Dramas, adult models, comic book artists, Rock Stars, Wrestlers, a horror model contest, celebrities speakers, and horror films. There were also vendor rooms selling everything from horror toys, videos, t-shirts, music, art work, toy models, jewlery, movie posters, comic books, and magazine.
Each day the hotel was packed with people, some dressed up in Halloween outfits while others shopped around for those hard to find goodies and others waited on lines to get photos and autographs from their beloved stars.
Saturday night is when Chiller Theatre has it Halloween Costume contest followed by the annual Live Rock and Roll Jokers Ball Party concert. This concert featured performances by The Smithereens, The Cowsills, Dead Elvi, Lita Ford, Cherie Currie, Lizzy Borden (above) with Trailer Park Mafia and Daphne Mika, Marky Ramone, Ian Lloyd, Alan Robert of Life of Agony, and local bands Pat Horgan and Thunder Road and The Test.
Thanks go out to producer Kevin Clement who has been running this successfull expo since 1990, Director of Guest Relations Eddie Mika, Chiller Badges Kenny Marshall, and Chris Kiszka Guest Relations.
Scroll down for photos
Note: Cherie Currie appears onstage with Lita Ford in the photos above.

Marky Ramone chiller 2014