Record Store Day 2012 considered a 'triumph'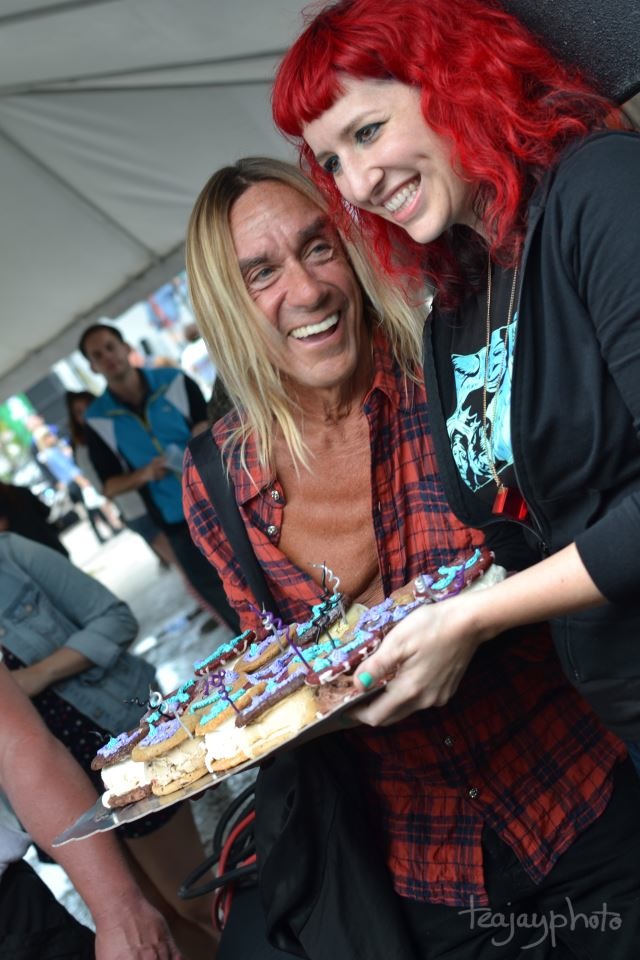 Everywhere: Independent CD and record stores all over the globe are thriving. Boasting 5 years of consistent growth, Record Store Day 2012 has, once again, raised the bar over previous years spiking global sales at the indies. Information is still coming in, but a solid estimate is that stores are reporting double-digit sales increases from last year. This is a 10% increase for some stores and as much as 50% increase for others.
Co-founder/organizer of Record Store Day and Music Monitor Network President Michael Kurtz says, "With over 300 special releases, and over a million people who turned out to celebrate around the world, I'm excited, and a bit frightened, to say that Record Store Day was bigger than ever this year. Incredibly, everyone had a great time and we once again showed that music is one of the most important things in life. The one thing I keep hearing over and over again from record store owners is how excited they are to see a massive return of people under the age of 25 to record stores, spurred mostly by vinyl and the culture around it. It's fantastic. On top of that, to have Iggy Pop as our Ambassador this year, and see him celebrate his birthday at his local record store, was sheer magic. The kind of magic that makes pretty much everyone love Record Store Day."
Chris Brown of Maine and New Hampshire's Bull Moose and Record Store Day co-founder says "Is there anything in the world that Katy Perry and Iggy Pop agree on? Record Store Day."
It's no new news that Iggy (above on RSD 2012 with Lolo) was this year's Record Store Day Ambassador. "A person should have a personality. You won't get one dicking around on a computer. It helps to go somewhere where there are other persons. Persons who are interested in something you are. That's how a record store or any shop that's got some life to it should work,"says The Godfather Of Punk, who celebrated his birthday at Sweat Records in Miami.
With no less than 300 other major and indie artists lending their support with special RSD releases and/or in-store appearances from all ends of the musical spectrum, the event was dressed for success.
The aforementioned Perry, a newcomer to the event, released her "Part Of Me (Thin White Duke Remix)" LP, while the meteoric Fun. not only offered their second RSD piece, a 10", "The Ghost That You Are To Me," but also played a fantastic in-store set at Newbury Comics in Boston. Garbage, who stopped in for a signing at Waterloo Records in Austin, released their "Blood For Poppies" 7", and Coldplay released their "Up The Birds/UFO" 7" just to name a few. Record Store Day saw continued participation by literally hundreds of other artists including Wilco, Bruce Springsteen, Paul McCartney, Ryan Adams, The Flaming Lips, David Bowie, Florence And The Machine, Foster The People, St. Vincent, The Black Keys, Leonard Cohen, Jimmy Fallon, Grace Potter And The Nocturnals and The Civil Wars (to name a few more).
Here are some notes from the front lines…
"We saw a lot of really cool behavior among music fans. People totally got into the spirit and helped complete strangers find the items they were looking for. Music really does bring people together," reports Brown from Bull Moose.
"We were up 20% in sales over last Record Store Day… one gentleman came to me after getting Dar Williams autograph and told me that he has been shopping with Silver Platters since 1985, it is his greatest enjoyment, and he will shop with us until he dies. It was very heartfelt, and really impacted me," recounts Mike Batt, owner of Silver Platters in Seattle, "It was a great day and weekend for us, and as opposed to last year when RSD pulled us out of a sales downturn, this RSD accentuated what has been an up year for us since January."
Matt Bradish from Underground Sounds in Ann Arbor, MI says, "We had a line at the door from 7AM until 4PM, we opened at 10AM with someone working the door to limit the store to 10 at a time (550 feet with 10,000 titles). The line stretched for nearly 2 blocks."
Paul Sternberg from Dearborn Music adds, "Business was up 25% from last year and there were twice the amount of people in line when we opened."
Alayna Alderman at Record Archive in Rochester, NY chimes in, "I am happy to report ANOTHER record-breaking Record Store Day Event at Record Archive! I can't believe I am writing this, that after 37 years in music retail we are still enjoying growth!"
"We crushed last year's numbers!" says, Adam Welle from MN's Down In the Valley stores.
"The Exclusive Company, America's oldest full-line record store, had its best Record Store Day in history, up almost 13% as a chain, against already impressive sales figures from 2011. Nearly 7,900 pieces of vinyl were sold in one day," says the store's Phil Martinez.
Vintage Vinyl, in St. Louis offered their favorite story of the day (so far):
"We were short $109 on a register because we entered the wrong amount into the credit card machine. A few hours later, guy calls and says: I bought a bunch o stuff this morning and I just checked my credit card receipt and you undercharged me, I want to get you the rest of the money, had such a fun time I'd hate for you to be short. Holy sheep dip; it's a Record Store Day Miracle," as relayed by manager John Henderson.
Doyle Davis from Nashville's Grimey's adds, "Grimey's had its best day EVER, beating last year's RSD by 42%. We had hundreds in line when we opened, ran 4 registers (2 inside, 2 outside), the line for RSD releases didn't subside until 5:15pm!"
"We were up 18% over the prior year's weekend. None of us thought it would be possible, to have that much fun, and actually make money? It's almost not fair, almost Criminal. Of course, we were aided by Patterson Hood & Drive-By Truckers, with a Bradord Cox (Deer Hunter, Atlas Sound) dee-jay set to finish our day," says Eric Levin, owner of Criminal Records and co-founder of Record Store Day. "And having Jack White's Third Man Van show up didn't hurt."
For more information, please visit here.
Record Store Day is managed by the Music Monitor Network and is organized in partnership with the Alliance of Independent Media Stores (AIMS), the Coalition of Independent Music Stores (CIMS) and celebrates the culture of independent record stores by playing host to in-store events/performances, signings and special product releases on a global scale.
Record Store Day takes place annually on the third Saturday of April.
Record Store Day Sponsors:
Crosley Radio, EMI Distribution, Fontana Distribution, Furnace MFG, NARM, RED Distribution, Sony Music, Universal Music Distribution, Vivendi Entertainment, WEA Distribution, and Warner Bros. Records.