Dave Mustaine talks about being on the road with 'Countdown'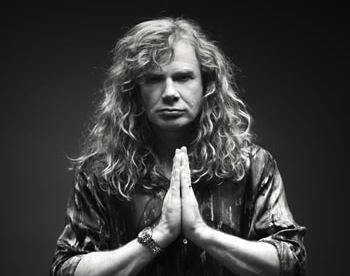 Coming off a TH1Rt3EN World Tour this year that has covered from Croatia and the Czech Republic to India and Dubai, Dave Mustaine and Megadeth ready themselves for an American tour to celebrate the 20th anniversary of Countdown to Extinction. The band will perform the 1992 album in its entirety onstage as it has since September.
To celebrate Countdown to Extinction even further, Capitol/EMI is releasing a 20th anniversary album edition to go along with the tour. The edition will be released November 6 — just in time for Election Day — pairing a remastered original album with a 1992 concert that was recorded live at San Francisco's Cow Palace, never before released in its entirety.
READ MORE ABOUT THE 20TH ANNIVERSARY EDITION OF COUNTDOWN TO EXTINCTION
The following is an interview with Dave Mustaine as he talks Countdown and, of course, world politics.

Anniversary editions are 'in' and, also, playing an album in in its entirety live is the in thing, too. How do you like doing that, playing Countdown in its entirety?
Mustaine: It's pretty cool. The one thing that's kind of weird is when you play a record in its entirety, you do it based on the sequencing of the record which is the way people get familiarized with stuff. For example, imagine listening to Dark Side of the Moon out of sequence. It would be like, what?! So we're playing it in the sequence and "Symphony of Destruction," being such a strong song, it shows up second during that part of the set. You know, we do a few songs prior to that and then we do the Countdown set and that set ends with "Ashes in Your Mouth," which is not really a great way to end the set because we've got "Peace Sells…" and "Holy Wars" which are our usual closing two numbers.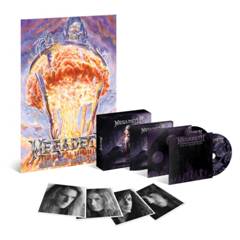 "Holy Wars" was so powerful on the Live At the Cow Palace disc put (in the anniversary edition of Countdown to Extinction). What struck me while listening to it was: here we are twenty years later — and this was before anyone was aware of the bin Ladens of the world — and it still has so much substance.
Mustaine: One thing that's undeniable is that there are bad guys. Mankind has dominated mankind since the beginning of time and there will always be oppressors and there will always be liberators. You know, I'm a little bit apprehensive to get a little too political in this interview because people are such haters right now based on whatever your political posture is. It's like, it's my right as a voter to vote whichever way I want and for you to completely trash my whole musical career just because I like one candidate over another is really quite unfair. I've always been an independent voter. I voted for Clinton and I voted for Republicans over my lifetime. And I'm fifty, I had a lot of time to vote. So there's been good and bad in both parties. And it's just sad. You see the stuff that's going on right now and every one of my lyrics is still just as timely as it was when I wrote them.
Might be even more timely now with all that's going on in the Middle East.
Mustaine: Yeah, for example, "Architecture of Aggression," that was about Saddam Hussein but that could be about Assad. Or it could be about the guy that's down in Egypt. It could be about our own President.
[pullquote_right]The backlash has been kind of a forward lash. [/pullquote_right]
When [Countdown to Extinction] has its 50th anniversary, it can still be relevant.
Mustaine: Yep. If there is a USA fifty years from now.
There will be, but who knows what it's going to be like. There may not be a Middle East fifty years from now.
Mustaine: Personally, if it were me, this whole thing in Afghanistan, I would have been a little smarter and I would have said, 'Why don't we check how the Russians did there?!' And after ten years of getting their ass handed to them I would say that they are comparable to us as a military force, so we've got a little bit of an edge over them. Why would we want to get engaged in a war that there's seemingly no way to win. Well, because of the poppies.
After going to Dubai (on this last tour), I think you had seen a Middle East that is different than what you expect.
Mustaine: Well, Dubai is different. The Sheikh Mohammad and his brother-in-law and his dad, they're very Westernized even though they are very faithful to their belief and whatnot. What I found in Dubai to be really endearing to them, is the fact that they have a mosque there and they allow westerners to go in there and see what it looks like. The only place in the world where you can go into a mosque as a westerner and see what it's like. The other thing, too, they have people that live there that are Jewish, Christian, Catholic, Muslim, atheist, agnostic and they all co-exist and you don't hear about the same kind of religious intolerance and murders and bombing going on there. I was talking to the guy who took us out on a safari there — my wife and daughter and I — and he said ten years ago the word 'bomb' was never part of the vocabulary. And I went, you know, you're right. You're totally right.
[pullquote_left]People are such haters right now based on whatever your political posture is.[/pullquote_left]
And India made an impression on you.
Mustaine: Now, India was a different story. I love our fans there but that's a really messed up situation there. It's like really filthy, the pollution is terrible. My heart goes out to our fans. Part of the reason we wanted to play there was because of the poverty level there. There is no middle class there. You're either filthy stinking rich or you're absolutely mind-blowingly poor. And we wanted to go there and bring our music to bring some joy to the fans out of there. Because let's face it, young kids around the world — no matter where they live right now — because the West dictates a lot of things and because our economy is so messed up right now, anybody that graduates out of college, they're not gonna get a job. I mean if they do get a job it's certainly not going to be in the fields that they're studying for. And you see these kids over there … the guy that was my promoter rep over there in India, he just graduated from college and he goes 'Our minimum wage here for a person to work is one dollar a day.' A day!
When Countdown came out, was it even available in those countries?
Mustaine: It probably wasn't. I don't think it was available in a lot of the places we play in now. And that's the kind of thing that in the back of my mind I kind of chuckle — no disrespect — but talking about fifty years from now when we become the USSA, which looks like it the way things are going, we're not going to have the kind of liberty to listen to music we want to listen to. Anybody who doesn't think there's anything bad about the government, you know what, I'll be locked up. I'm surprised I"m not already on some kind of list because of what I said in Singapore, which wasn't something I orginated. I was just repeating something somebody said.
[pullquote_right]People would get their teeth knocked if they said the stuff they say nowadays — Mustaine on trash talking via the internet. [/pullquote_right]
There are a lot haters who will take one thing you've said and … you know what it is, the internet, basically. Twenty years ago you didn't have this.
Mustaine: Because people would get their teeth knocked if they said the stuff they say nowadays. You know, you can hide behind a computer and then you just change an IP address and nobody knows who you are or where you are. But the good thing about all this is there's One who sees everything and I've got a pretty good relationship with Him, and my whole thing is: I treat people the way I want to be treated. Even when we were in the Czech Republic and people were upset about the whole debacle with WASP not playing and took it out on us [Editor's note: Perhaps, Dave Mustaine is referencing the Zadar, Croatia show of Metalfest Open Air on June 7]. That wasn't our fault but they still were taking it out on us and when we were in Dubai we did a meet and greet and a woman and her little boy came up. And she said, yeah, he saw you in the Czech Republic and he was supposed to meet you after the concert and you guys finished early. And I was gonna say 'Yeah, but …' and she said, he cried because he didn't get to meet you. And I thought, 'You know what, son of a gun …' The guys that acted out there, I understand why they did that. They wanted to see WASP, they don't know why that they didn't play and somebody had said something that it was our fault. It wasn't our fault. We don't decide whether WASP plays or not. And they had been out in the sun drinking and they thought it was a novel way to express their disdain for the way things took place was to throw objects at us. I understand. I totally understand. I would have handled it a little bit different. I'm not a pussy who throws rocks at artists. They may not love me but I still have love in my heart for them. And I'm not going to write the Czech Republic off just because of these few people who mishandled themselves that day. I think that if the guys who actually did that, if we sat down and talked, we'd probably have a lot in common. Because I don't dislike WASP. I'm actually friends with Blackie and I probably would have wanted to see them play as much as their fans did — well, probably not as much, but it's funny how similar a lot of us are when you get down to it, but this mob mentality gets people fired up and you're afraid to say what your convictions really are because …  you know, I saw a letter about three years ago. It was the vice president of GE and I'm thinking it was an open letter about how afraid he was about the way things were going and how he doesn't think he'll be able to write the same letter several years later because of the fact that if anybody who says anything negative right now about a politician is going to be vilified and, man, damn if he wasn't right.
You've always said what you've thought. That's very American, if anything.
Mustaine: That's the thing that surprises me. What about all the stuff I've said over the last thirty years? What about the album cover with the U.N. completely blown up on the front of it? (laughs) What about that stuff? How come all of a sudden now people are saying, 'God, I can't believe he said that!' Really?!
I'm sure you have talked to fans about certain things backstage or whatever …
Mustaine: Yeah, we do a lot of meet and greets with fans.
If fans sometimes differ in politics they might get angry, even if they're a big fan of Megadeth or Dave Mustaine. But if you actually talk to them face to face instead of them chatting (online), it would be better.
Mustaine: My whole thing, again, going back to it, is that I try to operate from a place of understanding and tolerance and love towards people and I never really made any other criticisms that come out of my mouth about politics based about a party. It has to do with what's happening to us as a people. And I've always said that Megaderth was band by the people, for the people and of the people. And the political stuff that I talk about, it has been about any administration and it's not about every administration, and if you're doing something that's going to effect us as a people, I'm going to say something about it.
[pullquote_left]I'm surprised I'm not already on some kind of list because of what I said in Singapore, which wasn't something I originated.[/pullquote_left]
Yeah, you were critical of W, too.
Mustaine: Yeah. And that kind of speaks to that a record [Countdown to Extinction] with a song called "Symphony of Destruction." That particular song describes almost every politician that there has ever been, because, what are they? At this particular time in history most politicians are just a mouthpiece for the elite, for the Illuminati, and they say one thing to get in office and then they change their mind.
Well, you must be excited about the tour coming to America. Are you even thinking beyond that?
Mustaine: God, I've got so much work that I'm doing right now. The funny thing is that all the backlash off of the things that I said. The backlash has been kind of a forward lash. Granted, people have bailed off of our Facebook site but our numbers went up considerably after that because, again, people want someone to stand up for them. And right now with us coming out and touring and stuff and doing this tour, I'm looking forward to be able to bring this music to people and we've tried to keep our ticket prices really affordable because I know how hard it is to make ends meet right now. You know, we used to live from check to check and then it was living from check to credit card to check and now it's like you don't even live from check to credit card to check. People are starting to contemplate looting and all this flash mob stuff. When do you ever remember hearing anything like that before? Never. So I'm really looking forward to being able to bring our music and our show to the people. Be able to give them a moment, just a temporary break in the insanity right now that's going on in our world. And we're getting close to the holidays and, it's funny, the holidays are the one time where the rest of the world tries to kind of treat people the way people like me live — where you're trying to good stuff for people all the time — and I look forward to that.