Megadeth electrify the 'Countdown' on tour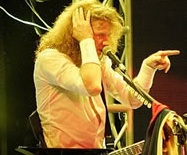 Megadeth frontman, Dave Mustaine, was having problems with his mic throughout the entire show at Oakdale Theatre in Wallingford, CT on November 13. Thirteen is usually Mustaine's lucky number, but not on this night. After the opening song, Mustaine apologized, mumbled something nasty about feedback, and then him and the band walked off stage. They returned about 10-15 minutes later but the problem with the mic continued intermittently. It's too bad. Even though the sound was clear, the guitars crisp, occasionally Mustaine's vocals would disappear for a few seconds here and there in certain songs.
Fortunately, no problems with the vocals on "Sweating Bullets," a song that thrives on Mustaine's emphatic snarl of a voice. "Sweating Bullets" was one of the best songs played on a night celebrating the 20th anniversary of Countdown to Extinction. Performing albums in their entirety seems to be the 'in' thing for bands nowadays — and it can be a bit of a struggle for the fans when new releases are given this treatment — but none of the songs on Countdown tested the audience's patience. If anything, Countdown sounded as fresh and electric as it did on its release 20 years ago. Perhaps, even more so. For instance, a song like "Foreclosure of a Dream" can easily be a commentary about today's housing market.
Of course, there were all the Megadeth staples that surrounded Countdown to Extinction, too: "Hangar 18," "Peace Sells" and "Holy Wars." These are all powerhouses. And Mustaine and Chris Broderick's guitar styles really complimented each other, no matter what the song, as leads were traded back and forth. However, on a personal note, there was hope for a "Wake Up Dead" performance — to my ears, one of the best metal songs ever written — but to no avail.
You can't have everything. But what you can always count on is Dave Mustaine's opinions on worldly events. Reaganomics took the blame for giving farmers money and then swiftly taking it away, something Mustaine called "chickenshit." This was the introduction to "Foreclosure of a Dream." But, alas, Dave emphasized that the government is still chickenshit: Hillary Clinton got hammered for her recent political maneuvering on Benghazi, for instance. Then potshots at the world at large: A hockey league commissioner in Pennsylvania was called out for getting rid of the National Anthem before games. Ted Turner got some heat for his recent comments on the trend of U.S. soldiers' suicides. And, last but not least, Nikki Sixx got thrown under the bus to end the night. This is all fine for Mustaine's right to freedom of speech but if you added this time up, the fans could have gotten another song or two — especially when it seemed that the tour's standard set list was cut due to the aforementioned mic malfunction ("A Tout le Monde" and "Whose Life (Is It Anyways?)" were not performed).
In the end, nothing could match the brilliant pace of "Holy Wars" to close the gig. The song is still as poignant and full of life as ever. It's Megadeth at its best: fast and furious (no pun intended). And, let's face it, sometimes political statements are best left delivered in the lyrics of a song.
Remaining Megadeth dates for the Countdown to Extinction tour