Powerline's Best Hard Rock and Heavy Metal of 2012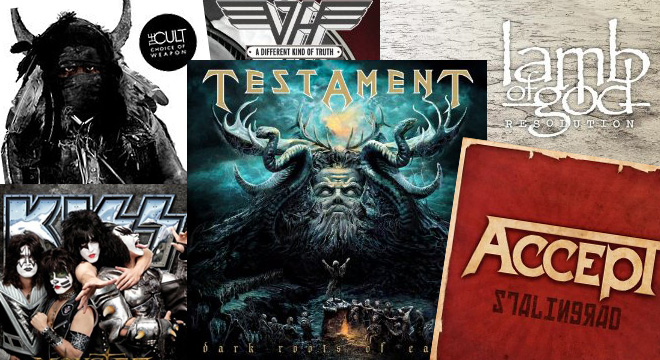 BEST HARD ROCK AND HEAVY METAL OF 2012
Here is the Best of 2012, picked by Powerline and its contributors.
Patrick Prince

Metal Artist of the Year: Testament
Best Metal Album: Accept – Stalingrad
Best Hard Rock Album: The Cult – Choice of Weapon
Best Metal Song: Testament – "Native Blood"
Best Hard Rock Song: The Cult – "For the Animals"
Best Comeback Album: KISS – "Monster"
Best Video: The Cult – "For the Animals"

Best New Metal Band: Kill Devil Hill
Best Prog Metal Band: Kamelot
Best Concert DVD: Led Zeppelin – Celebration Day
Best Metal Compilation: Sacred Oath – Spells & Incantations
Best Hard Rock Compilation: UFO – Chrysalis Years 1980-1986
Best Metal Vinyl: Judas Priest – Screaming for Vengeance Record Store Day (Black Friday) picture disc
Best Box Set: Rage Against The Machine, Rage Against The Machine
Best Metal Reissue: Megadeth – Countdown to Extinction (20th Anniversary Edition)
Best tour: Megadeth's Countdown to Extinction tour
Best Audiophile Edition: Dio – Holy Diver (Audio Fidelity)
Best Metal Book: Fade To Black by Martin Popoff and Ioannis (Sterling)
Best Hard Rock Book: Get The Led Out by Denny Somach (Sterling)
Best Live Album: Iron Maiden – En Vivo!
Ray Hogan

Metal Artist of the Year: Lamb of God
Singer Randy Blythe's problems in the Czech Republic are a sobering reminder that Lamb of God have become America's most reliable metal band and that heavy metal in this country or anywhere else wouldn't be in the healthy state it's in without this Virginia quintet. That Blythe has conducted himself in such a stand-up manner throughout this horrible ordeal makes LoG my automatic pick for this category. There's also the fact that I have been listening to "Resolution," the group's seventh disc, constantly since March. It's typical Lamb of God: insane drumming, chastity-belt tight riffing and Blythe's desolate views (see Song of the Year) of humanity. Totally awesome and totally what we've come to expect from a band that rightfully hails itself as "True American Metal."
Best Metal Album: Testament – Dark Roots of Earth
Here's what I wrote when I first reviewed this disc. I stand by it. "In many ways Dark Roots of Earth is the true Testament comeback disc. It is what so many of us wanted 2008's The Formation of Damnation to be — and a lot more. Simply put, this disc is a monster; one that utilizes not only the group's core strengths but also plays to the attributes of reunited members Alex Skolnick and Gene Hoglan. Looking back on things, Testament stood out from the rest of the thrashing masses for a few reasons; a melodic sensibility — not heard in, say, Exodus or other bands — not being the least of them. If that sensibility was a bonus in the 1980s, it's a defining attribute in 2012, when melody is all but devoid from the majority of metal bands. After listening to the disc at least ten times, it's become increasingly difficult to not throw around empty adjectives and superlatives. It is that good." Only difference now is that I've probably listened to it 50 times and continue to hear its brilliance.
Best Metal Song: Lamb of God – "Ghost Walking"
For those living in Powerline's home state of Connecticut, 2012 ended with two violent outbursts: one was named Sandy and was nature's way of reminding us how small we really are, the second took place in Sandy Hook and reminded us of the fragility of life, among dozens of other things. "Ghost Walking" is the type of "end-of-times" song that heavy metal has always been good at providing. Singer Randy Blythe — who had his own shit-storm of year — seems to sum it up with "Night blind on the shining path/Ghost walking in the aftermath/Hypnotized, 60 cycle hum/the broken cadence of a distant drum." This is accompanied by some of the most raw start stops, squeals and general musical pounding on the disc.
Best Metal Comeback: Doro Pesch
She really never went away but a two-disc retrospective and a stellar new disc, Raise Your Fists remind us that she's basically the female equivalent of Lemmy, someone who does something so well and uniquely that there is absolutly no reason to stop. She's out-survived thousands of her male counterparts of the 1980s. She caters more in hard rock than heavy metal by the modern definition but semantics are stupid at this point. She deserves tons of more attention in the United States than she gets.
Best New Metal Band: Year of the Goat
This is a late arrival (at least for me) but a great addition to the welcome trend of pre-metal (a la Ghost) that's been coming out of Europe. These Swedes sound like they grew up on the Scorpions and 1970s riff-rock more than Metallica and Slayer. They really stand apart because of singer Thomas Sabbathi, who strangely enough resembles Jeff Buckley more than any hard-rock growler-screamer. Angels Necropolis has a very dark side but musically this is a refreshing retro blast, at least to my ears. I will listen to it a lot more.
Best Prog Metal Band: Baronesss
Nothing says excess like a double-disc. Yet the undefinable Baroness pull off the feat without falling into the indulgence of most prog. This is a band refuses to be straitjacketed by genre. On Yellow and Green, continuing the slightly annoying tradition of naming discs after colors, the guitars are knotty and psychedelic, the rhythms pounding, the songs pretty much uniformly strong. Guitarist/singer John Baizley seems to draw a deep well of ideas. With this double-disc, the band, now situated in Philadelphia (originally grounded in Savannah, Ga.), proves itself as a long-haul career band. Baroness toured America this year sandwiched between Decapitated and Meshuggah. Not the right bill for a band that thrives on the intricate but the beautiful instead of brutal. I hesitate to call the band prog but really needed to acknowledge Yellow and Green somewhere in this summary.
Best Tour: Anthrax, Testament and Death Angel
A tough call. Testament and Death Angel (particularly Testament) rocked. Anthrax, not so much. Saw it twice, left both shows with same feelings. Death Angel have been under-acknowledged in the past decade, one that has resulted in constantly strong CDs (start with 2004's "The Art of Dying"). Mark Osegueda remains the heart and soul of the group and his voice is still remarkably strong. Testament is pure energy live, tough for any act to follow. Singer Chuck Billy looks like he's having more fun than anyone up there, complete with microphone stand air guitar solos. The guitar team of Alex Skolnick and Eric Peterson are among metal's best, having had the time to build the musical relationship back up. I don't think Anthrax was bad but rather beaten badly by the rest of the bill. Testament should have been the fourth of The Big Four.
Ten discs that made 2012 a little brighter: Testament The Dark Roots of Earth, Lucero Women and Work, ZZ Top La Futura, Baroness Yellow and Green, Down The Purple EP, Lamb of God Resolution, Elizabeth Cook Gospel Plow, Steve Vai The Story of Light, Mares of Thrace The Pilgrimage, Kill Devil Hill, Kill Devil Hill
Peter Lindblad
Metal Artist of the Year: Van Halen
Expectations couldn't have been lower, especially after the release of that lead trial balloon known as "Tattoo." Underwhelming in almost every possible way, from its awkward verses to choruses as glitzy and smarmy as a Las Vegas lounge lizard, the 2011 single had everyone talking – only most of that conversation revolved around how historically awful "Tattoo" was. The bar wasn't just lowered. It had crashed through the floor. And then, A Different Kind of Truth arrived, and it was magnificent – aggressive and heavy, with Eddie Van Halen putting on an awesome fireworks display of dazzling solos and dynamic riffs. Of course, the triumphant tour that was supposed to vault them back to the top of the hard-rock heap ended rather abruptly, and Eddie's health problems were a buzz kill, so it wasn't the best of times for Van Halen. Still, in 2012, Van Halen redeemed itself mightily with A Different Kind of Truth, and that was no mean feat, considering how far they'd fallen.
Best Metal Album: High On Fire, De Vermis Mysteriis (Entertainment One)
This could just as easily go to Kreator's Phantom Antichrist or Over Kill's The Electric Age, but the tumultuous De Vermis Mysteriis is such an intense, churning maelstrom of ragged, crazed thrash and pulverizing sludge metal that it simply boggles the mind. His throat shredded almost beyond repair, Matt Pike rages maniacally about Jesus' cursed, time-traveling twin brother and the devastation he has wrought in an epic concept album engulfed in thundering drums, pile-driving bass and roiling guitar riffs. Mother Nature may have met her match.

Best Metal Song: Testament – "Native Blood" (Off of the album Dark Roots of the Earth on Nuclear Blast Records)
Rightly proud of his Native American heritage, a battle-scarred Chuck Billy belts out the lyrics to "Native Blood" with the full-throated roar of a runaway freight train. Impassioned and defiant, Billy's booming, resonant voice adds gravitas and emotional depth to a powerful song of independence and self-reliance that stirs the soul, a modern-day anthem for indigenous peoples everywhere who feel the weight of oppression upon them. And while the words that steam out of Billy's fiery mouth carry both a political and social significance for those he's trying to rouse to action, it's the deliriously infectious riffs and terrific momentum "Native Blood" gathers – not to mention a blast-furnace chorus that even Metallica would kill to call its own – that make it the standout track on one of the finest albums of Testament's glorious career.
Best New Hard Rock Band: World Fire Brigade
World Fire Brigade is not just some reasonable facsimile of Fuel, even if its degrees of separation from those '90s alternative rockers are way fewer than six. See, Brett Scallions has teamed with Smile Empty Soul's Sean Danielsen and producer Eddie Wohl on a new – well, fairly new, having actually been hatched in 2009 – project that is full-on metal … cross my heart, it is. Of course, it helps to have Wohl, who has worked as a producer for none other than Anthrax, onboard. And then there's the presence of Anthrax's Rob Caggiano and closet metalhead Mike McCready of Pearl Jam fame to add sonic heft to the proceedings. In interviews prior to this release, Scallions said World Fire Brigade was heavier and more metallic than Fuel, and he wasn't kidding. Thick with dynamic, serpentine riffs, World Fire Brigade's surprisingly powerful debut, released this past summer, is chock full of gripping hooks and compelling songs that would be commercially viable were it not for radio's aversion to comeback stories.
Best Concert DVD: Ozzy Osbourne – Speak of the Devil (Eagle Vision)
On June 12, 1982, Ozzy Osbourne's "Diary of a Madman" tour rolled into Irvine Meadows, California, having only recently buried guitarist Randy Rhoads, the man primarily responsible for reviving the career of one of metal's greatest frontmen. With heavy hearts, and a new guitarist in Brad Gillis, Ozzy and his band put on an electrifying performance for the ages, as they plowed through a set list heavy on selections from Ozzy's two solo records – plus a doom-laden medley of Black Sabbath's "Iron Man," "Children of the Grave" and "Paranoid" to close the show. Of great historical importance, "Speak of the Devil" captures all the madness with varied camera work, their lenses focused mainly on an enthusiastic Ozzy imploring the crowd to go nuts and Gillis's fiery fretwork. Backed by a dark, gothic castle and a huge drum riser for Tommy Aldridge, a reinvigorated Ozzy seems hell-bent on proving to everyone that Rhoads' death will not send him into another tailspin like the one that nearly killed him after being summarily dismissed from Sabbath. This is a fantastic entry in Ozzy's journal of rock 'n'r roll insanity.
Best Documentary DVD: Saxon – Heavy Metal Thunder – The Movie (UDR/Militia Guard/EMI)
Sex, tea and rock 'n' roll? Evidently, at least until bassist Steve Dawson dabbled briefly with cocaine, substance abuse wasn't part of the equation for working-class heroes Saxon, one of the bands that spearheaded the New Wave of British Heavy Metal. Abstaining from alcohol and drugs, these teetotalers preferred less powerful brews, but they did indulge in other forms of debauchery offstage – namely, doing groupies in the back of a cramped touring van, where privacy wasn't an option. Inside the venue, they were all business, rocking as if their lives were at stake in blazing live shows that became the stuff of legend. And yet, at least in America, Saxon never really hit the big time, despite the patronage of Lars Ulrich and the respect of everybody from Motorhead to Doro. That is a damn shame. Incapable of putting on airs, Saxon pushed their records into the red more often than not. Appropriately enough, this thoroughly engrossing, warts-and-all documentary is a no-frills, completely candid oral history, with some narration from Fastway's Toby Jepson, of the band from stem to stern – augmented by rare concert footage that confirms their reputation as one of the hottest running engines ever built by heavy metal. Here's hoping the long arm of the law – and time – won't ever catch up with these hard-rock veterans.
Best Live Album: U.D.O. – Live in Sofia (AFM Records)
The greatest live albums don't just make you feel as if you were there, front row, experiencing the show up close. They make you suicidal over the fact that you missed it. Such is the case with U.D.O.'s Live in Sofia, a thundering, electric performance fueled by the raucous energy of a salivating crowd. Surveying material from Udo Dirkschneider's days with Accept and his grossly underappreciated solo career, Live in Sofia is a captivating listen, with Udo growling and screaming like a caged animal and his band charging through a tantalizing set list with technical brilliance and pure adrenaline. Bulgaria's capitol is probably
still burning.
Mike Greenblatt
Metal Artist Of The Year: Lamb of God
Best Metal Album: Apocryphon, The Sword
Best Metal Song: "King Of Days," High On Fire
Best Metal Comeback: Anthrax
Best Concert DVD: Live At The Checkerboard Lounge Chicago 1981, Muddy Waters & The Rolling Stones
Best Documentary DVD: Freddy Mercury: The Great Pretender
Best Hard Rock Compilation: The Essential Incubus
Best Metal Compilation: The Complete Albums Collection, Judas Priest
Best Box Set: Celebration Day, Led Zeppelin
Best Live Album: Live At Hull 1970 The Who
Best Metal Reissue: Screaming For Vengeance, Judas Priest
Best Hard Rock Reissue: Rage Against The Machine, Rage Against The Machine
Best Vinyl Record Release: Cheap Thrills, Big Brother & The Holding Company
Best Book: Bruce, Peter Ames Carlin
Best Tour: Bruce Springsteen & The E Street Band