Top 10 metal / hard rock sold on eBay, May 2013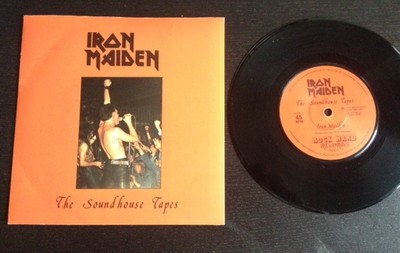 Powerline  took a break from tracking eBay for a few months, but here we go again: The top 10 heavy metal/hard rock items sold on eBay. This is for the full month of May, 2013 (reporting it for each month now).
1. Iron Maiden — The Soundhouse Tapes 7″ (above, left)
Sold: $909.66
Seller's details: The Soundhouse Tapes is the debut 7″ EP by Iron Maiden, and features the very first recordings by the band. Released on 9 November 1979, it features three songs taken from the demo tape recorded at Spaceward Studios on New Year's Eve 1978. The three tracks: "Prowler", "Invasion" and "Iron Maiden" appear in the original unique form than they would appear on the first Iron Maiden album and subsequent singles session. Although major retail chains tried to order large quantities of the record, the band only distributed 5,000 copies, available by mail order alone, which eventually sold out in just a few weeks. The original 1979 U.K. first issue pressing [was] released on the orange Rock Hard Records label ROK 1. Rare and hard to find debut Iron Maiden three track single.
Vinyl: NM. Bright shiny vinyl in excellent condition … Only a couple of very light non-audible surface hairlines due to sleeve removal. Plays superbly throughout.
Sleeve: NM. The original flip-back orange sleeeve is in NM condition with no writing or tears and sharp crisp edges and corners which is rare for this single. The front only has 2 feint minor ring creases and rear is near perfect with no visible blemishes.
Top opening with the genuine correct folded in edges, slanted in at top and bottom, cut out top, with the slant then curved bottom just touching the Paul Di'anno photo in the middle.
Labels: NM. Both labels are bright and clean, with the correct deep red/orange colour
Matrix Numbers: Correct 1st issue matrix. Side one : ROK-1-A *EG* SA LYN 7627 – IT (VERY FAINT LYN NUMBERS). Side two : ROK-1-B LYN 7628 – IT *EG* SA (VERY FAINT LYN NUMBERS)
Seller's comments: "SUPERB WELL KEPT NEAR MINT ORIGINAL SOUNDHOUSE TAPES WITH ALL THE CORRECT FEATURES"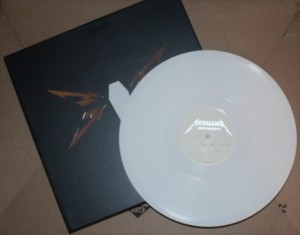 2. Metallica – Death Magnetic 5-LP, white vinyl, box set
Bids: 35
Sold: 861.00
Seller's details: Very Rare 5LP DEATH MAGNETIC white vinyl set. The box set is mint. Records have never been played. It was opened only to verify that the records were white. It looks like the presses weren't cleaned when they pressed the record for The Judas Kiss. There's some black marbling on the edges.
Seller's comments: "I bought this in 2010 through Because Sound Matters. Only 50 copies were pressed. 25 were sold through Because Sound Matters and 25 were sold through Metallica's fan club."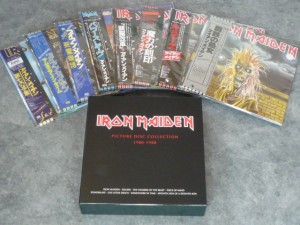 3. Iron Maiden – Japanese LP records box set (promo)
Sold: $690.00
Seller's details: Iron Maiden 8 titles release from EMI Japan. New!
TITLES:
1ST (TOJP-60221)
KILLERS (TOJP-60222)
THE NUMBER OF THE BEAST (TOJP-60223)
PICE OF MIND (TOJP-60224)
POWER SLAVE (TOJP-60225)
LIVE AFTER DEATH (TOJP-60226/7) (2LPs)
SOMEWHERE IN TIME (TOJP-60228)
SEVENTH SON OF A SEVENTH SON (TOJP-60229)
Seller's comments: "Note! This is Vinyl (LP Record), NOT CD!! These Japanese issues are originally using Made in EU Jackets & Discs (still sealed) but Japan Issues have OBI & Inserts, additional PROMO BOX was made by EMI."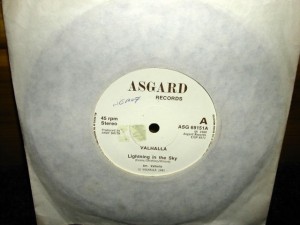 4. Valhalla – "Lightning in the Sky"/"These Sunday Nights" 7″
Bids: 25
Sold: $625.05
Seller's details: Label: Asgard. Cat No:ASG69151 Year:1980. Sleeve plain paper no picture sleeve was issed,Side 1 VG has very light surface scratchs and sticker residue,also heavy written in ink as you can see in the picture,Side 2 VG exactly the same as the other side but no sticker residue.
Seller's comments: "A very rare item for auction i've only ever seen 1 before this. Valhalla lightning in the sky on the asgard label i've had some rare NWOBHM in the past but this has to be the rarest i've had very low start price considering free postage to UK bidders,for overseas it has to be international signed for and thats the cost you'll pay."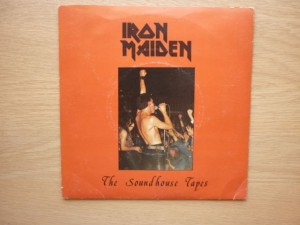 5. Iron Maiden — The Soundhouse Tapes 7″
Sold: $621.00
Seller's details: UK 100% original 1st press 7″ in picture sleeve, Rock Hard Records ROK1, 1979. Condition: Very Good. Used, Sleeve Will Have Obvious Signs Of Wear/Damage. Vinyl Will Have Obvious Signs Of Wear, Will Play With No Major Faults, But May Have Some Surface Noise. All Records Are Strictly Graded To Record Collector Standard, Sleeve Graded First.
Seller's comments: None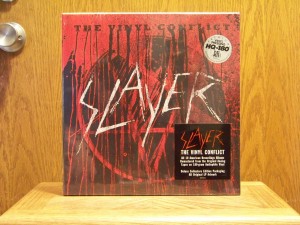 6. Slayer – The Vinyl Conflict vinyl box set
Sold: $600.00
Seller's details: Up for bid is the Out of Print and Rare record box set by Slayer. As you can see from the photos the set is unopened and in mint condition. The shrink wrap has never been removed and has no tears in it.
This set includes all of Slayers albums that they've record for American Records and are pressed on Premium HQ180 Audiophile Vinyl. All of the albums included have deluxe collectors edition packaging and all original LP artwork. From what I understand these were taken from the original flat master tapes for this set.
The albums included in this set are:
Reign in Blood
South of Heaven
Seasons in the Abyss
Decade of Aggression:Live (2 LPs)
Divine Intervention
Undisputed Attitude
Diabolus in Musica
Bod Hates Us All
Christ Illusion
World Painted Blood
Condition: Mint
Seller's comments: "I'm heading on vacation soon and need some extra cash, which is the reason I'm putting this up for auction. Just a word of warning, this is sucker is heavy (nearly 9 pounds!) so shipping will be high. I will make sure that the set shipped as safely and soundly as humanly possible. RULES: I DO NOT accept low ball offers or offers that require me to ship for free. If you contact me with such offers I will not respond. You will be added to my blocked bidders list. If you want to make me an offer, make it worth my while. Payment is due within 7 days of the auction closing. After the 7 day mark has passed I file a nonpaying bidder case with ebay. Due to the nature of the items I am selling I will only accept bids from customers in the USA and Canada (Hawaii and Alaska are included in that list). These are the rules. I hate imposing them like this, but due to the last year being more like a circus with certain buyers these are the rules I am enforcing to make my life a little less stressful."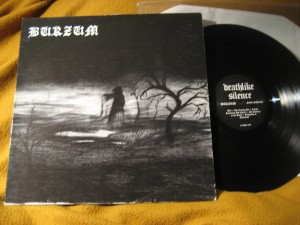 7. Burzum vinyl LP
Sold: $550.00
Bids: 7
Seller's details: Here's the ORIGINAL PRESSING super rare DSP version of the great S/T album. jacket is not in bad shape but has a few problems, little edge wear, start of a seam split on top of the jacket but it doesn't come through. vinyl is in EX shape.
Seller's comments: "heres your chance to get this Burzum rarity. i am also selling a replica version of this, but this is the Original – DO NOT PASS THIS UP!! BY EBAY RULES I CANNOT SELL THIS TO GERMANY SO PLEASE DO NOT BID IF YOU LIVE IN GERMANY."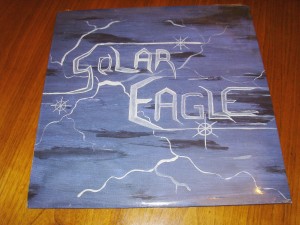 8. Solar Eagle vinyl LP
Sold: $550.00
Bids: 1
Seller's details: This album was released in 1988 and was manufactured by Cinram for Give Your Head A Shake Records in Canada.
This record is 100% authentic and is in mint condition, sealed in the original package.
It has SE001 code on the back and spine of the album.
Seller's comments: "I have for sale an extremely rare SOLAR EAGLE LP. This album is the real deal straight out of Toronto, Ontario… the band's old stomping grounds. You can own an extremely rare piece of Canadian Metal history and I guarantee you won't see another one like this anywhere else."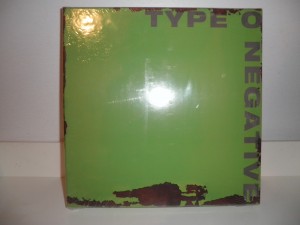 9. Type O Negative – None More Negative vinyl box set
Sold: $510.00
Bids: 2
Seller's details: Box Set New UNOPENED In Plastic
Rare 1 of only 1,000 released!
Box set of all 6 Roadrunner releases on GREEN Vinyl!
Slow, Deep and Hard
The Origin of the Feces
Bloody Kisses
October Rust
World Coming Down
Life is Killing Me
"For the first time all 6 Roadrunner releases are available together on a stunning green vinyl."
"Each album package has been painstakingly recreated and features brand new liner notes about each release."
"This collectors set also includes an exclusive sticker sheet featuring 6 mini Type O Negative bumper stickers.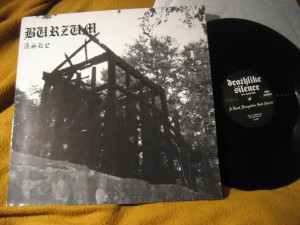 10. Burzum – Aske vinyl LP
Sold: $510.00
Bids: 2
Seller's details: Here's the ORIGINAL PRESSING super rare DSP version of the great Aske album. jacket is in VG+ condition, vinyl is EX, does not look like it has ever been played.
Seller's comments:  "now is your chance to get this classic in great condition. i am also selling a replica version of this, but this is the Original – DO NOT PASS THIS UP!!"