Ethan Brosh is 'Living the Dream'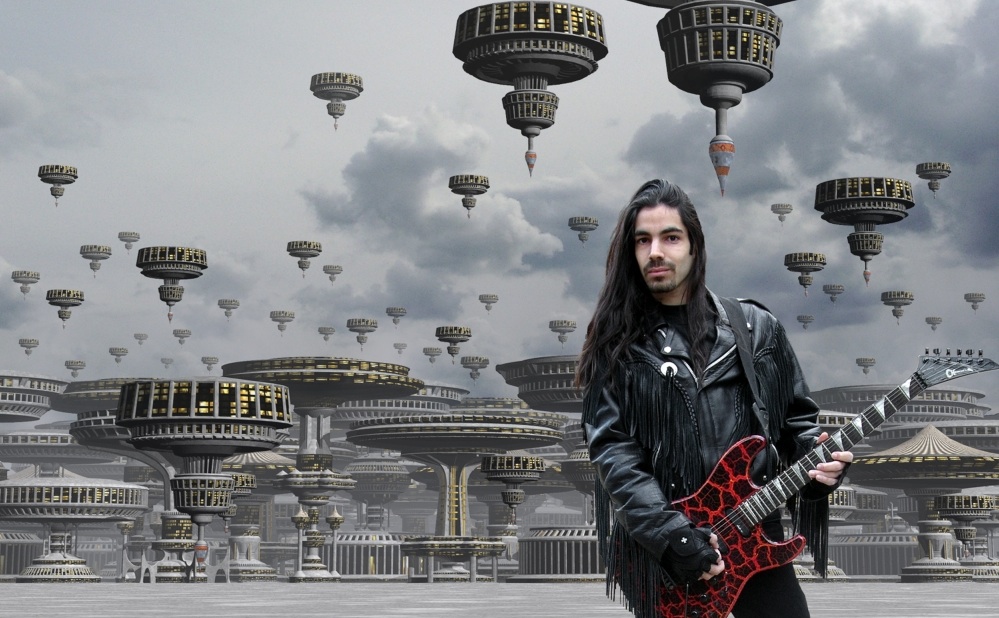 In a duel reminiscent of the Old West, only without the flying bullets and the threat of imminent death, a brash young guitar slinger Ethan Brosh recently challenged one of the fastest draws in metal history, Yngwie Malmsteen. It was a shredding showdown for the ages, with both players going down every night in a blaze of glory on a recent tour together.
Throughout April and May, fans of face-melting riffs and intricately articulated solos were treated to awesome exhibitions of mind-blowing guitar work from both men, one an up-and-coming six-string dynamo and the other a master of the instrument always pushing himself to greater heights. For Brosh, it was a coming-out party, a chance to show a whole new audience what he was capable of, and the sky is the limit for the Berklee College of Music graduate, who grew up in Israel learning classical music and is now a teacher at the school.
And the rest of 2013 has more excitement in store for Brosh, who will be releasing his second all-instrumental album, Live the Dream. He had help from a number of metal luminaries, as the album was mixed by Max Norman, known for his work with Ozzy Osbourne and Megadeth, and mastered by Bob Ludwig, whose work has pumped life into the recordings of Iron Maiden, Def Leppard and Bon Jovi. Speaking of Megadeth, none other than Dave Ellefson plays bass on the record.
This isn't the first time Brosh and Ellefson have teamed up. They were in the band Angels of Babylon together, along with drummer Rhino, although Brosh has since left to concentrate on his solo work and his other band, the melodic-metal upstarts Burning Heat.
Live the Dream promises to build off Brosh's first record, 2009's Out of Oblivion. A few stars of metal came out for that one, as well. Most notably, Brosh traded licks on the record with ex-Dokken guitarist George Lynch and former Michael Jackson guitarist Greg Howe, while Derek Riggs, the man behind all those great Iron Maiden covers, provided the art work.
Indeed, Brosh has been blessed, but he's earned the respect of his peers. Whether Brosh is blazing away on his electric guitar or working out some complex acoustic patterns, his talent and dedication to his craft is impossible to ignore, and those who've seen him opening for the likes of Michael Schenker, Lynch Mob, Danger Danger and Enuff Z'nuff would undoubtedly echo those sentiments.
Brosh recently took time out after the Malmsteen tour to talk about his education, watching the great Yngwie in action, his admiration for Lynch and other projects he has on the horizon in this interview:
How was the tour with Yngwie Malmsteen? Has your material been well received?
Ethan Brosch: Finally got back home! The tour has been amazing … it really was. Of course it was difficult on some levels, but overall it was an incredible experience. Actually, the crowd reaction to our material was the best part. Going into it I had no idea how Yngwie's fans would react to my playing and if I'd be playing in front of many jealous guitar players who would boo me … I was very pleasantly surprised how warm and appreciative people were throughout the whole tour since the very first night in Cleveland.
In what ways has seeing him play live inspired you?
EB: In many ways. I would find some time during Yngwie's set to be on the side of the stage watching him tearing it up very closely. Seeing the focused look in his eyes every night and seeing how things differ from one night to another and seeing how he deals with it had taught me a lot. I had also asked him about it. I also found it inspiring seeing him always moving onstage 100 percent of the time on every show without getting tired and discouraged at any point. It was a reminder for me to always give it my all regardless of how I feel on a particular night or venue. Also just listening to his amazing phrasing on a nightly basis and seeing how much he improvises is something that I'd like to incorporate more into my own music.
What led to you joining the Malmsteen tour?
EB: My great manager and years of hard work basically. Doing things like this in the music business is a long process with many factors involved.
What's been your favorite moment on the tour so far?
EB: I can recall a few. Some of them are just random moments onstage where I was realizing all of a sudden what was happening. Seeing people responding so well to songs I wrote in my basement or some which I wrote when I was a teenager was a great feeling. Being back home in Boston as part of the tour and seeing my friends in the crowd was a very good feeling. Also having Yngwie tell me I was a great guitar player after he heard me play on a whole tour is something that will stay with me forever.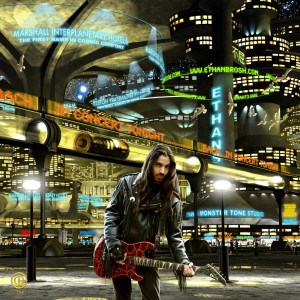 You went to the Berklee College of Music. What were your expectations going in, and in the end, was it everything you thought it would be?
EB: We're talking about something that happened a long time ago. I do remember not knowing what to expect from Berklee at all. But coming out of it I thought it was one of the most amazing experiences of my life. I absolutely love Berklee – the teachers, the students, the never-ending music and the beautiful location in Boston. It's one of the main reasons why I still live here in Boston. Being back at Berklee as a teacher in the summers is something I really enjoy doing.
How did that experience impact Out of Oblivion?
EB: Some of the material on Out of Oblivion was written as songwriting projects at Berklee. Also just growing as a musician and understanding more of what I was doing and composition ideas really helped develop Out of Oblivion. I also meet Mike Mangini at Berklee and that helped kick start the whole record to begin with actually.
Tell me about the making of Out of Oblivion. What pleased you the most about how it turned out?
EB: This was a two-and-a-half year project that took everything out of me. What pleased me is the result considering I had no idea what I was doing as far as making a record when I first gotten into it. Listening to George Lynch and Greg Howe playing on it still gives me the chills nowadays! My tune the "Hit Man" will probably forever be the tune people recognize me for. And having my guitar mentor Eyal Freeman playing bass on some of these tunes personally means a lot to me. And, of course, Derek Riggs, whose paintings got me into my first love, Iron Maiden, doing my first album's art was a huge thing! I guess looking back I feel very proud of this record, and it was well worth all the work I put into it.
[pullquote_right]Derek Riggs, whose paintings got me into my first love, Iron Maiden, doing my first album's art was a huge thing[/pullquote_right]
Explain if you can how the song "Downward Spiral" came about?
EB: I just remember me sitting in the dark on a hot summer night in my bedroom in Israel many years ago messing with my Washburn EC-29 guitar (It's the guitar on the "Ancient Land" video that everyone's always asking me about). I remember coming up with the two main riffs. It was only years later when I was recording Out of Oblivion that I came up with more sections and solos to complete it and be ready to record it. Then I had the idea of trying to approach George Lynch to play on it. I feel very lucky he did. He gave that tune a unique feel that only George can bring. He's always been one of my biggest influences and a guy I respect so much. I'm very proud to call him a friend now. Working on the video of "Downward Spiral" was such a pleasure and will forever be a great memory. I'll always be grateful to George for helping me out like that. What a great guy.
You've worked with George Lynch quite a bit. What do you admire most about his playing and what is it about working with him that you enjoy the most?
EB: What I admire about him is that George is a very artistic person. His whole look, persona, and playing is very different and just so colorful. I think he is the best metal player who ever lived. His attack on the strings is the coolest and most aggressive I've heard. It's aggressive but with so much style. George is also a player who works 100 percent on instinct and has a true rock 'n' roll approach. His phrasing is so musical, different and beautiful. Not to mention his never-ending search for the perfect tone and how great it always sounded over the years. These are the type of things I'm trying to take away from these great players and bring to the new generation instead of just ripping off all the shred licks from these guys.
[pullquote_left]I love working with Dave Ellefson. There are very few bass players that I feel really understand the style and have the right approach, not to mention the tone.[/pullquote_left]
Now that you are off the road, what are your plans? Will you be heading into the studio again? What will the material be like, if you have indeed started on it already?
EB: Well I just finished my second instrumental record which will be released later on this year. I've been working on it for the past two years. It's called Live the Dream. I had pre-release copies available on the Yngwie tour exclusively. I'm very happy to have had Dave Ellefson from Megadeth play bass on some of the record – having the greatest mastering guy of all-time, Bob Ludwig, master it. And convincing the great Max Norman to come out of retirement and mix the record! Max produced the first three Ozzy records and all the classic Megadeth records. We had a great time working together! I feel like Live the Dream takes things to the next level after Out of Oblivion. Many more things to come, the full length record of Burning Heat we're working on. Maybe some instructional DVDs, more touring and hopefully me finally being the guitar player of one of the biggest 80s metal groups I grew up on. That's something that I really want to do and I'm ready to go!
Is there any news on Angels of Babylon?
EB: Angels of Babylon will be releasing its second record soon on Scarlet records in Italy. I played lead guitar and nylon strings guitar on that record. I feel like it's some of my best lead work to date. I have recently parted ways with AOB on good terms to focus more on my solo career and Burning Heat.
What was the studio experience like with Angels of Babylon? How different was it from the recording of Out of Oblivion?
EB: The Angels of Babylon records were very different than Out of Oblivion and Live the Dream. On the AOB stuff all I did was play just lead guitar and nylon strings guitar. Everything else was taken care of by Rhino pretty much. With my instrumental records all the writing, producing, recordings, etc. etc., was on me, so of course, it was a lot more work. Either way I like all these records.
Talk about working with Dave Ellefson.
EB: I love working with Dave Ellefson. There are very few bass players that I feel really understand the style and have the right approach, not to mention the tone. Dave is a legend without a doubt and it's always a pleasure working with him. We were in Angels of Babylon together. I played a solo on one of his F5 band's songs. He just recently played on my record Live the Dream. I hope to continue and do lots more work with Dave 'cause I think we can do some really great things together. I also love how professional he is as far as communicating and working. There's no BS with him, and I love that because that's what I aspire to be like myself. I'm also learning a lot from him about the business … great guy and a great friend.
What were your favorite songs on the Kingdom of Evil album?
EB: Kingdom of Evil has a lot of great songs on it – "Oh How the Mighty had Fallen," "Conspiracy Theory," "Tear Out My Heart" and the title track are some of the obvious ones. I think all the songs are great on that record honestly.
Can we expect an "Ethan Brosh Yngwie Malmsteen" collaboration down the road?
EB: Only time will tell, All I can say is I hope so! I'd like to take the opportunity to thank all my fans because I love them all. I'd like to thank anyone who took the time to read this interview and check out my music. That's what it's all about for me.