The 23rd annual Chiller Theatre Halloween Expo in NJ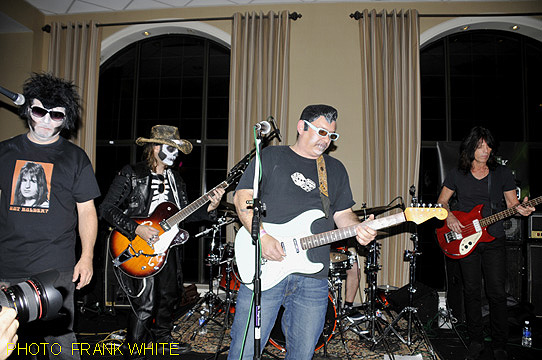 The 23rd annual Chiller Theatre Halloween Expo was held at the Sheraton Hotel in Parsippany, New Jersey on Oct 25-27, 2013. The expo featured rooms of Monster toys and other related items, celebrities from Monster movies, TV show genres. wrestlers, as well as bands and solo artists.
Fans were able to meet their favorite stars up close, take pictures, get autographs, and dress up in their Halloween outfits. There was a Halloween Parade inside the hotel with prizes for the best costumes for kids and adults. A Toy Model contest was held for the best made kits. Chiller had a JAWS museum and held Q and A's with celebrity guests on different films. An auction of Horror items was held during the expo.
On Saturday night the Chiller Expo held its 23rd annual Halloween Live Rock and Roll Monster Surf Party. New Jersey's The Test started the night off with Dennis Dunaway (ex-Alice Cooper band and Blue Coupe) came on stage to jam with the band and then a boy dressed like Alice Cooper came up on stage, too. Other bands that performed were The Smithereens, The 5.6.7.8's from Japan, Michale Graves (ex-Misfits singer) with Skel-pira, Richie Scarlet, and Chiller Theatre house band Dead Elvi performed with Keith Emerson of ELP, Bassist Rudy Sarzo, and the Cool Ghoul Zacherley sang monster songs. Pat Hogan and Thunder Road performed as well.
Photos and coverage by Frank White. Scroll down photo galleries.
Zacherle and the Dead Elvi (included in above photo gallery)