The Robin Zander Band rocks New Jersey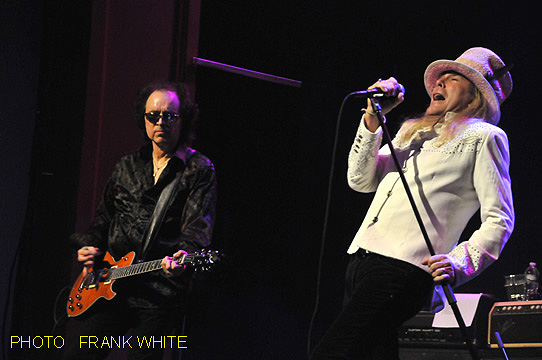 The Robin Zander Band ( RZB ) performed their last show of their latest tour at the Newton Theater in Newton New Jersey on Sept 20th. The small theater located in Sussex County provided everyone a great seat for Robin's band who performed a few songs from his solo record and the rest from other bands including Cheap Trick's If You Need Me, Dream Police, and Miss Tomorrow..
Midway thru the show, Robin asked a friend to come on stage who turned out to be guitarist Ray Tabano who was a founding member of Aerosmith (1970-1971) and was replaced by Brad Whitford. RSB and Ray performed Train Kept a Rollin.
Photos by Frank White.
RZB set list:
Freeway Jam Jeff Beck
I Can See for Miles The Who
You're my Girl Neil Young
If You Need Me Cheap Trick
Jump Into The Fire Robin Zander
Stone Free Jimi Hendrix
Emily Robin Zander
Dancing Days Led Zeppelin
Miss Tomorrow Cheap Trick
Jean and Me Robin Zander
Dream Police Cheap Trick
Shakin All Over The Guess Who
Train Kept a Rollin multi artists
Getting Better The Beatles
Baby Blue Bad Finger
Bad Little Girl Robin Zander
Words Robin Zander
Reactionary Girl Robin Zander
Here Comes the Sun The Beatles
Bargin The Who
Abbey Road The Beatles
Long Way To The Top AC/DC
.