Randy Rhoads, Quiet Riot come into focus

Kevin DuBrow took a liking to Ron Sobol right from the start. The Quiet Riot front man, now deceased, was a Humble Pie fan, and so was Sobol.
They were both budding photographers, although DuBrow would give up the camera for a chance at rock 'n' roll glory. Sobol, on the other hand, stuck with it, even going so far as to study film at the University of Southern California.
Before going to USC, though, Sobol was having the time of his life hanging out with Quiet Riot in the 1970s, taking behind-the-scenes photos and live video of the band whenever he had the chance. Randy Rhoads was in the band then, and he was already developing a reputation around Hollywood and Southern California as an unparalleled guitar slinger, an axe man of incredible dexterity, expression and imagination. His only competition: Eddie Van Halen. Yes, that Eddie Van Halen.
Unfortunately for Quiet Riot, it was Van Halen that scored the American record deal they coveted – though they did sign a Japanese deal for CBS/Sony. It wasn't for lack of trying that Quiet Riot – at least the version featuring Rhoads, DuBrow, Kelly Garni and Drew Forsyth – failed to get that contract. Everyone around Quiet Riot tried to get the labels to notice them. Their management company, the Toby Organization, had connections. Warren Entner, one of the partners, had been in the Grass Roots, who had a number of hits in the 1960s. And the Toby Organization already had Angel, a band on the Casablanca label.
Despite their frustrations, that edition of Quiet Riot had a good time. And Sobol was part of it, serving as the band's photographer, its lighting director and their friend. Now, Sobol has released a coffee table book that is packed to the rafters with tons of amazing images of the group and its wunderkind guitarist, who resembled Snoopy from the "Peanuts" cartoon. Titled Randy Rhoads – The Quiet Riot Years, it takes readers on an incredible journey back in time, providing a colorful pictorial history of that era of Quiet Riot's existence.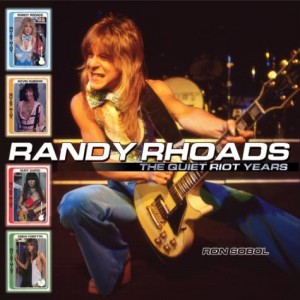 From the early rehearsals to the backstage parties, the electrifying concert performances at clubs like The Starwood, the Troubadour and other Sunset Strips institutions and the photo shoot for Quiet Riot II, Sobol captured it all. The boys liked to have fun. Mischievous and delightfully devious, they enjoyed playing pranks on each other. They were young and energetic, having the time of their lives in Southern California, and they had no idea what life had in store for them. Sobol reveals that side of the band, as well as their more serious issues – such as recollections from those closest to Rhoads and DuBrow, talking about how they felt about those two shooting stars and what it was like when they found out both had die – in this extravagant biography.
Relying less on words than he does on pictures, Sobol presents a fully realized portrait of four ambitious young men who wanted to make it all the way to the top. Real life would get in the way, however, as Rhoads left to join forces with Ozzy Osbourne in one of heavy metal's most incredible reclamation projects. Hurt by Rhoads's decision, DuBrow nevertheless carried on, and eventually, he experienced success beyond his wildest dreams when Quiet Riot's Metal Health hit No. 1. Sobol stuck around for that, too.
In addition to the book – which also includes sketches for the band's flamboyant stage clothing, various business documents, concert ephemera and newspaper articles – Sobol has also crafted an insightful and revealing documentary film that features more still images as well as his super 8mm films of Quiet Riot tearing it up in concert. Interviews with the likes of Forsyth, fan club president Lori Hollen, Rhoads's guitar tech Brian Reason, Rhoads's guitar tech, and the one-time Jodi Raskin, the girlfriend of both Rhoads and DuBrow who also functioned as their stylist, along with clothing designer/artist Laurie MacAdam.
READ POWERLINE'S REVIEW OF RON SOBOL'S BOOK, Randy Rhoads – The Quiet Riot Years.
Together, the two releases offer the most exhaustive and lively history of the original Quiet Riot that's ever been packaged. Sobol talked about the book and the DVD, as well as his experiences with Quiet Riot, in a recent interview.
The amount of photos in the book is unbelievable. Do you have anything left?
Ron Sobol: I've probably got a few left, but not much.
Maybe you've got another book in mind?
RS: Well, originally, it was going to be a book with all of my rock pictures, and just a little bit of Quiet Riot. But then there was so much Quiet Riot it looked like it would be more interesting as a book about Randy Rhoads, the Quiet Riot years, and so it became that. I used to shoot for Japanese magazines, so I shot Led Zeppelin, I shot Queen, I shot Journey, Aerosmith … a lot of bands. And they ended up in magazines in Japan. So we were going to use a lot of those pictures, but, like I said, we decided to concentrate on Quiet Riot, or Randy with Quiet Riot.
It seems like that's the story that's closest to your heart, being so involved with Quiet Riot.
RS: Yeah, it is. I did their lights, and I took their photographs. I took their first promo picture … I did everything. I designed the logo that was on the drum set. It was like the most fun … those 10 years from '75 to 1985 were the most fun years of my life. And I think I said this in the movie, but I'll say it to you for the interview: After Randy passed away, that's when Quiet Riot pretty much broke up, because he left, [and then] Kevin resurrected Quiet Riot, and I was still working with him so I got to go on tour, doing lights for the "Metal Health" tour, and the tour after that, "Condition Critical."
What struck me about the book and the movie is that it seemed like there was such a family atmosphere around Quiet Riot and how everybody around Quiet Riot was pulling for this version of the band to make it big. Was that the case?
RS: Yeah, it was exactly what you said. It was all for one and one for all. The record deal was always just around the corner and it never quite happened. They did get to put out two records in Japan, but that was all that happened.
What do you recall about meeting Kevin DuBrow for the first time? You had that shared interest in photography. What did you think of him?
RS: (laughs) He was a character. My brother [Stan Lee, guitarist for the punk band The Dickies] introduced us, because of our mutual interest in Humble Pie. So Kevin said, "Why don't you come over and bring your stuff, and I'll show you what I've got." And I went over to his house and he was living – he was 17, I think – with his parents. And he's living in this tiny little bedroom with his brother. I don't know how many people might be interested in this, but his brother [Terry] became a plastic surgeon and did this TV show called "The Swan." And his wife is on the "Real Housewives of Orange County" – sometimes he's on the show. So anyway, he's living in this little room with his brother, but basically, it was Kevin's room, because Kevin's drum set was in there, the wall was plastered with rock pictures – clippings from magazines. Kevin was really tall. He was 6-foot-4, and so he could be a little intimidating to little ol' me at 5-foot-7. But he was just a great guy. And actually, after I left his house that day, I never thought I'd necessarily see him again, but he'd called me up and said, "Hey, what are you doing? Let's hang out." And we became best friends.
And he was a really good photographer, too. Did he carry on with that at all, or was it something he abandoned when the rock thing took off?
RS: Yeah, once he started with Quiet Riot, he was done taking pictures. He was my biggest critic (laughs). If there was anything slightly out of focus, he'd say, "What's wrong with you?"
He was like that, too, with Randy I suppose. He really pushed and prodded him to greatness.
RS: He wasn't going to let anything stand in his way … not that Randy stood in his way. You know, if it wasn't for Kevin, Randy might still be playing in a garage. Randy needed somebody to push him along. It was his mother that pushed him to go to the Ozzy interview.
You have a favorite picture of Randy in the book that's kind of a portrait of him. How did that shot come about and why do you like it so much?
RS: Well, there's a couple … I'm not sure if you're talking about the one on the inside where I think he's got a white jacket, and then there's one on the back of the book. Okay, the one with the white jacket was taken in my parents' backyard, and if you look closely behind it, there's the swimming pool.
I think that's the one …
RS: Okay. And why do I like it? It's just Randy … here's the thing about when I took pictures of these guys. Since I'd been taking photos of these guys, just about from the very first rehearsal, they were used to me being around, so their guard was always down and you'd see the real them in the pictures. They weren't posing for me.
That's what definitely comes across. They're all very natural, as if they're not aware of you at all.
RS: Right, because they were so used to me being there.
Along those lines, behind the scenes, it seemed that Quiet Riot was always cutting up and having a good time. Was that really the way it was?
RS: They were complete practical jokers always looking to get a rise out of someone. I was frequently the butt of their jokes.
Oh, is that right?
RS: However, one time, I was living with Kevin … he actually got me to move out of my parents' house. He was roommates with – if you remember in the movie – Kim McNair, Randy's friend. Kim was living with Kevin, and then Kim moved out, and Kevin said, "Why don't you move in with me?" And I go, "Oh, I'm going to school. Living with my parents is a lot easier when you're in school. I don't have to think about paying rent and stuff." He was relentless in saying, "You've got to move out. We're going to have fun. There'll be girls," and as soon as he said that, I go, "All right. Okay." So Quiet Riot was trying to get signed, and Van Halen was on the scene and they got signed first. And their record came out, and then their second record came out, and Quiet Riot still didn't have an American record deal. Well, you've heard of Tower Records?
Sure.
RS: Tower Records would have all this promo stuff they'd always be giving away. And there was a postcard they were giving away, like the little pictures on the back of the second Van Halen album. You can actually see in the book this picture of David Lee Roth jumping with his legs spread, and I cut it out and stuck it on the head of Kevin's … well, it was our cat, Larry the Cat. And I stuck it on the cat's head and took a picture. And so then, I forget who actually started this running little practical joke, but one of us took the David Lee Roth thing and stuck it in the butter tub, underneath the lid so when the person opened the tub of butter, there it was. And it just kept escalating, where if it was my turn, 'cause I found it, I would take it and … for instance, like I took the toilet paper roll and unrolled it part way, and then stuck it on the toilet paper roll so that when he was going to the bathroom, he'd see it while he was going to the bathroom … stuff like that. But that actually escalated to the shows at the Starwood, and I would tape the picture of Roth to the microphone, and Randy's roadie, Brian [Reason], would do the same thing with pictures of Eddie Van Halen. Finally, they had enough and they just screamed at us, bloody murder, that "if you ever do that again, you're fired." And we stopped (laughed).
What were those early days like as they were gearing up to play clubs? Did they rehearse all the time? I know Randy was so dedicated to his craft, but were they really intent on honing their sound before getting out there?
RS: Well, Randy would teach guitar lessons in the daytime, and then at night, they'd rehearse. And they rehearsed probably four nights a week. They had a place where they could keep their equipment. First, they were rehearsing in the garage of their first manager, Dennis [Wageman], and he actually turned the garage into a rehearsal/recording studio. And after they left him, they got a place in Hollywood, and that was like, you know … that was the place to go. When they played, there were always people watching them rehearse – almost like a total party atmosphere. They could get a lot of work done because people were respectful that they had to rehearse, but afterwards, there would be this big row where people would be drinking and smoking and doing whatever. I think there are actually some pictures in the book of Kevin and some girls, where they'd take their tops off and … you know, more than that went on, but that's the only documentation you could really put in the book without getting in trouble. And you know, it was total fun, camaraderie. You could just see how Randy was at rehearsal. The producers of [Quiet Riot's first two] records really didn't capture him, because the difference between what we saw live and in rehearsal was incredible.
And Drew [Forsyth, Quiet Riot's first drummer] talks about that in the movie, too. He was really disappointed that the producers couldn't capture their live sound.
RS: I guess they probably needed more money behind the band to hire a producer that could really do the trick, but it just never happened.
Take me back to those days at the Starwood and set the scene for me. What were those shows like? I know [Quiet Riot fan club president] Lori Hollen would bus in fans she knew. The shows must have been electric.
RS: They were pretty much selling the Starwood out, or the Whisky or wherever they were playing. They would get great crowds. One thing we were trying to do was they were trying to bring an arena atmosphere into a club, where we brought our own lights in and our own fog. We brought in strobe lights. There was an intro tape, which in the movie you can hear a little of the intro tape, and I believe there's a special feature where you hear the whole thing – I haven't really played the [DVD]. I worked on the thing for two years, so it's not like I can keep watching it (laughs). But there's an intro tape with a lot of police lights and then we had police lights, strobe lights, fog … it was a whole big deal to make it a special experience, not just jumping on a stage and start playing. We wanted to create an atmosphere of fun.
It sounds like the crowds really took to the band, too. What was the band like onstage? I know from watching some of the live footage in the movie you get a sense of it, but they just had great charisma and personality.
RS: Yeah, they were all class clowns, and they knew how to put on a good show. If you watch the movie, like during Randy's solo, you can see on his face how much fun he's having. And I haven't seen too many people who could play as well as he did while moving around like he did at the same time.
Going back to how good a time Quiet Riot liked to have, some of the funniest shots in the book – I think it's in the movie, too – had to do with one particular show when they went backstage after they were done and put on all those dresses.
RS: That was at a show they did … actually, they opened for Van Halen. I believe it was Glendale College … yeah it was the college, because I remember it was backstage of the auditorium, where they store all the clothes for school plays. There were a bunch of dresses. They decided to put them on, and I took pictures of it, and it was one of those fun things they did, and I had great pictures. I took movies of them wearing the clothes; that's in the movie. Anything that was around that they could use as a prop, they would do.
Talk about shooting the cover for Quiet Riot II.
RS: Okay, well, somehow the concept was thought of – I can't remember it exactly. Kevin wanted to call the record – it was their second record – 2nd and 10 – 10 songs on their second record. It was a football term. And I said, "Can I shoot it?" Here's what we'll do: We'll have you guys in a locker room, with these football players, and the juxtaposition of you skinny guys with these huge football players might make an interesting picture. Kevin said, "Okay, let's do it, but it's on spec. You've got to pay for it. If we can't use it, I'm sorry." To me, it was worth the expense to try to get it done. So I rented all this equipment, and I paid the football players … I went to this school. I was going to Valley College at the time. It's a junior college in Van Nuys, Calif. And first, I got permission to use the locker room, and then I asked the football coach if I could use the players. And he said, "Yep, that's fine with me." So I offered them $50 to be models. Four of them jumped on it right away. They said, "Okay, I'll do it. I'll do it. I'll do it." And they were great. They did everything I wanted. And the band was great, too. So, we went to the locker room, and we spent about four hours in there that day shooting pictures. It came out great. And our concept was like the back cover has the baseball cards … football cards or baseball cards. That was our concept, too. Sent a mock-up of the thing to Japan, and it came back where they said, "Yeah, great." The record comes back, like the finished copy, and it's called Quiet Riot II. And we were going, "Why did they call it Quiet Riot II?" Well, because they don't play football in Japan. So, 2nd and 10 meant nothing to them. It's just one of those things that people don't think about.
I particularly like the shot of that big lineman carrying Randy around.
RS: Yeah, everybody had a great time that day. It's just like, hey, I never imagined when I was taking those pictures just for fun that they'd end up in a book. Kevin actually wanted to do a book with me, and he said, "Get your stuff together, we'll write a book about the Quiet Riot years." And then he called me back, and he goes, "You know, I found out it's going to cost X amount of money to make these. I don't know what we could sell them for. Plus, I have to go out on tour again with Quiet Riot …" You know, they were playing clubs. And so that idea got put by the wayside. And I got all the stuff together, and now it's almost like Kevin was there with me doing this.
I was going to ask what it was that made you put out the book at this time.
RS: Well, you probably know about that other book ["Randy Rhoads," by Andrew Klein and Steven Rosen]. I gave those guys pictures, and I called up Andrew Klein one day and asked, "What's up with that book?" He said, "Oh, it's done. Do you want to see it?" I said, "Yeah, okay." So I meet him, and he has it on a computer disc. And I couldn't believe it. I told him, "This is the best rock book I've ever seen." Have you seen it?
Yeah, yeah. It's great.
RS: Oh, you have it?
Yep.
RS: Is it one of the best rock books you've ever seen?
It was my rock book of 2012. (Click here to read Peter Lindblad's Powerline interview with Andrew Klein)
RS: Okay (laughs). I said, "Can you do that for my stuff? We'll do 'Randy Rhoads – The Quiet Riot Years.'" Because I still have more pictures. They thought I gave them all my pictures, but I didn't. And they said, "Let's do it." And I think I already said this to you, we were originally going to do all my stuff. I mentioned that, right?
Yes.
RS: We were just going to do this, because there was so much stuff.
One of the really fun parts of the book and the movie has to do with the protests, where Quiet Riot supporters took to streets and picketed various record companies in an attempt to get them to sign the band. Talk about how that came about and what it was like to shoot that.
RS: The band was really frustrated about not getting a record deal, and they were sitting around saying, "What can we do? What can we do?" And Rudy [Sarzo, who had replaced Garni in Quiet Riot after Garni was kicked out for allegedly pulling a gun on Rhoads during an argument] says, "Well, maybe we can go protest at the record companies and picket the record companies. (laughs)" And Kevin goes, "That's a great idea." So we got the fan club president to rally the fans and we made t-shirts. Everybody got a t-shirt, so you can see this in the movie, where there are pictures from Kevin's apartment where we were … well, it was mine and Kevin's apartment. We silk-screened Quiet Riot t-shirts, gave 'em out to all the kids, rented a flat-bed truck – which now we wouldn't have gotten 10 feet on the street without getting arrested – piled all the kids in the truck, made a schedule to hit all the record companies, called local news to come out. But we kept missing the news, because when we went to Burbank to picket Warner Bros. Records, they said, "You can't do this without a permit." So, we had to leave and our whole schedule was off because of that. So, I decided, "Well, look. I've been taking pictures of everything else, why don't I take pictures of this?" So I got those pictures.
Were you ever along for any of the [record label] showcases Quiet Riot played?
RS: Yeah, in the book there are pictures from those showcases. They would do a set, and then the guy would come in, so they would rehearse before they played for the record executive. So I think I had to leave the room. The pictures are from them doing it before the record executive came in, because they wouldn't need me sitting there taking pictures and being distracting. I would take them before and then leave and find out later whether they got the deal or not. It was like a full dress rehearsal, where they would wear their stage clothes and do the whole show.
The DVD has such great live footage. What was your favorite live segment in the movie and was it difficult to edit that all together?
RS: Was it difficult to edit it all together? I think it was just like we started chronologically from the beginning. I guess it was difficult putting the music to the story – where to put which songs, but there was so much material that it just kind of organically … I kept giving the editor more stuff. Like, we had the interviews and we had the live footage, the Super 8 mm footage, and I had all this other footage. Like, there's a part in there where Kevin was in a band with my brother, Stan Lee from The Dickies, before The Dickies started. The bass player in that little segment, if you remember in the movie, he was a member of The Dickies, and the drummer, his name was Danny Benair. He was in a band called The Three O'Clock. So, I shot that, and there are actually two movies, but for some reason, I've only got one. They were doing "Can't Explain" [The Who] and then we had the tape of them doing it, and we'd sync it up, because back then there was no videotape – at least affordable videotape. And then they also did "Moonage Daydream," but I don't know where that is. So I had that, and I had all my films from when I went to USC film school, so you see a little bit of that. And then I have my "just joking around" films.
Yeah.
RS: For something like this, you need a really good editor, and we had a really good editor. His name is Matt McUsic. And he did a great job.
One of the really cool things I thought from the DVD was when Brian Reason [Randy's guitar tech] was talking about Randy's trademark solo. Was that planned or did he just start talking about it and it seemed like that would be a perfect thing for the movie?
RS: No, we wanted him to talk about the solo for the movie. That was definitely planned. We didn't tell him what to say. We just asked him to describe being the guitar tech during Randy's solo, and that's my favorite part of the movie.
I think it's mine, too. It's amazing how meticulously thought out it was. Maybe sometimes we as rock fans don't think about that when we're hearing a guitarist do a solo.
RS: Yeah, I mean he was obviously an improviser in the solo, and it was very night to night. But, you know, that was pretty much what he did – depending on the crowd, as it is with any other artist or musician, they feed off the crowd, but that was just an unbelievably great solo he did. I think it was better than the solo he did … he kind of took parts of it for the Ozzy solo he did, but I think this is way better and I'm pretty sure it's longer.
I wanted to ask you, too, about Kelly Garni and the incident that happened where the two were arguing and he's alleged to have pulled a gun on Rhoads. Were people pretty willing to talk about that?
RS: Yeah, yeah. Even he talked about it. Kelly is not shy about talking about it.
It's such a rough part of the movie seeing two childhood friends grow apart. It's a really tragic part of the movie.
RS: Yeah, well, Kelly … you know, has that little problem, drinking. I would say that as far as Quiet Riot goes, that was his undoing. Stuff happens and people live and learn, and I'm sure he probably somewhere regrets it.
As far as the end of that stage of Quiet Riot's existence, when Randy left, did you have any inkling that he was going to leave at some point?
RS: We had no clue. I didn't think he was going to go do that. We couldn't believe that he left. We couldn't believe he took the gig because he wasn't like a Black Sabbath fan or anything. And obviously, at that point, having been kicked out of Black Sabbath, somebody was probably considering [Ozzy] washed up and somebody believed in him, and it worked out great for Randy for him to go play in that band.
What about the day that Randy died? What do you remember about talking to Kevin about it and how he dealt with it?
RS: Well, I was driving in my car listening to the radio, and they played two Ozzy songs in a row, or Blizzard of Ozz songs in a row. Usually when they do that, at least back then, it meant something bad had happened. Nobody played two songs in a row and they said, "That's dedicated to the late, great Randy Rhoads, who died in a plane crash today." Well, I hadn't heard of any airliner going down, so I called Kevin and I said, "What is this?" He goes, "There was a small plane crash. Randy's dead." I went over to his house and we were crying and hugging each other and tried to deal with it. I mean, who could believe something like that would happen? I've actually been up in a small plane. Now, I would never do it again, but when you're young, you just do stuff and you don't think about it. There's no explanation for it. It's just one of those crazy, weird life things.
Did you go to the funeral, too?
RS: Yes.
That must have been, as any funeral would be, an unbelievable scene.
RS: There were a lot of people there, and it was just tragic. I still can't believe that happened.
What is your favorite memory of Randy? You talked about what a generous guy he was in the book, especially with his time in helping young guitarists.
RS: Well, I can give you a couple. One, like you were talking about, has to do with him teaching guitar. He was actually teaching me stuff on the guitar. He taught me my favorite Quiet Riot song, which was "It's Not So Funny." He taught me how to play that. And then when he came back from Ozzy, he taught me how to play "Crazy Train." He was always teaching, like, "Yeah, sure. Here's how to play that." I would have to say a special memory was … it was pretty much a few months after I met him and the band had started, I got pneumonia. And I was in the hospital for a week and him and Kevin came to the hospital to cheer me up. I thought that was really special because who wants to go visit somebody in the hospital. So that was kind of a special thing, where it was like, "Yeah, we're friends."
During Quiet Riot's Metal Health days, what was your favorite memory of that time? You got to see that band finally get the exposure that they deserved.
RS: Um, I would say the US Festival was pretty special. When John Cougar Mellencamp dropped out, and Quiet Riot got to fill his spot, they had to fly out special. I think we were in Minnesota or somewhere when they got the call to do it. I can't remember exactly, but it was somewhere [around] the Mississippi, and they were going to play in the daytime, so they didn't need me to do lights, 'cause I was out on tour with them doing lights. But they took me anyways, so I got to go. And what was there – four hundred thousand, five hundred thousand people there watching that show?
One of the cool things about Quiet Riot was their look, too, with their clothes made by I believe Laurie MacAdam?
RS: Lori was designing the clothes, and then Jodi [Raskin, the one-time girlfriend of both DuBrow and Rhoads] would sew clothes.
How was that to work as their lighting director? I mean, they must been such a visually cool band anyway.
RS: Yeah, well, I got to bring in extra spotlights, and we brought in strobe lights and fog, so they let me do whatever I wanted, which was great. I knew the songs … here's how I started doing the lights for them. What happened was, the lights would always be so dim or poor for photographs. I'm looking at my pictures and I didn't like to shoot with a flash. I wanted to capture what they really looked like, but the lights were so poor for photographs that I said, "You know what? Let me start doing the lights. I know the songs." And they said, "Go for it." So that's how I started doing the lights, because I knew all the songs anyways, so it was just natural.
What do you want people to glean from this book and the DVD?
RS: You can see what it was like to be an up-and-coming band in the late '70s and what it took to either make it or not. And you see the trials and tragedies and then eventual worldwide domination – two guys that had a dream who went their separate ways and got big in two separate ways. They had this one-for-all and all-for-one theme of everybody working together.
You can really get a sense of what it was like being young and living in California at that time.
RS: Yeah, it was great. I mean, that 10 years – I think I said it – were the best 10 years of my life and everything you've ever heard, when I got to tour with Quiet Riot during the "Metal Health" tour, everything you've heard about stuff that happens in a rock band happened.
That'll be in the next book, huh?
RS: Yeah. That'd be a good one: "Quiet Riot – the Metal Health Years."