Scorpions re-record classic songs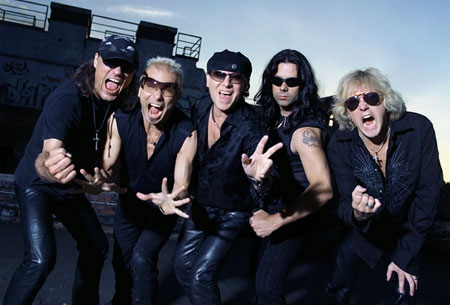 On November 4, SCORPIONS will release an album called Comeblack, which will be a collection of re-recorded versions of the band's classics songs. It will be on CD and on double vinyl.
And the track listing of re-recordings:
01. Rhythm Of Love
02. No One Like You
03. The Zoo
04. Rock You Like A Hurricane
05. Blackout
06. Still Loving You
07. Wind Of Change
Covers:
08. Tainted Love (GLORIA JONES)
09. Children Of The Revolution (T. REX)
10. Across The Universe (THE BEATLES)
11. Tin Soldier (SMALL FACES)
12. All Day And All Of The Night (THE KINKS)
13. Ruby Tuesday (THE ROLLING STONES)
Check out audio samples of the entire record at Amazon.de.
It's interesting to listen to but is it necessary? Maybe as b-sides but an entire album? Guess it will be their last album before they retire.
One thing they will not retire, it seems, are those outrageous camera poses when they take a group photo.