Here are the top 10 heavy metal items sold on eBay last week, June 23-29 (listed in order of highest price and only items categorized under "entertainment memorabilia"):
1. $127.50 – Motörhead warpig buckle (left)
It took 26 bids to snag this buckle — also referred to as "snaggletooth" by the seller. The opening bid was only $29.99. The seller, from Bangkok, claims that this particular buckle is "very rare." Condition is new and "best quality."

2. $120.00 – Iron Maiden Killers 8-track
$120 was a best offer on a listed price of $154.99. This 8-track was listed as a "VERY RARE Iron Maiden- "Killers"- #8XT12141. Very good condition, wear to outer cartridge. pen marks on the barcode on the spine. tape looks OK with some minor wrinkles in spots. tape does not run as smoothly as it should. Believe there may be something inside (tape is off track, etc) That needs fixing."
Just to show how high Maiden's stock is right now, $40 bucks could get you five vintage AC/DC 8-track tapes from the same seller — Highway to Hell #TP19244, If You Want Blood You've Got It #TP19212, Dirty Deeds Done Dirt Cheap #TP16033, Back in Black #TP16018 and Let There Be Rock #TP36151.
The seller, btw, left a nice tidbit about his 8-tracks: "THESE TAPES WERE USED IN AN OLD CHEVY TRUCK THAT HAD A FACTORY 8 TRACK PLAYER. THESE PLAYERS WERE KNOWN FOR GETTING TO HOT AND PUTTING SMALL BURN MARKS ON THE BACK OF THE CASSETTE CASES. THIS DID NOT AFFECT THE TAPE INSIDE"

3. $113.39 – Danzig DethRed Sabaoth box set
Free shipping was an added bonus to this limited edition box set, consisting of  the DethRed Sabaoth digipak, commemorative Danzig buttons and a certificate of authenticity, all in a collectors porcelain-like urn. There were only 1666 units produced upon release in 2010.

4. $99.99 - Guns N' Roses Appetite For Destruction vinyl record
Welcome to the jungle! Any auction bidder is lucky to win Appetite For Destruction on vinyl, especially this one: an U.K. import, on red vinyl, with the infamous banned cover.
The seller goes on to say (in CAPS LOCK, no less): EXTREME ULTRA RARE & HARD TO FIND GUNS AND ROSES RED VINYL IMPORT UK-WX125 /RELEASED IN 1987 GEFFEN RECORDS -WITH BANNED COVER AND DARK RED VINYL HELD UP TO LIGHT IT LOOKS MARBLED.#(GHS-24148) DEAD WAX SAYS : DESTRUCTION 001-B1. COVER IS N/M.BOTH SIDES G&R-SIDE IS N.M! / EXCELLENT COND! ONLY 1 OTHER ON E-BAY LISTED."
"THIS IS ONE OF THOSE LPs THAT ARE GOING TO BE WORTH HUNDREDS OF $$$ IN YEARS TO COME TO COLLECTORS EVERYWERE.(THIS LP CAME W/A PLAIN WHITE PAPER SLEEVE)"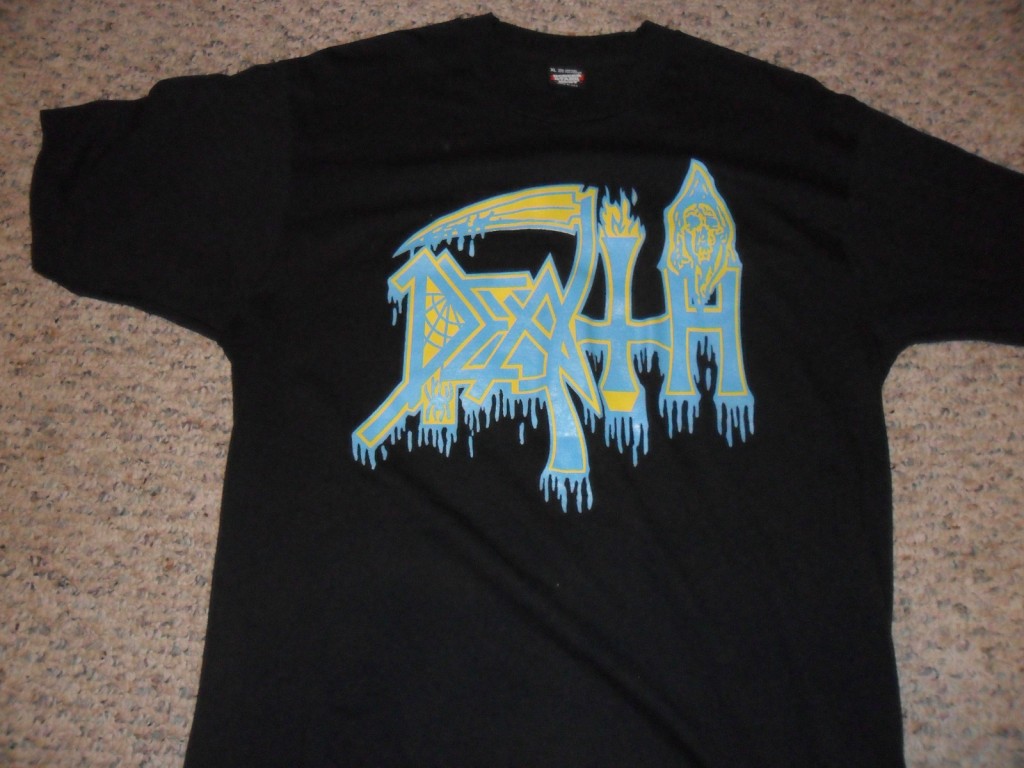 5. $95.00 – Death U.S. tour shirt
It's not hard to find Death on eBay. It's just hard to find it in this kind of condition.
This was an accepted offer on a $125 list price, btw. The item is in NM (near mint) condition — a never worn XL. It was purchased in 1990 during Death's "CRUSADE OF BRUTALITY" NORTH AMERICAN TOUR.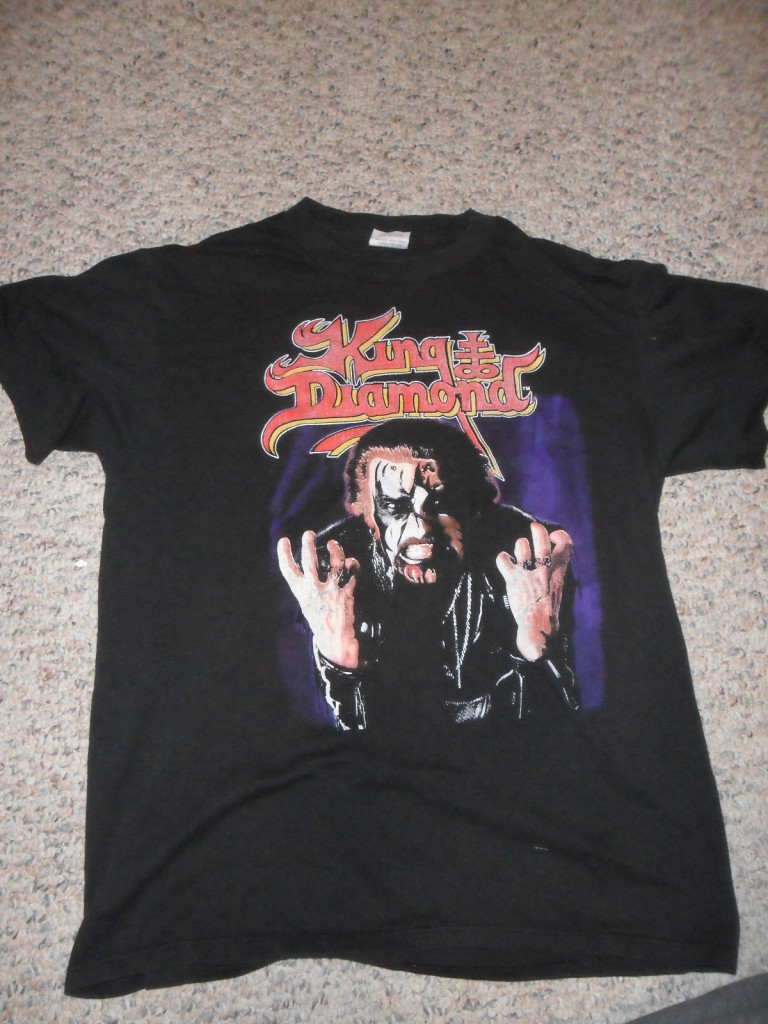 6. $89.99 – King Diamond tour t-shirt
This is the original tour t-shirt from King Diamond's 1988 North American tour. The item was listed as used and was "purchased in 1988 at a show THE RITZ in NEW YORK CITY" (now Webster Hall). Tour dates on back. Seller claimed: "Shirt has some slight fading from multiple washings. Nothing major though. SIZE: LARGE. 50/50 blend MATERIAL. Still has its tag."

7. $89.99 – Voi Vod t-shirt
This auctioned item was "worn a handful of times, was purchased in 1990." Says "VOI VOD–NOTHINGFACE" on the back of shirt. Now long out of production. Size XL

8. $89.00 – Opeth autographed 12×18 photo/poster
Opeth, the Swedish progressive metal band, will always be popular with memorabilia. This authentic autographed 12×18 promotional photograph/poster hand was "signed by band members Mikael Akerfeldt, Martin Axenrot, Fredrik Akesson and Joakim Svalberg." Mint.

9. $82.99 – Heavy Metal movie t-shirt
10 bids sealed the deal for this vintage 1981 Heavy Metal movie promo shirt. The shirt was described as mint, sealed in plastic and the bidding started at only $9.99.
The seller bragged (of course, in CAPS LOCK): "THIS IS FOR THE MOST RARE VINTAGE ORIGINAL HEAVY METAL THE MOVIE SHIRT YOU WILL FIND ! OWNED BY A RECORD SHOP IN THE LATE 70′S AND EARLY 80′S. THEY SEALED THEM IN PLASTIC AGAINST A CARDBOARD BACKER AND THEY HAVEN'T BEEN OPENED SINCE ! THIS ONE IS DATED 1981 GUARDIAN TRUST CO. TRUSTEE . THE FRONT READS : HEAVY METAL , A STEP BEYOND SCIENCE FICTION. PRINTED BY CLIMAX I. STILL HAS THE STICKERS ON THE PLASTIC. ONE READS : HEAVY METAL BASEBALL JERSEY PRINTED BY CLIMAX I OF CALIFORNIA , EXCLUSIVE LICENSE FROM COLUMBIA AND GUARDIAN TRUST COMPANY TRUSTEE THE COPYRIGHT HOLDER . OLD MEDALLION NECK TAG ! RINGER STYLE ! SIZE IS X-LARGE. 50% COTTON 50% POLYESTER."

10. $80.00 – Rob Halford autographed photograph
Straight from the seller's CAPS LOCK mouth: "ROB HALFORD PSA DNA SIGNED 11×14 * JUDAS PRIEST * WITH PROOF * HEAVY METAL GOD YOU ARE BIDDING ON A RARE PSA DNA AUTHENTIC AUTOGRAPHED 11×14 COLOR PICTURE HAND SIGNED IN PERSON FOR ME BY HEAVY METAL GOD, LEAD SINGER FOR THE LEGENDARY HEAVY METAL ROCK BAND JUDAS PRIEST. PSA/DNA CERTIFIED #Q41850″
This $124.99 listing was sold for a best offer of $80. Not bad, and it had free shipping.