Service arrangements made for Gwar's Cory Smoot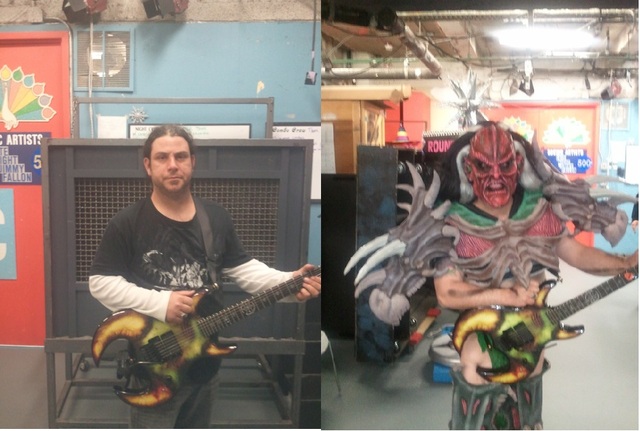 Arrangements have been finalized for the memorial service for Cory Smoot AKA Flattus Maximus. The service will take place this Friday November 11th at the Bennett Funeral Home Chesterfield Chapel, located at 14301 Ashbrook Parkway in Chesterfield, VA. The service begins at 4:00 PM and is open to the public.
The official obit is below:


SMOOT, Cory "Smooty," born on August 25, 1977, suddenly left this life on November 3, 2011. Cory, age 34, was born in San Jose, California, and a short time thereafter moved to Toledo, Ohio, to be raised by his parents amongst family. In 1989, Cory's family relocated to Midlothian, Virginia, a suburb of Richmond, where Cory began his music career. Cory was a devoted husband to his longtime soulmate and lovely wife, Jaime Collings Smoot, whereas she was affectionately named "Buster" by Cory. Cory is survived by his loving parents, Kenneth Smoot and Katina Lombardo; sisters, Molli Silliman, Gina Smoot, Rachel Ferguson; and brother, Matthew Ferguson. Cory is also survived by his grandparents, Charles and Ruby Smoot, and Wanda Lombardo. Other family to Cory included Jaime's parents, Paul and LuAnne Collings, of Bowling Green, Ohio, and their daughters, Jennifer and Jessica.

Although we are all unique, Cory was unique apart from the traditional standard translation of "unique." For those who personally knew Cory, or any other life he touched, knew that Cory was genuine, humble, devoted, generous, tender-hearted, loyal, fun-spirited, ambitious, intelligent, courteous and polite. Cory's obvious gift in life was his talent to write, play and produce music as he was a self-taught songwriter and musician. At the age of only 14, Cory formed his first label band and recorded his first CD, simply titled "Misguided." Cory would later go on to produce other albums and form his own music studio, Karma Productions, and his band, Mensrea. Several years ago, Cory joined Richmond-based band, Gwar, as lead guitarist and songwriter and music producer. He instinctively knew music and it was obvious to anybody that was fortunate to witness him play that only his soul could produce the music that his body delivered. Cory touched lives and inspired many throughout this world, both personally and professionally. Cory's identity was not that of "Flattus Maximus," a man-made creature created by Gwar. Cory is a real legend that was taken too soon in life and away from his calling as a son, brother, husband, father and musician. He will always be remembered by those who truly loved him and knew who he genuinely was. He will never be forgotten! Cory's legacy will continue through his only child who will arrive to meet family sometime in June 2012. Family respectfully requests that in lieu of flowers or gifts, that any donations be made to the Cory Smoot Family Fund to benefit Jaime and Cory's unborn child, "Lil Smooty," smootfamilyfund@gmail.com. A memorial service will be held at 4 p.m. Friday, November 11, at the Chesterfield Chapel of Bennett Funeral Home, 14301 Ashbrook Parkway, Chesterfield, Va. 23832
In lieu of flowers the family is asking that contributions be made to the "Smoot Family Fund". Details about making contributions are forthcoming.
GWAR will have to cancel two performances on their current tour, so they can attend the services. Thursday November 10th in Medford, OR and Friday November 11th in San Francisco, CA are the dates that are affected. Tickets for both dates will be refunded at point of purchase. The complete remainder of the tour with Every Time I Die, Ghoul and Warbeast will resume as scheduled Saturday November 12th at the House of Blues in Los Angeles, and runs through Sunday November 27th at Toad's Place in New Haven, CT.
GWAR ON TOUR
11/12 West Hollywood, CA @ House of Blues
11/13 Pomona, CA @ Glasshouse
11/14 Tempe, AZ @ Marquee Theatre
11/15 Albuquerque, NM @ Sunshine Theater
11/16 Denver, CO @ The Summit Music Hall
11/18 Austin, TX @ East Side Drive In
11/19 Dallas, TX @ House of Blues
11/20 Houston, TX @ House of Blues
11/21 New Orleans, LA @ The Hangar
11/22 Atlanta, GA @ Masquerade
11/23 Tampa, FL @ Green Iguana Stadium
11/25 Raleigh, NC @ Lincoln Theatre
11/26 Philadelphia, PA @ Electric Factory
11/27 New Haven, CT @ Toad's Place