Reunited Sabbath to play premier European festivals in 2012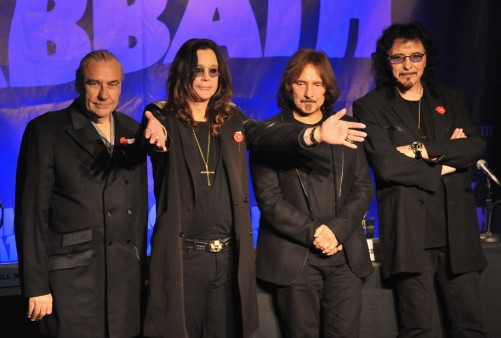 BLACK SABBATH will headline a number of Europe's premier festivals in 2012.
After announcing their reunion on 11.11.11, these worldwide appearances are one of the most anticipated music events of 2012. Kicking off on Friday May 18 in Moscow at Olimpski, the tour will bring BLACK SABBATH to the masses at: Download Festival [UK], Azkena Rock Festival [Spain], Hellfest [France], Graspop Metal Meeting [Belgium] and Gods of Metal [Italy]. However, that's only the beginning of the group's global tour which will take the band around the world including countries the band has never played before and others they have not visited in more than three decades.
The four original members of BLACK SABBATH–OZZY OSBOURNE (vocals), TONY IOMMI (guitar), GEEZER BUTLER (bass) and BILL WARD (drums)–are currently recording their first studio album in 33 years with legendary producer RICK RUBIN (seven-time Grammy winner, two of those as Producer of the Year) for release worldwide on Vertigo Records, and Vertigo/Universal Republic Records in the U.S. in the fall 2012.
Revered music and spoken word artist, Henry Rollins, has said that "BLACK SABBATH's music is ultimate bone-powderizing gear. Any band worth their weight in napalm wishes they had written 'War Pigs.' The critics never got it, but the fans did and still do, and the music has not lost any thunder with time but in fact resonates more loudly…Hail the mighty Black Sabbath now and forever."
BLACK SABBATH's confirmed European tour dates are below:
DATE CITY VENUE
5/18 Moscow, Russia Olimpiski
5/20 St. Petersburg, Russia New Arena
5/23 Helsinki, Finland Hartwall Arena
5/25 Stockholm, Sweden Stadium
5/29 Bergen, Norway Bergen Calling Festival
5/31 Oslo, Norway Spektrum
6/2 Malmo, Sweden Malmo Stadium
6/4 Dortmund, Germany Westfalenhalle
6/10 Donnington, UK Download Festival
6/12 Rotterdam, Holland Ahoy
6/15 Bilbao, Spain Azkena Rock Festival
6/17 Nantes, France Hellfest
6/19 Paris, France Bercy
6/22 Dessel, Belgium Graspop Metal Meeting
6/24 Milan, Italy Gods of Metal